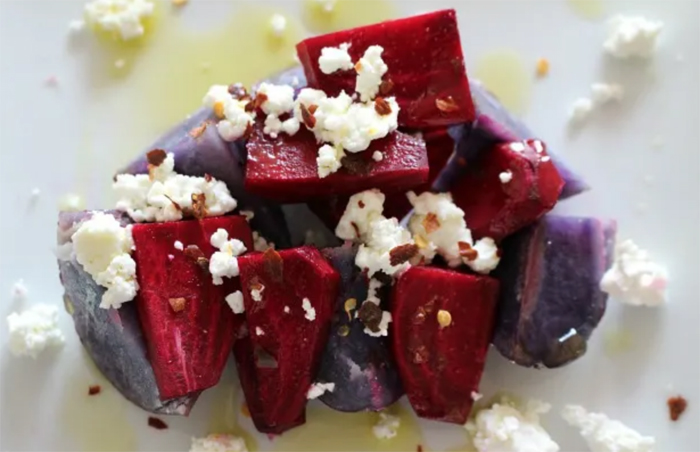 Recipe by Registered Dietician Megan Wolf RD
This dish incorporates purple [blue] potatoes, red beets and white goat cheese. Purple potatoes are rich in the same antioxidants found in blueberries and pomegranate seeds. Red beets are rich in fiber, vitamins A, B and C, and folic acid. Goat cheese is a good source of protein and calcium, and offers a tangy and creamy bite. The cheese pairs nicely with the different textures of the potatoes and beets.
Ingredients
4 small purple potatoes, quartered
4 medium-sized beets, peeled and quartered
1/4 cup goat cheese, crumbled
1 tbsp olive oil for drizzling, plus more for baking
1/2 tsp red pepper flakes
1/2 lemon, juiced and zested
Preparation
1. Preheat oven to 400 degrees.
2. Coat potatoes in olive oil, salt and pepper; roast for 20-30 minutes or until cooked through.
3. Place roasted potatoes and raw beets on a large plate, top with crumbled goat cheese, and drizzle/sprinkle with red pepper flakes, lemon juice, lemon zest and olive oil.
4. Serve immediately, or refrigerate and serve cold (if you prefer a cold salad, drizzle with red pepper flakes and olive oil right before serving).
This recipe originally appeared on Jamie Geller's website.