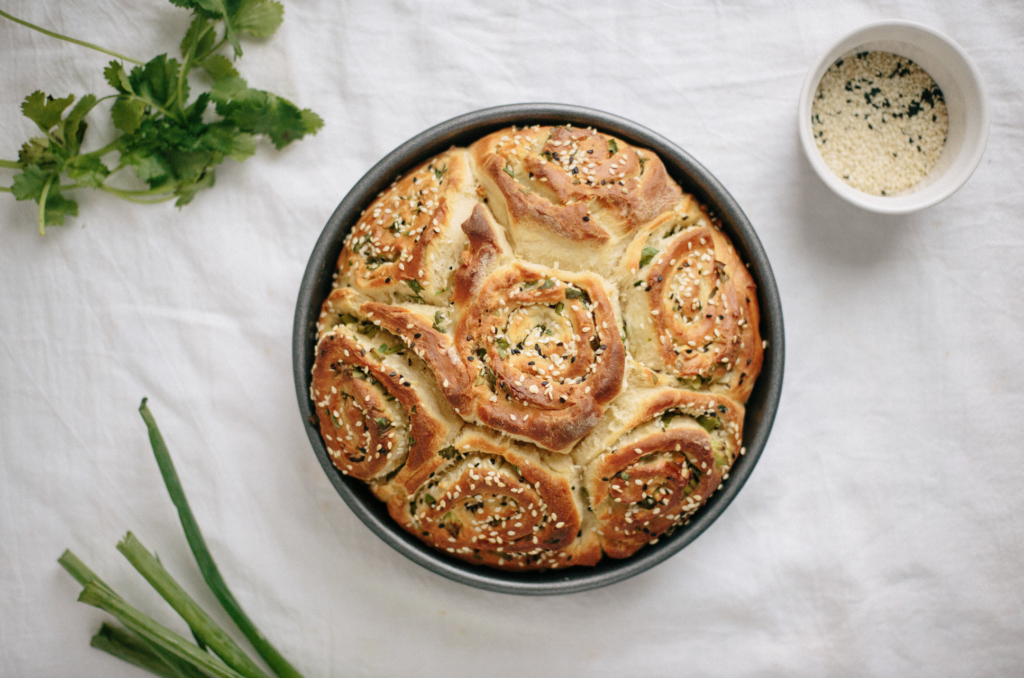 Soft, pillowy rolls stuffed with fabulous seasonings: garlic, cilantro, scallions, and sesame seeds, are the perfect end to the week.
Recipe courtesy Madeline Hall
Ingredients:
for the challah dough
2 teaspoons active dry yeast
1/2 cup lukewarm water
1 tsp. sugar plus 2 tablespoons
3 cups all-purpose flour
1 teaspoon salt
2 large eggs
1/3 cup canola or vegetable oil
2 tablespoons honey
1 large egg, beaten, for egg wash
for the filling
1 cup chopped cilantro
1 cup chopped scallions
3-4 cloves garlic, minced
1/4 cup white sesame seeds
1 tablespoon black sesame seeds
3 tablespoons olive oil, plus more for the bowl and brushing
Directions:
Pour 1/2 cup warm water into a small bowl. Sprinkle in the yeast and sugar, and stir to combine. Let sit until the mixture becomes bubbly at the top, about 10 minutes.
In a medium bowl, whisk together the eggs, oil, and honey. Set aside.
Combine the flour, salt, and remaining 2 tablespoons sugar in the bowl of a stand mixer fitted with the dough hook attachment. Add in the yeast mixture and the egg mixture, stirring to combine and scraping down the sides of the bowl. Knead on medium speed until dough is soft and smooth and slightly sticky. If dough is too sticky too handle, add in a little more flour.
Form dough into a ball and transfer to a lightly oiled bowl. Cover with plastic wrap or a towel and let rise until doubled in size, about 2-3 hours.
Preheat oven to 350°F. Lightly grease an 8″ round baking pan.
Roll dough out onto a lightly floured surface until it is roughly an 18″ x 9″ rectangle. Drizzle with 3 tbl. olive oil, then evenly sprinkle the cilantro, scallions, garlic, and sesame seeds on top. Working from the longer side, roll dough into a cylinder. Cut cylinder into 7-8 equal pieces.
Arrange dough swirls into the baking pan, and drizzle with more olive oil and (optional) more sesame seeds. Bake for roughly 35 minutes, or until tops are golden brown.