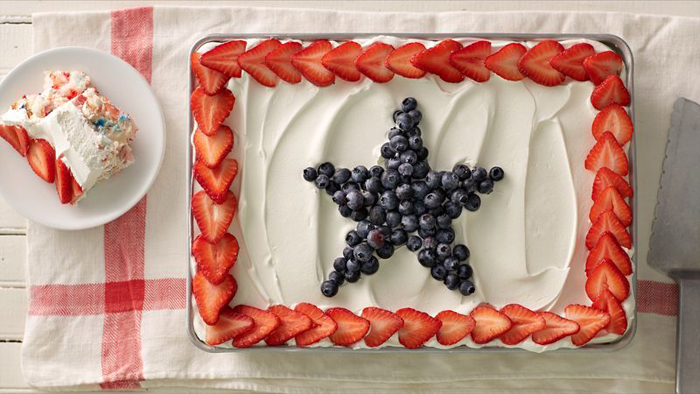 Red, white and blue – all the way through! Layers of angel food cake, fresh berries and pudding – a cool dessert to beat the summer heat from the Betty Crocker Kitchens.
Ingredients
Cake
1 box Betty Crocker angel food cake mix
1 1/4 cups water
1/4 cup red, white and blue sprinkles
Filling
4 containers (6 oz each) Yoplait Original strawberry yogurt
1 container (12 oz) Cool Whip frozen whipped topping, thawed
1 box (4-serving size) vanilla instant pudding and pie filling mix
2 cups chopped fresh strawberries
Topping
1 cup fresh blueberries
1 1/2 cups sliced fresh strawberries
Directions
Move oven rack to middle position. Heat oven to 350°F.
In large bowl, beat cake mix and water with electric mixer on low speed 30 seconds, then on medium speed 1 minute. Stir in sprinkles. Pour batter into ungreased 10-inch tube pan.
Bake 40 to 45 minutes or until deep golden brown. Cool completely upside down as directed on cake mix box, at least 1 hour. Run knife around edges; turn cooled cake out onto cooling rack.
In large bowl, beat yogurt, 1 1/2 cups of the whipped topping, and the pudding with whisk until well blended. Cut cake in half. Tear one of the halves into bite-size pieces. Place pieces in bottom of 13 x 9-inch pan. Sprinkle 1 cup of the chopped strawberries evenly over cake. Pour and spread half the yogurt filling on top. Tear other cake half into bite-size pieces. Repeat layers with remaining cake pieces, chopped strawberries and yogurt filling. Refrigerate 2 hours.
When ready to serve, spread remaining 3 cups whipped topping on top of cake. Decorate top of cake using blueberries to form a large star in center and sliced strawberries around edges.