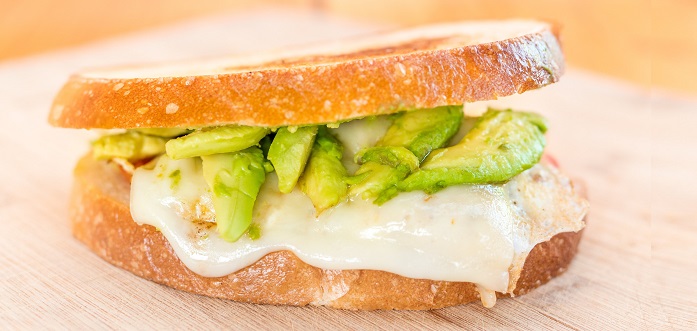 PHOTO: Fried Egg I'm in Love's Free-Range Against the Machine. Photo by Lauren Simpson
Portland is famous for its breakfast and brunch. Diners often wait for hours outside Screen Door, Broder, Jam on Hawthorne and Slappy Cakes. But for those who can't wait in line, a breakfast sandwich at one of Portland's bakeries is a terrific morning alternative. Vegetarian, and even vegan, sandwiches abound in our town.
BOWERY BAGELS
Portland State University got a real breakfast boost when Bowery Bagels opened up shop in the Smith building. It's much easier to attend (or teach) class when you've stocked up on kosher bagels or have stacked your "everything" bagel with egg, cheese and vegan sausage. (As an aside, this is a great place to get a potato-and-onion knish.) The Old Town location has veggie sandwich options like the Oliver Lent (caramelized onion, Gruyere and egg).
Bowery Bagels: 1825 SW Broadway and 310 NW Broadway, 503-227-NOSH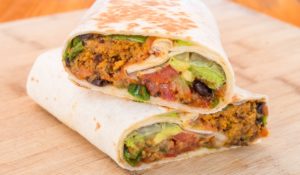 FRIED EGG I'M IN LOVE
This popular food cart just opened a brick-and-mortar location on Hawthorne. Vegetarians love the Free-Range Against the Machine sandwich, a savory combination of fried egg, avocado, tomato and Havarti. There's also the Vegan 'Rito, a veggie burrito with a housemade vegan patty, black beans, avocado, tomato and pico de gallo. Fried Egg can substitute any meat with vegan sausage, and sandwiches can be made gluten-free or vegetarian. And if you eat a strict vegetarian diet, you can order a sandwich with "Just Egg," a plant-based egg substitute. Don't forget to try the hash browns (Hawthorne location)!
Fried Egg I'm In Love: 3549 SE Hawthorne Blvd. and Pioneer Courthouse Square, 780 SW Broadway, 503-704-FELT
LITTLE T AMERICAN BAKER
We regularly try to hurry over to this topnotch bakery before 11 am, when breakfast turns to lunch. It's operated by Pearl Bakery alumnus Tim Healea, who bakes some of the yummiest bread in town. "We try to match our breads with complementary ingredients to build breakfast sandwiches and hearty toasts," says Tim. "For instance, we bake a whole spelt bread that is fantastic toasted, topped with either an avocado and goat cheese smash or our housemade lox." This is Little T's most popular breakfast item save for the individual baguette served with salted butter and local jam.
Our favorite breakfast dish is the Italian scrambled egg sandwich on ciabatta with Pecorino cheese, pesto and marinated sun-dried tomatoes. There's also a great whole-wheat croissant breakfast sandwich (just ask them to leave out the bacon).
Little T American Baker: 2600 SE Division St., 503-238-3458
LOVEJOY BAKERS
At Lovejoy's two locations, vegetarians can order the scrambled eggs and butter on a toothsome ciabatta roll and can add either melted Fontina cheese or salty black olive tapenade. (If you happen to eat fish, get the scrambled eggs and lox with red onion and buttered challah.)
Lovejoy Bakers: 939 NW 10th Ave., 503-208-3113 and 33 NW 23rd Pl., 503-467-4067
TABOR BREAD
People go nuts for the biscuit sandwiches at this whole-grain, artisanal bakery at the foot of Mt. Tabor. Owner Tissa Stein says her scrumptious vegetarian sandwich is "very popular. It starts with our housemade biscuit made with house-milled whole grain flour. We then braise organic kale lightly with garlic and a pinch of chili flake. We chose Swiss cheese for the flavor it would bring to the kale and the egg. It also has a drizzle of housemade garlic aioli." During the summer, the sandwich might incorporate a seasonal veggie like ripe red tomato.
Tabor Bread: 5051 SE Hawthorne Blvd., 971-279-5530