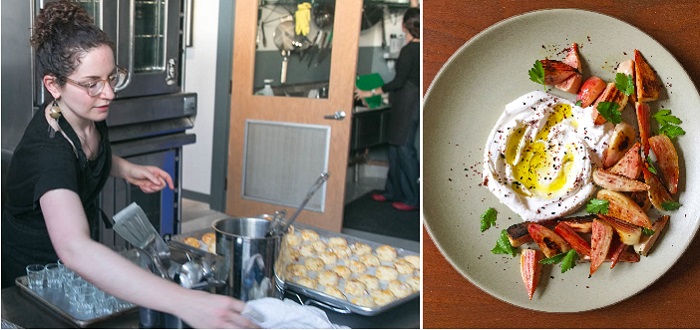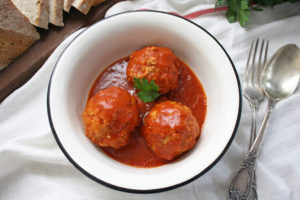 PHOTOS: Above, Beetroot owner and Executive Chef Sonya Sanford works in the new deli's kitchen (by Mark Hanauer); above right, lebneh with beets, which Sonya calls "the vegetable of my people." At right, Sonya makes her tefteli (Russian meatballs) with ethically sourced poultry and rice.
A modern Jewish deli and specialty food store opens in Northwest Portland Aug. 21. (See below)
"We really can't wait to open our doors and create a warm, nourishing and safe space for all people – while sharing our Jewish heritage through food," says Beetroot Market & Deli owner owner and Executive Chef Sonya Sanford.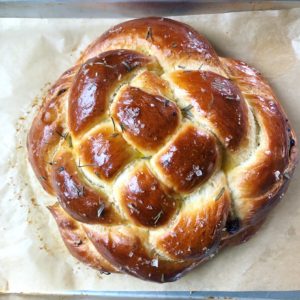 Sonya and her Chef de Cuisine Risa Lichtman plan to share the traditional Ashkenazi favorites they both grew up with as well as the Israeli cuisine they each grew to love while living in the Jewish state. They also plan to incorporate seasonal, organic produce, locally sourced as much as possible. The menu will feature pastrami and lox, artisan boiled bagels and rye bread, and Israeli-style chicken schnitzel sandwiches and za'atar roasted vegetables.
Sonya, who fell in love with Portland as a student at Reed College, considers Portland the perfect place to bring her dream of a modern Jewish deli to fruition.
"Portland is a place that cares about food and ingredients," says Sonya. "I feel the Jewish community is growing … (and) there is room for more Jewish food in Portland. It is an embarrassment of riches."
Sonya says she chose the name Beetroot for multiple reasons, but primarily because, "I think of beets as the vegetable of 'my people,' which involves its link to borscht. I learned to make borscht from my grandmother, and it one of my favorite things to make and serve, and also one of the first things I really learned to master as a cook."
Sonya was the first member of her family born in the United States after her parents moved from what is now the former Soviet Union.
"That definitely influenced my cooking," she says.
She added Israeli cuisine to her experience when the family moved to Jerusalem when she was 10 while her mother earned her Ph.D.
Risa also spent time in Israel. Her father survived the Holocaust in France as an infant.
"We have a strong Ashkenazi background along with other Jewish cuisine influences," says Sonya.
The market portion of the business will feature all the foods used in the deli as well as packaged specialty foods.
Though the deli is not certified kosher, some of the packaged items will be kosher. Deli foods will be made kosher-style with lots of vegetarian and vegan options. The deli will be closed on Shabbat, but will provide catering for Kiddush and simchas on Saturday. The deli website includes a form to request catering information.
The two Jewish women also want to ensure their business is inclusive and rooted in social justice. Sonya plans to use inclusive hiring practices and offer a living wage – not because it's easy, but because she believes in the importance of balancing business with ethics.
As she begins the final push to open Beetroot, Sonya has launched a crowdfunding campaign to open in a financially sound way. "Our campaign page has all the info about what we're doing and why we're crowdfunding," she says.
Beetroot Market & Deli