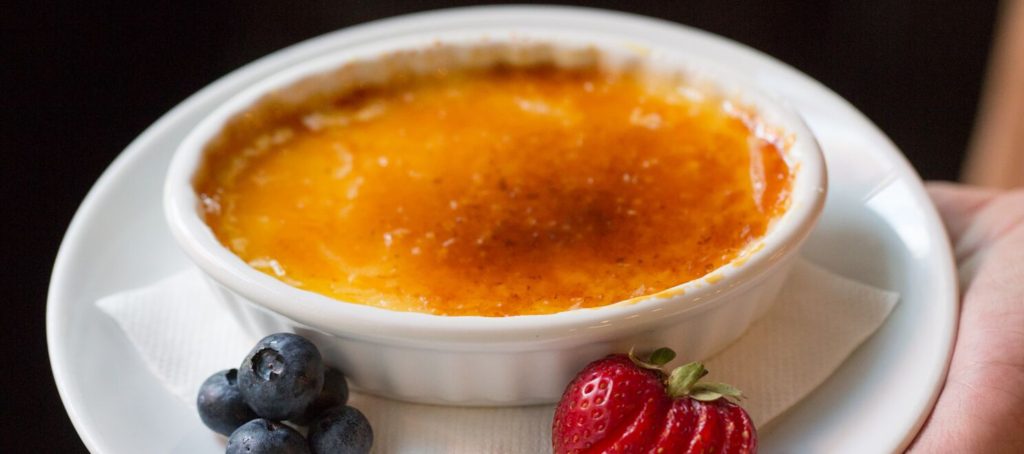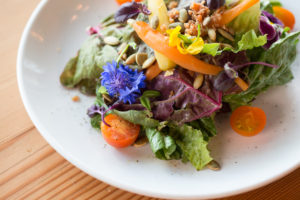 Above: Crema Catalana; Left: Perlot Salad; Below: Pasta. Photos courtesy Alan Weiner Photography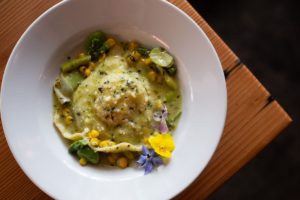 One of the only Portland restaurants to regularly showcase live jazz also offers a creative, high-concept menu. Perlot (formerly Southfork) features the cuisine of Chef Patrick McKee, who has worked at the venerable Paley's Place and Castagna. Patrick draws heavily on the Italian cuisine of his childhood.
"My mother is Italian, so I grew up in a very food-centric family," says Patrick. "My mother and grandmother cooked all the time. It's definitely no wonder that my life is filled with food, considering how we grew up. I remember going out in the morning, picking tomatoes in the summertime with my grandmother, and she would turn them into marinara." Patrick features his grandmother's red sauce and gnocchi on the menu. One night a week, he offers the Roman dish cacio e pepe, which is a rich meal of pasta, pecorino, black pepper and a little butter.
Patrick is also inspired by the bounty of the Pacific Northwest. He uses albacore tuna from the Oregon Coast, chanterelles from the mountains and meat from Central Oregon. The chef plans his menu around what is seasonally available. His late fall/early winter menu will feature squash and heartier winter greens such as Italian kale, apples and pears. Originally from Washington, D.C., Patrick has been inspired by the state of Oregon ever since his grandparents moved to Brookings Harbor when he was a child; he spent his summers on the Oregon Coast.
The chef is happy to accommodate dietary restrictions; he tries to ensure that at least one main course is vegetarian and/or vegan. He says, "I love vegetables, and I want to make sure that everyone is taken care of." He adds that his seasonable vegetable plate is very popular, with its variety of pickled, raw and cooked veggies. At the time of this writing, Perlot's dinner menu featured ricotta ravioli alla Norma, and oyster and shiitake mushroom dashi with smoked tofu, soy sauce and miso butter.
Patrick is very proud of the live jazz at Perlot. "You can see some of Portland's great jazz musicians while you're getting a really good dinner, as well," he offers. The restaurant features music on Friday and Saturday nights and on weekend mornings. "The jazz brunch is very popular," he says.
Currently, the restaurant is closed on Sunday nights, but Patrick plans to offer a once-a-month, family-style Italian Sunday dinner. "This comes from my mother, who was a big stickler about Sunday nights," he explains. "If you had a job, you didn't work. My mother would make all this food and spend all day, and part of the day before, in the kitchen. She'd create a feast, and we would all just sit at the table and talk." The meal will be kid-friendly.
Perlot: 4605 NE Fremont St., 503-477-4453, perlotpdx.com