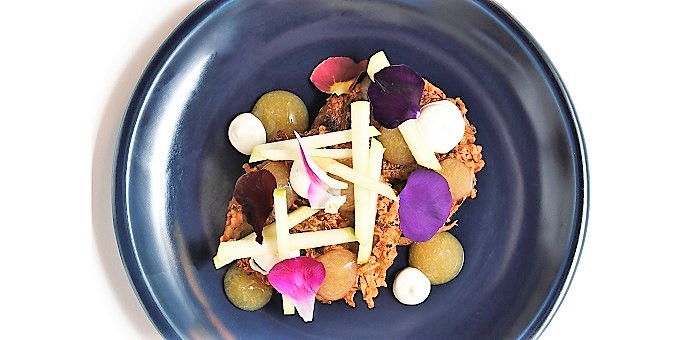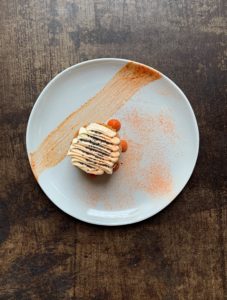 PHOTOS: Above, potato pancakes at Delores. At right, carrot cake.
The shopping plaza at Southeast Morrison and 14th Avenue was already quite a culinary destination with Nostrana and its sister restaurant, Enoteca Nostrana. Now, with the recent opening of Delores, there's one more reason to visit the block.
Chef B.J. Smith totally revamped his Smokehouse barbecue joint into an upscale Polish restaurant. "In southern Indiana, there was a huge Polish population, and I grew up eating this food for my entire childhood," says B.J. "And in the last few years, I think the older we get – you start missing childhood things, and you find ways to revisit them."
When he opened Delores, "there were no Polish restaurants whatsoever in Portland, and there were no contemporary Polish restaurants in the United States. So I just wanted to make that happen."
At Delores, B.J. serves "elevated comfort food" that is both beautiful to look at and satisfying.
B.J. cooks up what are arguably the best potato pancakes in Portland. Delicate, lightly fried and dotted with apple butter, they make a great appetizer. Another recommended opener is a dish of pepita-topped roasted carrots atop a pumpkin puree. The spätzle with rapini and a velvety Gruyere sauce could be described as the best macaroni and cheese you've ever had.
"That's what we were going for," says B.J. with a laugh.
Other dishes include borscht and potato cheese pierogies. Readers should be aware that the caramelized onions in this last dish can be omitted, as they are cooked with bacon. The restaurant staff is knowledgeable about the contents of each dish, and they are happy to answer questions about ingredients.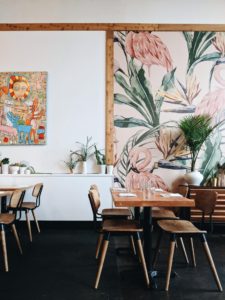 The menu at Delores changes according to what is available on the market. Recently, sturgeon has been rotating with steelhead trout and black cod in the seared fish entrée.
Desserts shouldn't be missed, especially the imaginative carrot cake with cream cheese, salted caramel and black sesame seeds and the paczki (Polish donuts) with berries. As for dessert drinks, there's a chocolate martini made with tahini cordial, cinnamon and crème de cacao.
Reservations are highly recommended, as the eatery has been generating a lot of buzz.
Delores: 1401 SE Morrison St., Ste. 117, 503-231-3609, delorespdx.com
Kerry Politzer is a lifelong foodie who moved from New York to Portland in 2011. Before becoming the NW Nosh columnist for Oregon Jewish Life, she wrote for Dessert Professional, IN New York and WHERE Traveler.