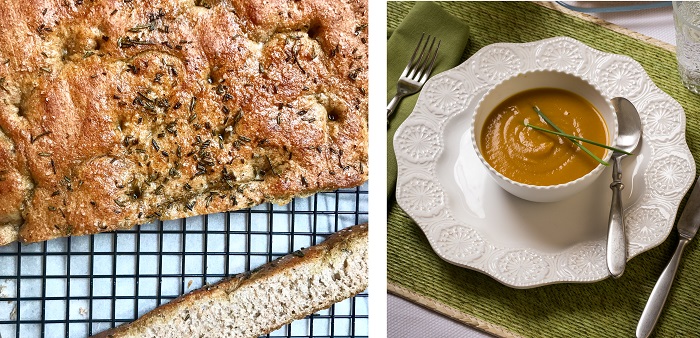 Thanksgiving is a special holiday for kosher chef Paula Shoyer.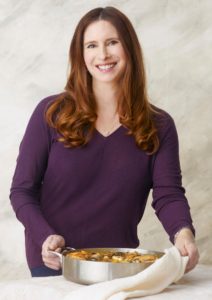 "Thanksgiving is such a beautiful American holiday and since it is always on Thursday, Shabbat comes up 24 hours later," says Paula. "My American and Jewish culinary traditions come together with 48 hours of gratitude."
For the Shabbat after Thanksgiving, Paula says she traditionally makes pumpkin challah to pull the Thanksgiving theme into Shabbat.
"For many years when I was entertaining on Friday night and holidays, I would try to do something trendy," she says. "Once my children were older, I wanted to create lasting food memories. I make the same thing every year for Thanksgiving – roast turkey and whole grain stuffing, with maybe a new side dish."
As a kosher chef, Paula says she has found ways to make the foods her family wants while observing the dietary laws. For instance on Thanksgiving, she uses pie crust without butter.
"My kids want classic pumpkin and pecan pie," she says. So she makes a pecan pie from her first cookbook, The Kosher Baker, every Thanksgiving. "That is what the crowd demands!"
Every Thanksgiving, she also makes Caramelized Onion and Sweet Potato Soup from her cookbook, The New Passover Menu. "It's so 'creamy' it makes a wonderful first course for Thanksgiving. I serve it with Rosemary Focaccia."
Following are three of those Thanksgiving classics from her family's food memories of the holiday.
ROSEMARY FOCACCIA
Parve, Vegan • Makes 1 12 x 16-inch flatbread (at least 12 servings)
Here is a recipe for focaccia that is very easy to make. You can cut it into strips to serve with soup or as a different bread for Shabbat lunch, or cut it into squares for sandwiches. After the first day, I always toast my slices.
PREP TIME: 10 minutes; first rise 1 hour, second rise 2 hours • BAKE TIME: 25 minutes • ADVANCE PREP: May be made 3 days in advance or frozen • EQUIPMENT: Measuring cups and spoons, stand mixer with dough hook attachment, plastic wrap, jelly roll pan, wooden spoon, cutting board, knife.
Bread
3 cups plus 3 tablespoons all-purpose flour, divided
4 cups whole-wheat flour
3½ cups warm water
1½ teaspoons yeast
1 tablespoon kosher salt
Extra virgin olive oil for greasing bowl
Topping
⅓ cup plus 2 tablespoons extra virgin olive oil, divided; plus extra for greasing bowl
¼ teaspoon kosher salt
2 teaspoons finely chopped fresh rosemary
Place 3 cups of the all-purpose flour, whole-wheat flour, water and yeast in the bowl of a stand mixer with a dough hook attachment and combine; continue for 1 minute more, or mix by hand. The mixture will be sticky. Cover the bowl with plastic wrap and let the dough rise for 1 hour.
Add the salt to the dough, and mix with the hook attachment for 5 minutes. Place 1 tablespoon of all-purpose flour on the counter. Turn the dough out onto the counter and coat both sides with the flour. Knead the dough a few times, adding 1 or 2 tablespoons of flour if the dough is very sticky. Grease the bowl with a little oil and place the dough back into the bowl. Cover it with plastic wrap and let the dough rise for another hour.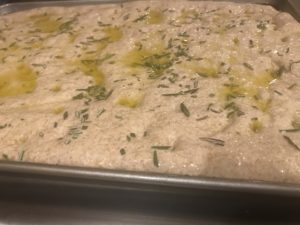 Place ⅓ cup of the olive oil on a jelly roll pan (the pan you use must have sides). Place the dough on top and press and stretch it toward the corners of the pan as best as you can, without getting oil on yourself. Cover the pan loosely with plastic wrap and let the dough rise for 10 minutes. Every few minutes, press on top of the plastic wrap to stretch the dough into the corners, without causing the oil to tsunami over the sides of the pan, and lift the plastic so it does not stick to the dough. Preheat the oven to 450°F.
Remove the plastic wrap and use the end of a wooden spoon to poke holes in the dough, about every 2 inches. Drizzle the remaining 2 tablespoons of olive oil on top of the dough. Sprinkle it with kosher salt and chopped rosemary. Bake the bread for 25 minutes. As soon as it is cool enough to handle, slice it and start eating.
Reprinted with permission from The Healthy Jewish Kitchen by Paula Shoyer, Sterling Epicure 2017, photos by Bill Milne.
CARAMELIZED ONION AND SWEET POTATO SOUP
Serves 10
¼ cup oil
4 pounds onions, halved and sliced into 1-inch slices
4 cloves garlic, roughly chopped
½ teaspoon salt
¼ teaspoon white pepper (or black pepper if white is unavailable)
3 large sweet potatoes, cut into 2-inch chunks
8 cups water, vegetable or chicken stock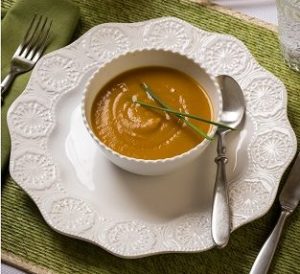 Heat oil in a large soup pot. Add onions and cook on high heat, stirring often, until onions are well-browned. This takes about 40 minutes. If the onions get a little stuck on the bottom, just stir them. You want the onions to be nicely browned, not burned.
Add garlic, salt, and white pepper and cook for five minutes more. Add the sweet potatoes and water or stock. Bring to a boil and then simmer for 40 minutes, or until the potatoes are soft. Cool slightly.
Purée the soup, using an immersion blender, or in batches in a food processor, until it is completely smooth. If using an immersion blender, purée for three full minutes. Taste for seasonings and add salt or white pepper as needed.
Reprinted with permission from The New Passover Menu by Paula Shoyer, Sterling Publishing 2015, photos by Michael Bennett Kress.
ORANGE MOCHA PECAN PIE
Serves 8
Storage: Store covered in plastic at room temperature for up to four days or freeze up to three months.
1 frozen parve 9-inch deep-dish pie shell
2 tablespoons parve margarine
3 tablespoons parve unsweetened cocoa
1½ tablespoons finely ground coffee or instant coffee granules
3 tablespoons parve plain soy milk
1 teaspoon orange zest (grated outer peel) (from 1 orange)
1 teaspoon fresh orange juice (from zested orange)
1 cup light corn syrup
1 cup sugar
3 large eggs
1 teaspoon pure vanilla extract
¼ teaspoon salt
1¼ cups pecan halves, chopped or crushed into ½ inch pieces
Preheat the oven to 350ºF. Remove the pie shell from freezer and let thaw 10 minutes. Place on a jelly roll pan. Prick with a fork. Bake for 12 to 16 minutes, or until lightly browned. Remove from the oven and set aside.
In a large microwave-safe bowl, heat the margarine in the microwave for 45 seconds or until melted. Whisk in the cocoa, ground coffee, and soy milk. Add the orange zest and juice, corn syrup, sugar, eggs, vanilla, and salt. Whisk until well blended. Stir in the pecans.
Pour the filling into the pie shell. Bake until puffed and set, about 1 hour. Transfer to a rack and cool completely.
Reprinted with permission from The Kosher Baker, by Paula Shoyer, Brandeis University Press 2010