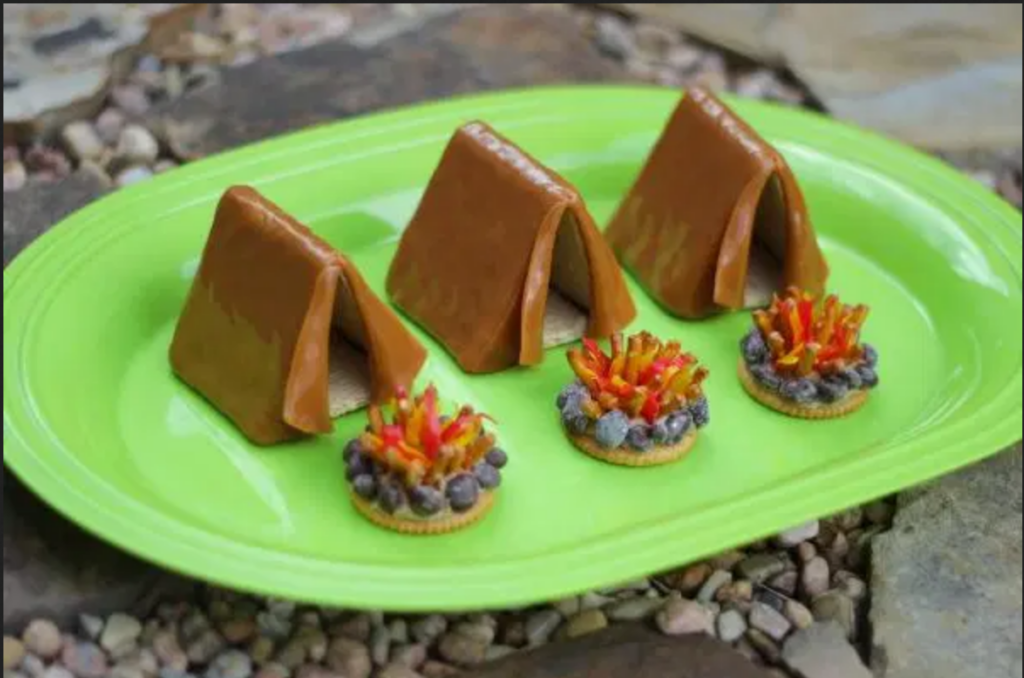 Whether your child is anxiously awaiting going to summer camp or you are just going to sleep in the backyard under the stars, recreate the fun desserts of camping at home with these no-campfire-needed treats.
Create Your Own Campsite
Recipe courtesy Sandra Denneler for SheKnows
Create clever tent cookies and campfire crackers in your kitchen with a few simple ingredients. No baking required!
Tent cookies recipe
Ingredients:
Chocolate candy melts (1/2 cup or less)
Graham crackers
Caramel apple wraps
Instructions:
Form tent from graham crackers
Melt chocolate candy melts in a microwave safe dish. Pour into a pastry bag (or use a zip-closed bag with the end snipped off). Pipe the edges of three graham cracker squares with the candy melt and join to form an A-frame tent.
Wrap tent in caramel.
Allow them to dry and harden. Place one side of the graham cracker tent on a caramel wrap. Fold the caramel over the graham cracker tent, until it reaches the bottom edge of the other side.
Seal tent back and create opening.
Cut the front and back flaps of caramel. Wrap the back flaps to seal shut. Cut the front pieces to make the flap openings of the tent.
Campfire treats recipe
Ingredients:
Ritz crackers
Peanut butter
Red/Yellow Fruit Roll-Ups
Pretzel sticks
Chocolate-covered raisins
Powdered sugar
Prepare the crackers:
Spread peanut butter on the crackers.
Create the "flames:"
Cut strips of red and yellow Fruit Roll-Ups into jagged, triangle/flame-like edges. Layer the red strips over the yellow strips and cut into 1-inch segments.
Attach the "logs" and "flames" to crackers:
Insert tiny pieces of pretzels and the Fruit Roll-Up fires into the peanut butter centers.
Add the finishing touch:
Dust chocolate-covered raisins with powdered sugar. Attach chocolate-covered raisin "rocks" around the outside edge of the crackers.
Present your adorable tent cookies and campfire treats together!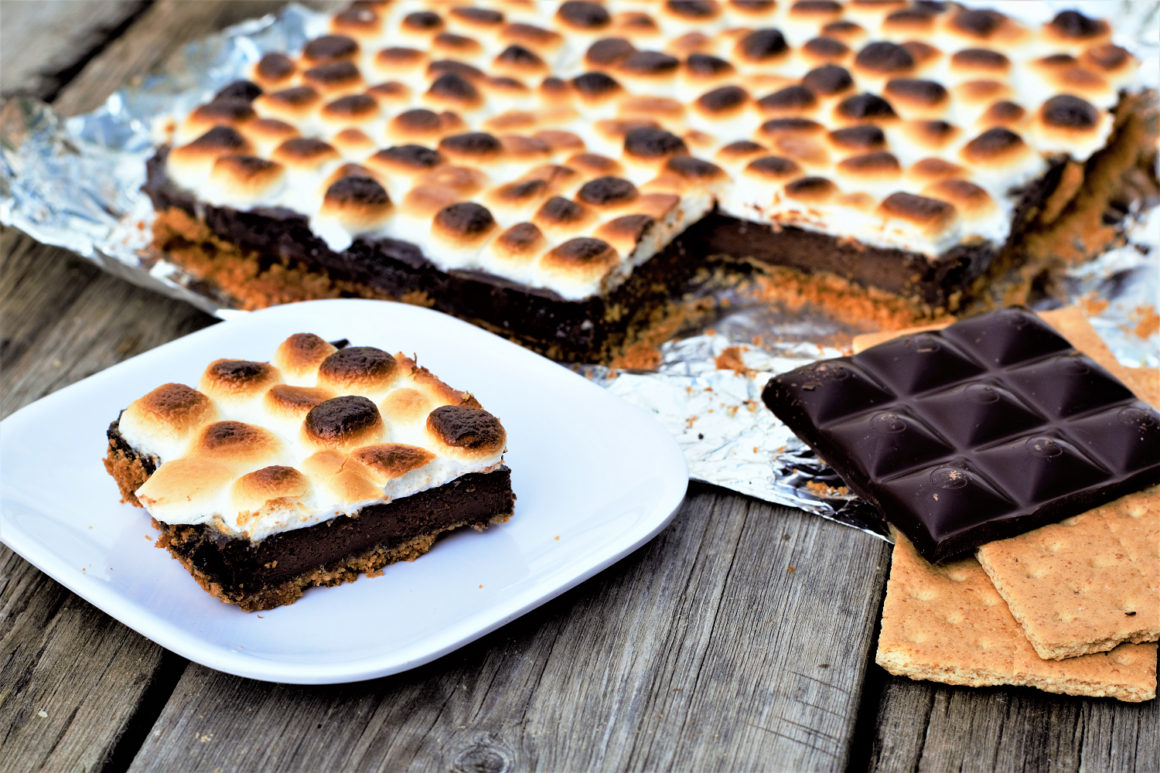 S'mores Bars
Recipe courtesy Mountain Cravings
Camping isn't camping without a roaring fire, and a fire isn't complete without s'mores! Here's an easy way to enjoy all the goodness of s'mores from your kitchen. Golden-brown-slightly-charred marshmallows melt over rich chocolate ganache.
Ingredients:
8 graham crackers
4 tablespoons butter, melted
1 cup heavy cream
1/2 cup milk
8 oz. chocolate, chopped
1 teaspoon vanilla
1/2 teaspoon salt
2 eggs
2 cups miniature marshmallows
Instructions:
Preheat oven to 325°.
Pulse graham crackers in a food processor until finely ground. Add butter and pulse until crumbs begin to clump together. Press crumbs firmly into an even layer in a foil-lined 8×8 pan.
Bake crust at 325° for 10 minutes.
While crust is baking, bring cream and milk to a simmer in a large saucepan. Remove from heat and whisk in chocolate, vanilla and salt until smooth.
Warm eggs under hot running water to bring them to room temp, then whisk into chocolate one at a time. Pour chocolate mixture over baked crust.
Bake at 325° for 25-30 minutes, until chocolate is just set in the center.
Scatter marshmallows over the top and gently press into the chocolate filling.
Return to the oven and broil on high until marshmallows are golden brown.
Let bars cool and refrigerate for at least 30 minutes to let filling completely set before cutting.
Campfire Bananas At Home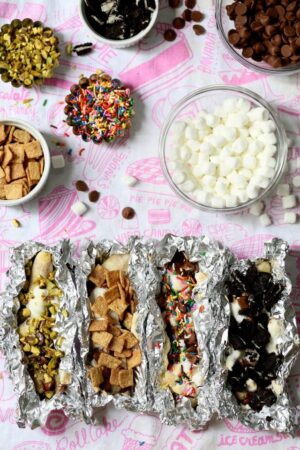 Recipe courtesy Joy the Baker
Ingredients:
Bananas, ripe and peeled
Milk chocolate chips
Miniature marshmallows
Chopped pistachios
Rainbow sprinkles
Crumbled Oreos
Sugary cold cereal
Instructions:
Place a rack in the upper third of the oven and heat oven to 400°.
Slice bananas down the center vertically. Top each banana with chocolate chips and marshmallows. Wrap each banana individually in aluminum foil and place on a rimmed baking sheet. Bake for 6 to 8 minutes or until chocolate and marshmallow has melted and the bananas are softened slightly.
Remove from the oven, carefully open the foil and top with whatever toppings you'd like. Enjoy!