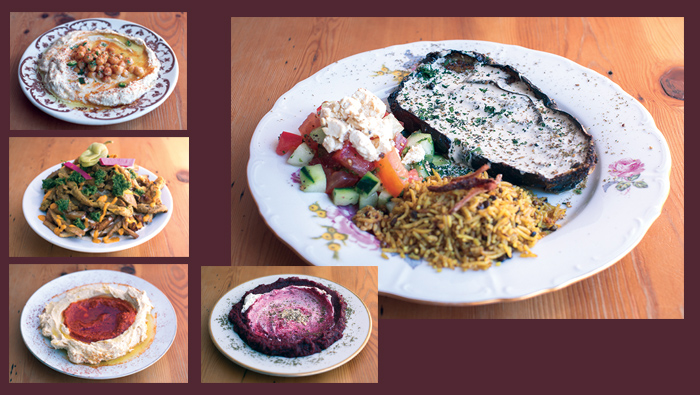 When the popular Gonzo Falafel and Hummus food cart closed, customers missed its shawarma fries. Israeli-born chef Tal Caspi used to operate Gonzo outside of a brewery, but as so often happens in the food-cart world, he was forced to move. After a brief and unsuccessful relocation, Tal decided to focus his energy on new projects: a packaged hummus company, a vegan ice cream shop, a catering outfit and Aviv, his outstanding brick-and-mortar restaurant.
Aviv differs from Gonzo in several respects. Not only does the restaurant offer a more extensive menu and a fine-dining atmosphere, it also features an entirely plant-based menu. The shawarma fries now include soy curls instead of grilled chicken. When asked about his restaurant's vegan focus, Tal explains, "Aviv evolved the same way I evolved. I became vegan, so Aviv became vegan. I had a bit of a spiritual moment and realized I couldn't eat animals anymore. With Aviv, what's really fun is that we're able to bring a lot of people to the table who are not vegan. My favorite review we get, from people who do eat meat all the time, is how much they enjoy the restaurant and the experience, and how they don't miss that component."
At Aviv, customers can enjoy shakshuka made with tofu instead of eggs, charred eggplant with lentils, rice and fried onions; seven varieties of hummus; grilled vegetables; falafel; and salads, among other dishes. Of particular note is the freshly baked bread. "We have a fantastic baker, Kristin Stanch; she worked for Thomas Keller," says Tal. "She makes the challah on the brunch (menu and) the pita. I asked her to make me something similar to a baguette, because shakshuka is usually served with a baguette."
Kristin is deeply involved in Tal's plan to open a dairy-free ice cream shop in spring 2018. "She makes our ice cream, which I'm trying to push more," he says. "She was working on ice cream cones and came up with a recipe made with aquafaba. It's really fantastic. We have four to six rotating flavors."
Kristin also created what is perhaps the tastiest vegan dessert in Portland: a rosewater panna cotta made with coconut and rice milk. Tal remarks, "I asked her to make malabi, and she came up with that recipe. We've also had an ice cream with the same flavor."
Along with operating Aviv, launching his packaged hummus line at New Seasons and developing his ice cream concept, Tal is also busy with Aviv Catering.
"There was one Jewish caterer in town. We do bar mitzvahs, weddings, corporate events and office parties. We're parve. We've not kosher but there's no meat, no dairy." Aviv Catering was chosen to cater a recent benefit at the Oregon Jewish Museum and Center for Holocaust Education.
Other future plans of Tal's include relaunching Gonzo as a fast-casual, fast-food version of Aviv. For now, diners can enjoy his delicious Israeli cuisine both at Aviv and at home, where they can order through the Caviar delivery service.
Aviv: 1125 SE Division St.
avivpdx.com
503-206-6280