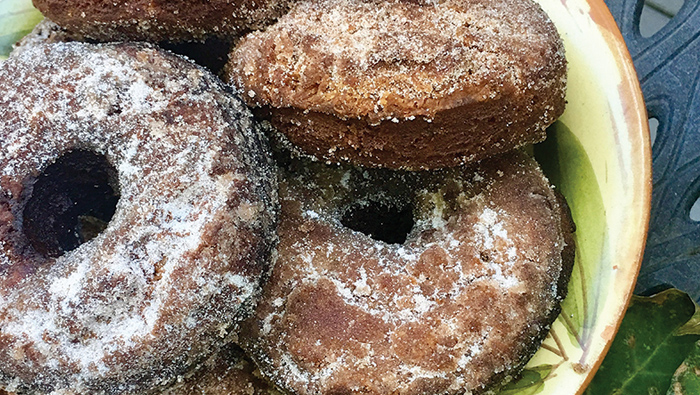 Nothing compares to fall in New England. While we lived there, we were able to experience the explosive fall colors that painted the landscape from Massachusetts to Maine.
In New England, they take Thanksgiving pretty seriously. After all, it is where it all began. The holiday feast dates back to November 1621, when the newly arrived Pilgrims and the Wampanoag Indians gathered at Plymouth for an autumn harvest celebration, an event regarded as America's "first Thanksgiving."
During the fall, farm stands are bursting with bright orange pumpkins, tart cranberries, stalks of dried corn and colorful gourds. And, of course, apples! One of my favorite fall memories during our time in New England was visiting one of the many orchards near Boston to pick apples. We would board a clickity-clackity little train that meandered through the orchard and hop off to pick the ripe apples from the heavily laden trees. The air was filled with the smell of apples being pressed into cider along with the intoxicating aroma of apple cider doughnuts, a New England specialty. We brought bags of crisp apples home to make our own pies, pastries, crisps and tart applesauce. I sure miss those family visits to the orchard long ago, but I can bring back the memory with this delicious New England Thanksgiving treat.
APPLE CIDER DOUGHNUTS
These sugared doughnuts are craggy and crunchy on the outside, tender and moist on the inside. Apple butter (not sauce!) is key to their texture and flavor; look for it alongside jams and jellies in the supermarket, or at farmers' markets, or make your own. I like the recipe from Bon Appétit (bonappetit.com/recipe/apple-butter)
(Makes 18)
2 3-inch cinnamon sticks
3 cups apple cider
½ cup apple butter
½ cup buttermilk
2 teaspoons vanilla extract
1 tablespoon plus 2 teaspoons baking powder
1 teaspoon kosher salt
¼ teaspoon baking soda
¼ teaspoon freshly grated nutmeg
3½ cups all-purpose flour, plus more for dusting
1 tablespoon plus 1 teaspoon ground cinnamon, divided
6 tablespoons unsalted butter, room temperature
¼ cup (packed) light brown sugar
1¼ cups granulated sugar, divided
2 large eggs
Vegetable oil (for frying; about 4 cups)
Bring cinnamon sticks and apple cider to a boil in a large skillet over medium-high heat and cook until liquid is thick, syrupy and reduced to about ⅓ cup, about 20 to 30 minutes. Scrape into a medium bowl and whisk in apple butter, buttermilk and vanilla until incorporated; set aside.
Whisk baking powder, salt, baking soda, nutmeg, 3½ cups flour and 1 teaspoon ground cinnamon in a medium bowl. Using an electric mixer on medium-high speed, beat butter, brown sugar and ¼ cup granulated sugar in a large bowl until light and fluffy, about 4 minutes. Add eggs one at a time, beating until well blended after each addition. Reduce mixer speed to low and add dry ingredients alternating with cider mixture in two additions, starting with dry ingredients and ending with cider mixture (dough will be very soft and sticky).
Scrape dough onto a parchment-lined rimmed baking sheet thoroughly dusted with flour (about ⅓ cup). Dust hands and top of dough with more flour, then gently pat dough to ¾" thick. Dust with more flour and tightly cover with plastic wrap; chill dough at least 3 hours.
Whisk remaining 1 cup granulated sugar and 1 tablespoon cinnamon in a small bowl.
Working on baking sheet, use a doughnut cutter or punch out as many rounds as you can with a 3¼" cutter, then use a 1¼" cutter to punch out center of each round. Gather doughnut scraps, reserving holes, and gently re-roll without overworking dough; repeat until all dough has been used (you should have 18 doughnuts).
Set a wire rack inside a paper towel-lined rimmed baking sheet. Fit a large pot with a deep-fry thermometer and pour in oil to a depth of 3″. Heat over medium-high until thermometer registers 350°. Working in batches, fry doughnuts until deep golden brown, about 3 minutes per side. Transfer to prepared rack and let cool slightly. Fry doughnut holes until deep golden brown, about 2 minutes per side. Transfer to prepared rack and let cool slightly. Toss warm doughnuts and doughnut holes in cinnamon-sugar mixture.
Do Ahead: Dough can be made one day ahead; cover and chill. Doughnuts are best when they are fresh.
Lisa Glickman is a private chef and teacher who lives in Portland. She has made TV appearances on COTV in Central Oregon and appeared on the Cooking Channel's "The Perfect Three." She can be reached at lisa@lisaglickman.com