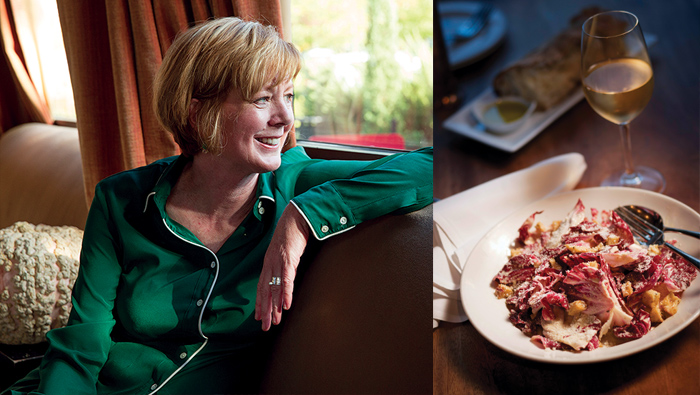 Open since 2005, Nostrana is one of Portland's most beloved Italian restaurants. On any given day, the large, airy dining room is packed to the gills; it's impossible to get a same-day reservation. Young people flock to the late-night happy hour, large parties celebrate birthdays and couples share wood-fired, thin-crust pizzas.
When asked why Nostrana has remained so popular throughout the years, chef/owner Cathy Whims responds, "Somehow, we have this sort of universal appeal to (both) people in Portland and out-of-towners. It's not just a special-occasion dining experience, it can be an everyday 'hey honey, let's go run and get a pizza and take the kids.' It can be a date night. It can be a special-occasion dining experience easily, too; I think that's what makes it successful."
The chef and her staff are constantly traveling to Italy for new ideas. A trip to Rome was the inspiration behind Cathy's wildly popular Gnocchi Thursdays. "The first time I ever went to Rome, I was in a restaurant on a Thursday, when it's real traditional for the trattorias and osterias to serve potato gnocchi," she says. Cathy furthered her appreciation of the small dumplings when she studied with legendary cookbook author and chef, Marcella Hazan. "I'd never had gnocchi that were so light and airy, like little pillows. It was a revelation. And so, I was determined that we would have Gnocchi Thursdays."
Cathy honors Hazan by featuring the author's famous pasta No. 3 on Nostrana's menu (see recipe). "(It's) in her first cookbook. Basically, you open a can of really good tomatoes, open a stick of butter, peel an onion and cut it in half. Put all of this in a pan together and cook it about 45 minutes. Eventually, the butter separates from the tomato, which lets you know that the emulsification has broken, that you concentrated the tomato sauce enough where it's perfectly intense and delicious. It's probably the best tomato sauce in the world; it's not mine, but I love it!"
Cathy also recommends her best-selling, wood-fired margherita pizza, a unique Caesar salad made with radicchio leaves instead of romaine and a delicious salsa-topped, wood-fired trout that is always presented in a slightly different way. For dessert, there are housemade gelati and sorbetti, a warm seasonal fruit crisp and the creamy butterscotch pudding Cathy learned from California chef Nancy Silverton.
Even the beverages at Nostrana are tempting. There's a rotating housemade fruit soda as well as coffee from local roaster Andrea Spella, whom Cathy calls "the best roaster of espresso in the country." She explains, "He's meticulous. He trains each and every one of our staff to make the coffee really taste like espresso at a great café in Italy."
Cathy is also excited about the recent hiring of an in-house sommelier. "We've created a great wine program (of) mostly Italian wines, some of which are quite rare." Soon, the chef plans to offer a menu of amare, or Italian bitter digestif liqueurs. She will feature these beverages after expanding Nostrana's bar and adding two private dining rooms.
Nostrana will celebrate its 12th anniversary on Oct. 14 with a dinner honoring the local farmers that provide the restaurant's high-quality ingredients.
Marcella Hazan's Tomato Butter Sauce
Adapted from Essentials of Classic Italian Cooking
Serves 4-6
1 28-ounce can Italian plum tomatoes (preferably San Marzano)
1 stick unsalted butter
1 medium onion, peeled and halved
Pinch of sugar
Salt
Crush tomatoes with hands while adding to medium sauce pan, adding juice as well. Add butter, onion, salt and sugar. Cook at a slow but steady simmer, uncovered, until fat separates from tomatoes, about 45 minutes. Discard onion and correct taste for salt. Enough sauce for 1 pound of spaghetti or ¾ pound of fresh fettuccine.
Summer variation: Instead of canned tomatoes, use 2 pounds fresh ripe plum tomatoes.
Nostrana
1401 SE Morrison St.
503-234-2427, nostrana.com