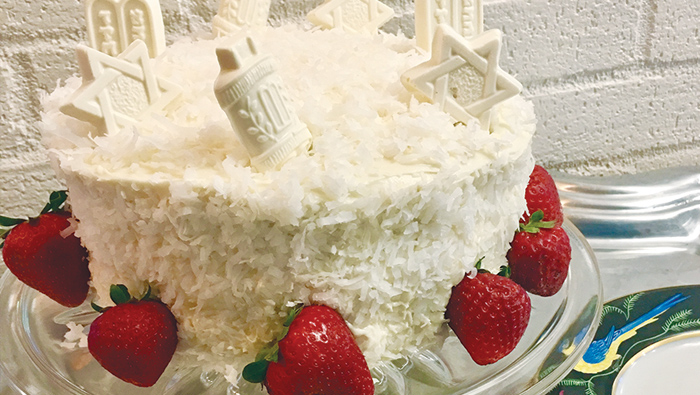 When I became engaged, I made the decision to convert to Judaism. I attended weekly meetings with our rabbi for several months, leading up to my conversion ceremony when I officially became a Jew. However, it wasn't until a trip to Israel a year later that I made the decision to become a b'nai mitzvah.
My father-in-law was inducted into the International Jewish Sports Hall of Fame at a ceremony in Israel during the summer of 1995. The whole family joined him to celebrate, and we spent several days in and around Jerusalem, exploring and learning about this amazing place. A friend from Portland asked us to look up her friend, who owned a gallery in the Old City. He was thrilled to meet us and insisted we join him on a short walk to share one of his favorite places – the rooftop of an old apartment building that directly overlooked the Western Wall.
He told us of his life in Israel and how important it was to him to be Jewish. He told us how both of his children, a boy and a girl, had spent time in the military to defend their homeland, just as he had in his youth. My sister-in-law, Jennifer, and I were so moved that we both decided we would do more to embrace our Jewishness. We agreed that together we would become b'nai mitzvah (children of the commandments). We participated in a b'nai mitzvah celebration with people of both genders (bar-son and bat-daughter of the commandments) called up for an aliyah.
Jennifer and I were far past the age of 13, but we studied Torah weekly for months to prepare. We learned Hebrew letters one by one using flashcards and studying text to prepare for our turn on the bimah. As a group of about 15, we took turns reading from the Torah, our shaking hand carefully holding the yad with Cantor Judith Schiff and Rabbi Emanuel Rose standing close by in support.
It was a special day for Jennifer and me, and we celebrated afterward with a family meal and a toast to the two of us for our hard work and study. It was an experience and an accomplishment that we both will never forget.
The bat, bar or b'nai mitzvah is typically celebrated with a party where all of their favorite foods are served. This coconut cake would have to be one of my all-time favorite desserts! The buttermilk adds the perfect tangy flavor to the rich, sweet and chewy coconut. Make sure all ingredients are room temperature – it makes all the difference.
Classic Coconut Cake
For the cake:
Nonstick vegetable oil spray
2 cups all purpose flour
1⅓ cups (loosely packed) sweetened flaked coconut
1 cup buttermilk
1 teaspoon baking soda
2 cups sugar
1 cup (2 sticks) unsalted butter, room temperature
5 large egg yolks
4 large egg whites, room temperature
¼ teaspoon salt
For the frosting:
3⅓ cups powdered sugar
1 8-ounce package cream cheese, room temperature
½ cup (1 stick) unsalted butter, room temperature
2 teaspoons vanilla extract
1 cup (about) sweetened flaked coconut
1 package white chocolate chips, melted for decoration
Star of David chocolate mold (can be found at good cake decorating store)
For the cake: Preheat oven to 350°F. Coat two 9-inch-diameter cake pans with nonstick spray and line bottom of pans with parchment paper rounds. Mix flour and coconut in a medium bowl. Whisk buttermilk and baking soda in a small bowl. Using electric mixer, beat sugar and butter in a large bowl until light and fluffy, about 2 minutes. Add egg yolks and vanilla; beat to blend. Add flour mixture alternately with buttermilk, beginning and ending with flour, beating just to blend after each addition. Using clean dry beaters, beat egg whites and ¼ teaspoon salt in another large bowl until peaks form. Add a third of egg white mixture to batter; fold into batter just to blend. Fold in remaining egg white mixture in two additions. Divide batter between pans. Bake cakes until tester inserted into center comes out clean, about 35 minutes. Cool cakes in pans on racks 10 minutes. Run small sharp knife around sides of cake pans. Invert cakes onto racks. Carefully peel off parchment. Cool cakes completely.
For the frosting: Use electric mixer to beat sugar, cream cheese, butter and vanilla in a large bowl until blended. Place one cake layer, flat side up, on plate. Spread with 1 cup frosting. Place second layer, flat side down, atop frosting. Spread remaining frosting over top and sides of cake. Sprinkle some coconut over top of cake; pat more coconut on sides of cake. Decorate with white chocolate stars. (Can be made up to two days in advance; cover with cake dome and refrigerate. Let cake come up to room temperature before serving.)
Lisa Glickman is a private chef and teacher who lives in Portland. She has made TV appearances on COTV in Central Oregon and appeared on the Cooking Channel's
"The Perfect Three." She can be reached at lisa@lisaglickman.com.