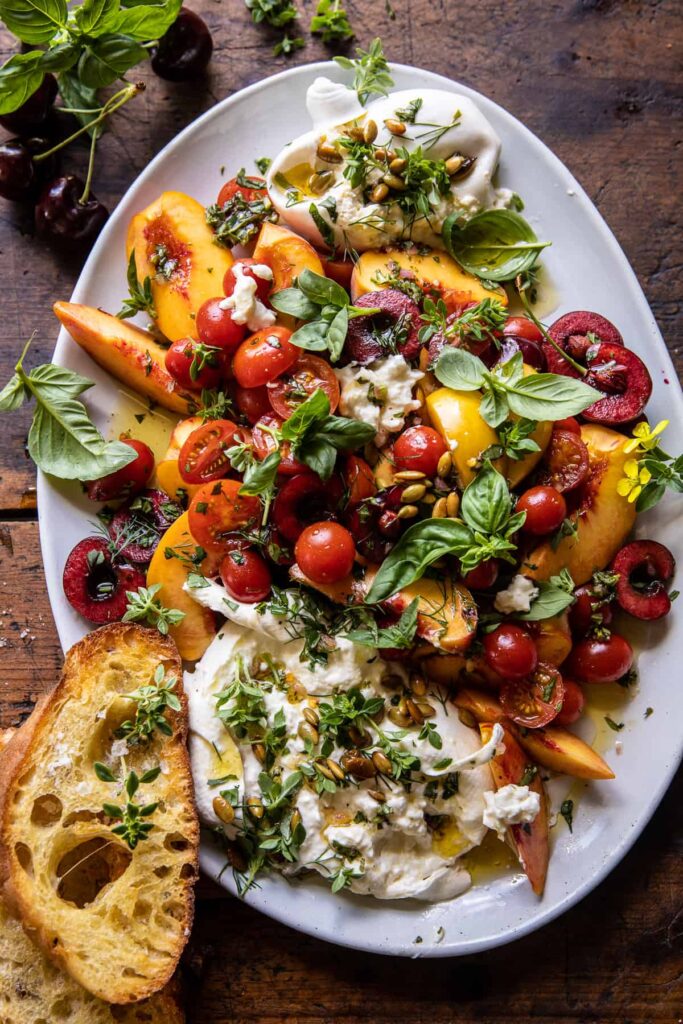 Recipe by Tieghan Gerard from Half-Baked Harvest
This colorful Tomato, Peach, and Burrata salad is summer on a plate with the most delicious herb vinaigrette and plenty of sweet summer fruits and burrata cheese. Juicey cherry tomatoes, sweet peaches, and fresh basil tossed together with an herby, tangy honey vinaigrette. Serve this fresh summer salad over creamy burrata cheese and top with toasted pumpkin seeds for a healthy crunch. It's simple to throw together, but so fresh and flavorful!
Clearly I felt like our Wednesday needs lots of color and summer vibes. As I said above, salad is really what summer is all about. Tomatoes, peaches, and herbs in their raw form…and with a darn good amount of cheese too.
It's all of my favorite things in one bowl, I'm kind of obsessed.
alright details – start with the vinaigrette
As you might have imagined, this is pretty simple. Especially seeing as it's really just an overly extravagant caprese salad.
Start with the vinaigrette, which is key when it comes to additional flavor on this salad. It's an olive oil basil balsamic honey vinaigrette made with a small amount of raw shallot and plenty of herbs. The shallot adds this nice really subtle flavor, while the herbs and lemon brighten things up.
For the herbs, I went heavy on the basil and oregano, then added pinches of fresh dill and thyme. You can use any combination of herbs you love most, but when it comes to a summer salad with tomatoes and peaches, I always say to add basil.
now the salad
For the salad, you need fresh cherry tomatoes, peaches, and sweet cherries (or another stone fruit you love).
We're going to toss the salad with the vinaigrette, then let everything sit and marinate for a bit to really develop and bring on those delicious flavors.
finish it up
To serve, I love arranging the salad in either a big bowl or on a serving plate. Then I take the burrata cheese and break it over the salad. Top with fresh herbs, toasted pumpkin seeds, and a sprinkle of flaky sea salt.
Then just add crusty toasted bread on the side for scooping up the salad…and that's how I do it!
Not a lot of effort, but such a gorgeous and delicious end result.