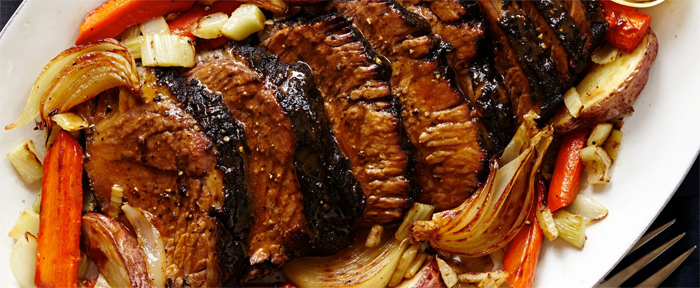 The main event has arrived! Options for beef, chicken, fish and vegetarian will please everyone's tastes.
Turkish Coffee Rubbed Brisket
Recipe courtesy Michael Solomov for Epicurious Photo by Linda Pugliese
Ingredients:
2 onions, peeled and quartered
2 large potatoes, scrubbed and cut into 1-inch-thick wedges
1 large carrot, peeled and cut into 2-inch pieces
1 fennel bulb, cut into 1 1/2-inch-thick wedges
1 garlic head, unpeeled, sliced in half crosswise
2 tablespoons extra-virgin olive oil
1 tablespoon plus 1 teaspoon kosher salt, divided
1 1/2 teaspoons freshly ground black pepper, divided
1 tablespoon finely ground Turkish coffee or espresso
1 tablespoon smoked cinnamon or regular cinnamon
1 teaspoon ground cardamom
One 3 1/2- to 4-pound brisket, (first or second cut; Solomonov prefers well-marbled second cut)
Directions:
Preheat oven to 400°F. Place onions, potatoes, carrot, fennel, and garlic in a heavy roasting pan. Toss with olive oil, 1 teaspoon salt, and 1/2 teaspoon pepper. In a small bowl, combine coffee, cinnamon, cardamom, remaining 1 tablespoon salt, and 1 teaspoon pepper. Rub all over brisket and nestle brisket into vegetables to rest on bottom of pan. Roast until vegetables are lightly browned, 45 minutes.
Cover tightly with foil, lower oven to 300°F, and roast until fork-tender (you should be able to insert a roasting fork in the center and twist slightly with little resistance), 4 1/2 to 5 hours for first cut and 5 1/2 to 6 hours for second cut. As the brisket cooks, check on it every 45 minutes, adding 1/4 cup water to the pan if it starts to look dry. When the brisket is cooked, remove roasting pan from oven, cool to room temperature, and refrigerate with the vegetables until fat is solid, 8 to 24 hours. Transfer brisket to a cutting board and slice across the grain. Skim and discard fat in the roasting pan. Return brisket slices to the roasting pan with the vegetables and cooking juices.
To serve, preheat oven to 300°F. Transfer roasting pan to oven and heat brisket until liquid is melted and brisket and vegetables are just warmed through, 15 to 20 minutes. Transfer the brisket and vegetables to a serving dish, cover with foil, and reserve. Set the roasting pan over two burners on the stovetop and simmer the liquid over medium heat until thickened, 10 to 15 minutes. Pour the thickened pan juices over the brisket and serve.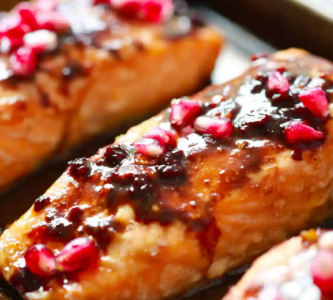 Pomegranate Glazed Salmon
It only requires four ingredients and the glaze has no added sugar, but has a delicious tangy flavor.
Recipe and photo courtesy Primavera Kitchen.
Ingredients:
1/2 cup pomegranate juice
2 tablespoons soy sauce
1 garlic clove — minced
4 salmon filets
Directions:
Preheat the oven to 400˚F.
In a large bowl, pour the pomegranate juice, soy sauce and the garlic. Mix everything well. Add the salmon and cover the bowl with an aluminum foil or plastic wrap. Let it marinate for about 15 minutes.
Place salmon (skin side down) on a parchment-lined baking sheet and bake it for 7 minutes.
Meanwhile, in a small saucepan over medium-high heat pour the marinade. Bring to a boil for 3 to 5 min., until thick and syrupy.
Remove the salmon from the oven after 7 minutes and pour half of the reduced marinade over the salmon. Return the salmon to the oven and bake for more 5-7 minutes or until the salmon is cooked through.
Transfer the salmon to four plates and pour the rest of the marinade sauce over the salmon. Serve it with rice, salad and/or roasted veggies.
Roasted Eggplant with Quinoa and Kale Dinner
The perfect vegan dinner for anyone looking to eat less meat. The eggplant is cooked perfectly when you make the criss-cross slices and roast in the oven. The honey and sesame seeds add sweet and crunch. Serve with the gorgeous couscous and kale side.
Recipe and photo courtesy Jamie Geller.
Ingredients:
1 eggplant
Extra virgin olive oil
Kosher salt
Freshly cracked black pepper
2 cloves garlic, chopped
1 lemon, zest and juice, divided
2/3 cup couscous, dry
1 1/2 tablespoons sesame seeds
4 teaspoons honey
1 /3 cup pomegranate arils
2 cups kale, chopped
Directions:
Wash eggplant, cut in half lengthwise, with the tip of the knife, cut diamond criss-cross into the flesh, not cutting through the skin.
Drizzle eggplant with oil and season with salt and pepper. Heat large oven-safe pan on medium-high heat. When pan is hot, place eggplant face down and sear until golden brown. Turn over and place pan in the oven for 10 minutes at 425℉.
Meanwhile, in a medium pot, heat 1 tablespoon oil, add garlic, and ½ the lemon juice. Add 1 cup of lightly salted water and bring to a boil. Add couscous, stir, cover and remove from heat.
In a small dish, combine sesame seeds and honey together. Remove eggplant from the oven and drizzle honey until covered. Sprinkle pomegranate arils over the eggplant. Replace pan in oven and continue to bake for an additional 10 minutes.
Place kale in a medium bowl, drizzle with 1 tablespoon oil and toss with remaining lemon juice, ½ the lemon zest, couscous and season with salt and pepper.
Plate dish: Divide kale and quinoa salad between two plates, place eggplant, drizzle with tahini and garnish with remaining lemon zest.
Sweet & Spicy Roast Chicken
Everything can be prepared and assembled a day in advance, so all that's left to do at dinnertime is pop it in the oven.
Ingredients:
1 teaspoon lemon zest
3 tablespoons freshly squeezed lemon juice, from 1 large lemon
1 teaspoon orange zest
6 tablespoons freshly squeezed orange juice, from 2 oranges
6 tablespoons extra-virgin olive oil
3 tablespoons whole-grain mustard
6 tablespoons honey
1/2 teaspoon crushed red pepper flakes
3 cloves garlic, roughly chopped
1 tablespoon fresh thyme leaves (or 1 teaspoon dried)
2 1/2 teaspoons salt
4 pounds bone-in chicken pieces (thighs, drumsticks and breasts)
3 cups 1/4-inch sliced carrots
1 medium yellow onion, halved and thinly sliced
1 cup thinly sliced dried dates
2 tablespoons chopped Italian parsley, for garnish
2 scallions, light and dark green parts, thinly sliced, for garnish
1 /4 cup chopped salted pistachios, for garnish
Directions:
Make the marinade: In a medium bowl whisk together the lemon zest, lemon juice, orange zest, orange juice, olive oil, mustard, honey, red pepper flakes, garlic, thyme, and salt.
Place the chicken, carrots, onions, and dates in a large sealable plastic bag. Add the marinade and seal shut. Massage to make sure everything is evenly coated with the marinade. Place the bag on a rimmed sheet pan to protect against leakage and marinate in the refrigerator for at least 6 hours or overnight.
Preheat the oven to 425°F and set an oven rack in the middle position.
Transfer all ingredients from the bag, including the marinade, to a rimmed sheet pan (do not line the pan with foil). Turn the chicken skin side up. Roast until chicken is lightly browned and cooked through, 40 to 45 minutes. About halfway through cooking, stir the carrots so that they don't burn around the edges of the pan.
Turn on broiler (leave pan on middle rack), and cook 1 to 3 minutes more, or until skin is golden brown and crispy. Watch carefully: the honey in the marinade can cause the skin to burn quickly.
Transfer the chicken, carrots, onions and dates onto a platter, along with the sauce in the pan. Sprinkle the parsley, scallions and pistachio nuts over top and serve.