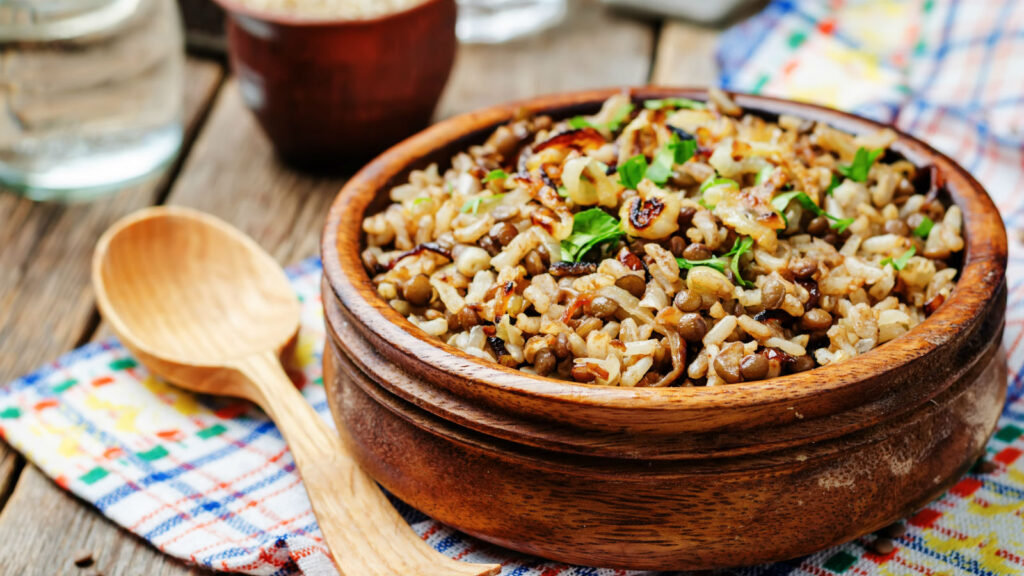 These dishes complement the main meal and are healthy and visually appealing too!
Lentil and Rice Pilaf with Browned Onions (Mujaderra)
Mujaderra, a hearty and satisfying lentil and rice pilaf, has for centuries been a staple in the Middle Eastern diet, as well as in the cuisine of Jews around the world with Middle Eastern heritage.
Recipe and photo courtesy Victoria Sutton.
Ingredients:
1/4 cup plus 2 Tablespoons oil
3/4 teaspoon salt
1/2 cup brown lentils, sorted and rinsed
1 cup whole grain brown rice*
2 1/2 cups water
2 large white onions, sliced in thin rings
Paprika to taste
Directions:
Combine water, salt, and 2 tablespoons oil in a saucepan and bring to a boil over medium heat. Add the brown rice and lentils to the saucepan. Once the mixture has reached a boil, cover and reduce heat to low. Let simmer for about 45 minutes, until the brown rice and lentils have cooked through.
While the rice and lentils are simmering, prepare the onions. Heat 1/4 cup oil in a skillet over medium-high heat until oil glistens and coats the bottom of the skillet. Add the thinly sliced onions, and cook for about 20 minutes, or until the desired color is achieved, stirring as needed. When cooked, sprinkle the onions with paprika to taste.
Serve Mujaderra topped with browned onions.
*If substituting white rice, first bring lentils to a boil in 1 cup water and simmer, uncovered, for about 15 minutes. Then add white, long-grain rice and enough water to equal 1 1/2 cups total, along with the oil and salt. Raise heat to medium, and once the mixture has reached a boil, cover and simmer over low heat for a reduced cooking time of 25-30 minutes.
Turmeric-Ginger Chicken Soup
T0 speed things up you can make this immunity-boosting soup with store-bought broth and rotisserie chicken.
Recipe and photo courtesy Martha Stewart Living.
Ingredients:
1 thinly sliced garlic clove
1/4 teaspoon turmeric
1 teaspoon grated ginger
1 teaspoon extra-virgin olive oil
6 cups low-sodium chicken broth
3 ounces angel hair pasta, broken in half
1 cup shredded cooked chicken
1 tablespoon fresh lemon juice
Microgreens and thinly sliced scallions for garnish
Directions:
In a saucepan over medium-high heat, saute garlic, turmeric, and ginger in oil until fragrant, about 30 seconds. Add stock; bring to a simmer. Add pasta; cook 1 minute less than per package instructions. Add chicken; heat through, 1 minute. Remove from heat. Stir in lemon juice. Serve with microgreens and scallions.
Sephardic Jeweled Rosh Hashanah Rice
Sweet and fragrant, this dish incorporates symbolic holiday foods.
Recipe and photo courtesy Vicky Cohen and Ruth Fox
1 1/2 teaspoon salt
1 teaspoon sweet paprika
1/2 teaspoon turmeric
1/4 teaspoon cumin
1/8 teaspoon black pepper
4 tablespoons extra virgin olive oil divided, plus 1 teaspoon
2 medium-size onions, diced small
10 dried apricots, quartered
6 dried figs (we used Smyrna), quartered
1/4 cup dried cherries
1/4 cup pistachios or pumpkin seeds
1 cup long-grain rice (we used Jasmine, but you can use Basmati or whatever you prefer)
1 cup water
1 1/2 teaspoon fresh lemon or orange zest
1 cup pomegranate seeds
Directions:
Combine salt, sweet paprika, turmeric, cumin and black pepper in a small bowl. Set aside.
Heat 2 tablespoons of olive oil in a deep, nonstick skillet with a lid. Add rice and spices and stir well.
Cook over medium heat for about 3-4 minutes, stirring constantly and making sure the rice gets well coated with the oil and the spices.
Add 1 cup of water. Bring to a boil, cover and reduce heat to low. Cook for 20 minutes, remove from heat and let it sit for 15 minutes covered.
In the meantime, heat the remaining 2 tablespoons of olive oil in a nonstick skillet.
Add onions and cook over medium heat for about 20 minutes stirring frequently, adding water 1 tablespoon at a time if necessary, to prevent from burning.
Transfer onions to a plate and in the same skillet, heat 1 teaspoon of olive oil. Add dried fruit and pistachios or pumpkin seeds and cook over medium-low for 2-3 minutes, stirring frequently.
Once the rice is ready, fluff it with a fork, add onions, dried fruit, pistachios and lemon or orange zest and toss well. Right before serving sprinkle pomegranate seeds on the rice.
Stovetop Tzimmes
Tzimmes is a traditional Ashkenazi Jewish side dish made with sweet root vegetables. Preparations often include carrots, sweet potatoes, yams, and dried fruits. The word tzimmes is a Yiddish expression for "making a fuss" over something.
Recipe and photo courtesy Tori Avey.
Ingredients:
1 1/2 pounds orange yams, peeled and cut into 1-2 inch pieces (2 potatoes)
1 1/2 pounds white sweet potatoes, peeled and cut into 1-2 inch pieces (2 potatoes)
1 pound carrots peeled and cut into 1-inch rounds (8 carrots)
6 ounces dried apples (1 1/2 cups)
6 ounces dried cranberries (1 1/4 cups)
2 cups orange juice
1/2 cup honey
1/2 cup brown sugar
2 teaspoons cinnamon
1 teaspoon salt
1/2 teaspoon black pepper
1 1/2 cups chicken broth (you may substitute "no chicken" broth)
12 ounces pitted prunes (3 cups)
Directions:
Place cut yams, sweet potatoes, and carrots on the bottom of a large heavy pot.
Pour dried apples and cranberries on top.
In a medium bowl, whisk together orange juice, honey, brown sugar, cinnamon, salt, and black pepper. Pour mixture over the fruits and vegetables in the pot.
Add chicken broth or "no chicken" broth to the pot, covering the vegetables halfway. Heat pot over medium high until it begins to simmer. Stir the ingredients once gently.
Reduce heat to a gentle but constant simmer. Cover the pot.
After 45 minutes, open the pot and gently stir again. Place pitted prunes on top of the simmering ingredients.
Cover pot. Continue to cook on lowest heat for another 15 minutes, until potato pieces are tender and prunes have warmed and softened. Don't cook too long, or the prunes will dissolve – it will make a nice sauce for the tzimmes, but it won't look so pretty on the table.
Honey Mustard Roasted Potatoes
This is one of those recipes where you whack yourself over the head and wonder, "why haven't I thought of this sooner?"
Recipe and photo courtesy Busy in Brooklyn.
Ingredients:
2 pounds red potatoes
2 tablespoons olive oil
1/2 teaspoon onion powder
1/2 teaspoon garlic powder
1/2 teaspoon mustard powder
1-2 tablespoons honey
Kosher salt, to taste
Directions:
Preheat oven to 400 degrees. Wash potatoes well and pat dry. Cut in half and place on a baking sheet. Add remaining ingredients and stir until potatoes are well-coated. Bake, uncovered, for 45 minutes – 1 hour, stirring occasionally.
Salt & Pepper Spaghetti Squash Kugel
This is a lighter version of the heavy noodle kugel present at High Holiday meals.
Recipe and photo courtesy Aviva Kanoff.
Ingredients:
3 cups shredded spaghetti squash (to cook the spaghetti squash, follow these directions)
3 large eggs
1 teaspoon salt
1 teaspoon pepper
2 teaspoons sugar
1/4 cup matzah meal
1/4 cup canola oil
Directions:
Preheat oven to 350 degrees.
Mix all ingredients except for the oil.
Pour oil into a 9×12 pan and place in a preheated oven for 5 minutes.
Pour squash mixture into hot oil and bake for 45 minutes.
Remove kugel from oven and pour off excess oil.
If the kugel is still too watery, bake out some of the moisture before serving.