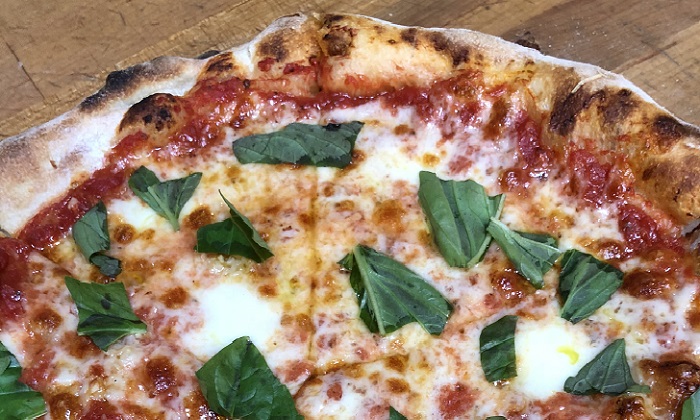 For a post-Passover treat, there's nothing quite like pizza. And where better to eat it than at The 1905 with its wealth of veggie options? The pizzeria is the brainchild of lifelong vegetarian and jazz musician Aaron Barnes. He serves a style of pizza that is a cross between what he terms the "New York street slice" and the artisanal gourmet pizza that is popular in Portland.
The 1905, which is named after the year the famed Lombardi's Pizza opened in New York City, doubles as one of Portland's finest jazz venues. There is live music every night.
"I'm exploring my passion and sharing it with others by booking music and pairing it with my favorite food," says Aaron. "It's my perfect environment, the place where I want to be all the time."
While Aaron has loved pizza since he was a toddler, he didn't become serious about the dish until he came across a Pizzicato Pizza recipe in the newspaper. He set about trying to make good pizza at home, but soon realized he needed to study with the pros. To that end, he shadowed Brian Spangler of Apizza Scholls and Ken Forkish of Ken's Artisan Pizza. With his newfound knowledge, he was able to conceive of the recipe that is making The 1905 a favorite among Portland pizza lovers.
Talking with Aaron, it is evident that he has spent countless hours distilling exactly what makes a good pizza.
"I really do think there's a certain balance," he says. "There are certain things about dairy, for example. Dairy dulls the palate. So you might want extra cheese, but with extra cheese comes less flavor of everything. And too much sauce can make (the pizza) wet; too much dough makes it bready and awkward to chew."
In keeping with New York tradition, Aaron serves both individual slices and whole pies. He also offers a variety of bases and toppings: "We like to blend elements that suit a variety of palates. I try to have pizza with a red sauce, or a pesto base, or olive oil with no sauce."
Particularly popular is the Oregon truffle pizza, a cheesy, decadent creation made fragrant with fresh garlic, white truffle oil and black truffle salt. But when it comes down to it, Aaron is a traditionalist; he favors the classic margherita pizza.
The mozzarella and Parmesan at The 1905 are made with vegetarian rennet, and Aaron also makes Daiya "cheese" available for those who eschew dairy. And if you happen to chance upon The 1905 before Passover has concluded, you can still order grainless dishes such as basil fries with lemon-garlic aioli, caprese salad or grilled asparagus dressed with balsamic vinegar and lemon juice.
The 1905: 830 N Shaver St., 503-460-3333, the1905.org