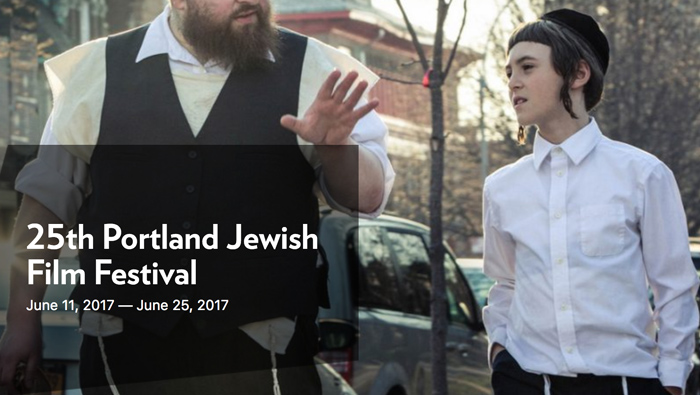 The 25th annual Portland Jewish Film Festival will kick off with a 7 pm screening of "Menashe."
Produced by the Northwest Film Center and co-presented by the Institute for Judaic Studies, this year's festival will present 18 films June 11-25. (See schedule)
On June 18 a reception will be held from 6:30 to 7:30 pm in the Andre Stevens Room of the Portland Art Museum prior to the screening of "Fanny's Journey."  Prior to the reception there will be a 4:30 pm screening of "Body & Soul" and "Strange Fruit." Families might want to check out "Fanny's Journey" about a heroic young girl in World War II France (see review).
"The receptions will be a celebration of the 25th year and a thanks to the Institute for Judaic Studies and many other sponsors who have supported PJFF over the years," says Northwest Film Center Director Bill Foster.
Of the opening night film, he adds, "I think people will appreciate the Opening Night film, "Menashe," which premiered at this year's Sundance Film Festival and offers both a touching story and a portrait of a little seen Orthodox way of life in Brooklyn, NY."
Bill says this year's festival is "purposefully eclectic in showcasing Israeli, European and American films – features, documentaries and shorts – that speak to Jewish experience and culture while showcasing new work by both established and debuting filmmakers."
One goal of the festival is to introduce people to the great wealth of work being produced that doesn't often find exposure in Portland theaters. That introduction often leads to further discovery.
One film of particular interest might be "The Settlers" (see review). The film provides diverse firsthand views of the evolution of West Bank settlements over the past 50 years.
Two documentaries, "Body and Soul: An American Bridge" and "Strange Fruit," explore the complex musical interplay between Jewish and African-American cultures.
"From the historically focused to the contemporary – history, family, politics and culture all surface in this year's program," says Bill.