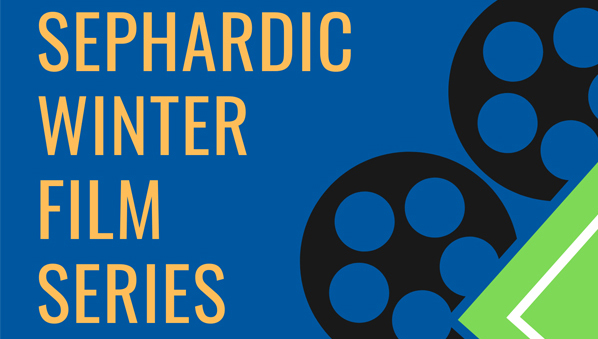 The Portland Sephardic Film Series is embarking on its 14th season of showcasing films of Sephardic content and Jewish interest. The series begins Nov. 12 and is sponsored by Sephardic Congregation Ahavath Achim, Oregon's original Sephardic synagogue since 1911. For the first time, the screenings for the films will be held at the Congregation's new synagogue building located at 6686 SW Capitol Hwy., Portland, in the Hillsdale neighborhood.
The screenings are free of charge, and so are the refreshments and discussion period following each film. Because of the generosity of several co-sponsors, this film series has become a means of relating Sephardic culture, history and education to the general public who have supported the series in large numbers since its beginning.
November 12 – Double Feature Night
"Rhodes Forever"
This documentary looks at the pre-WWII history of Rhodes from a less known perspective. In addition to examining the culture of the community, and instead of concentrating on the destruction of Rhodes Jewry, this film documents the little-known immigration of a large segment of the community to the Belgian Congo and Europe.
French and Ladino languages w/English subtitles, 60 minutes, 2003, by Diane Perelsztejn
"Trees Cry for Rain"
This short film traces the Sephardic journey of Rachel Amado Bortnick and takes the viewer on a fascinating journey exploring her Sephardic roots and recalling the rich, vanishing world of Sephardic culture and the nearly extinct Ladino language.
English Language, 1980, 32 minutes, Produced by Bonnie Burt
Speakers: Albert J. Menashe and Rochelle Menashe-Stilwell
December 10 – "The Jewish Frontier"
This film examines the history of Jewish people and organizations who helped build the state of Oregon. Arriving with the gold miners in 1849, they came for a better life away from persecution. Using rare historical photos, film, and more than two dozen interviews with people from all over the state, this film tells the story of pioneering Jews.
English language, 78 minutes, Producer: OPB, Speaker: Judy Margles, OJMCHE Director
January 14, 2020 – "A Kiss To This Land"
This fascinating film narrates the story of Jewish immigration to Mexico 1920-1930. It is a tribute to an entire generation of both Sephardic and Ashkenazic Jews who built communities and new lives and dreams after leaving their homes in Europe and the Middle East. This film has humor, love, adventure, joy and sadness.
Spanish w/ English subtitles, 83 minutes, Producer: Daniel Goldberg, Speaker: Jose Behar
February 11, 2020 – "GI JEWS: Jewish Americans in WWII"
This film tells the story of 550,000 Jewish American men and women who fought in World War II. In their own words, veterans both famous and unknown bring their war experiences to life; how they fought for their nation and their people, struggled with anti-Semitism within their ranks, and emerged transformed, more powerfully American and more deeply Jewish.
English, 90 minutes, 2017, Producer: Lisa Ades Speakers: Rick Cohen & Boby Brown
March 3, 2020 – Double Feature International Night
"The Nazi Games-Berlin 1936"
This film chronicles the story of how the Nazis and the International Olympic Committee turned a relatively small, elitist, sports event into an epic global mass media spectacle. The grand themes replete with architectural grandiosity, budget overruns, corruption, bribery, collusion with unsavory characters – including dictators and autocrats – and the ill treatment of black and Jewish athletes. This is a study of deception.
English language, 61 minutes, 2016, Produced by Taglicht Media.
"Holocaust Escape Tunnel"
For centuries the Lithuanian city of Vilna was one of the most important Jewish centers in the world, earning the name "Jerusalem of the North." The Nazis murdered 95% of its Jewish population. Now an international team of archaeologists is trying to rediscover this forgotten world, excavating the remains of its Great Synagogue and searching for one of its great secrets: a lost escape tunnel dug by Jewish prisoners inside a horrific Nazi execution site.
English language, 2016, 60 minutes, Produced by PBS, Speaker: Natan Meir, PSU
Sephardic Winter Film Series
When: Films shown on Tuesday evenings each month at 7 pm
Where: 6686 SW Capitol Hwy., Portland, OR
Admission and Sephardic dessert are free
For more information, contact Ron at 503-750-0888