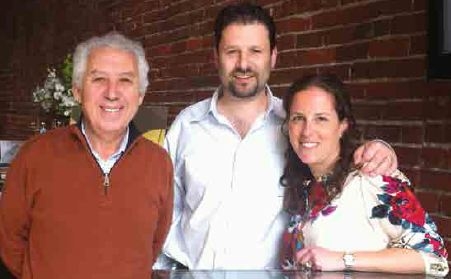 David and Ronnie Malka opened Malka Diamonds & Jewelry about four years ago on Southwest Third Avenue, across the street from Tel Aviv Diamonds, which David's father, Yossi Malka, has owned for 32 years. I spent an afternoon talking to the three about the family and the diamond business. What you will find is that behind every diamond is a love story. Their replies have been edited for brevity and clarity.
What is the history of the evolving diamond business in your family?
Yossi: In 1955 my family emigrated from Morocco to Israel. Growing up in a large family both a high school and college education were not available. My option was to learn a trade. My uncle was an Israeli diamond cutter and I became his apprentice. His cutting factory was in the central bus station of Tel Aviv. This was when Israel was evolving into having one of the largest diamond industries in the world.
How did you meet David's mom?
Yossi: It was in 1968. I remember getting a call from a friend who said, "I'm meeting two young American girls." I didn't speak English but I was taking a Berlitz night class. I went to meet them. One of them, Judy Policar from Portland, came to Israel to work on a kibbutz. I fell in love with her immediately and I took the bus every day from Tel Aviv to Netanya to see her. We dated and married that same year.
How did you get to Portland?
Yossi: In the fall of 1969, we came to Portland for a year. I spent that year working for Judy's father at the Puritan Fish Market on Third and Yamhill while Judy worked at a pharmacy. We decided to return to Israel. I opened my own diamond-cutting factory in the same area where I worked as an apprentice. Our two sons were born there. In 1976, we wanted to return to Portland to be with family. I decided to mortgage everything and started Tel Aviv Diamond Company to import and wholesale diamonds in downtown Portland. I leased an office in the Willamette Building and have been here ever since.
How do you feel about your son's venture into Malka Diamonds & Jewelry?
Yossi: I am very happy about their success. It is very satisfying for parents to see their children maintaining the future business.
Where did David and Ronnie meet?
Ronnie: We met in Israel on a high school one-year program for American students. David was from Portland and I was from California. We became good friends and reconnected in our early adult years after David served a three-year term in the Golani brigade of the Israel Defense Force. We try to visit Israel as often as we can and most recently took our two daughters, Maya and Ellie, for an amazing summer trip. In 1998 we moved to San Diego where David attended the Gemological Institute of America and earned a GIA Graduate Gemologist degree. David opened Independent Gemological Services in the Willamette Building doing appraisals and evaluations of jewelry and diamonds. Then we had an opportunity to lease a space on the street and the rest is history!
What is it like being a husband and wife team in downtown?
David (chuckling): The store is a next generation mom and pop shop. Ronnie works here five days a week and we are blessed that we can work together so well. When people come in and see our wedding picture on the wall they immediately make the connection. We work as a team – Ronnie helps with the creative side and I make sure the technical part of the project is correct. Our customers frequently tell us they feel like we are family, and we have enjoyed being part of their families' special life events.
Who are your customers?
Ronnie: 75% percent are guys who are about to propose. They are looking for value, quality and an education. Whether they are looking for a modern, vintage or custom ring, we have them covered. The other 25% seems to be people wanting to create something special. We either start from scratch or in most cases, we take items they have and recreate or restore them. You would be surprised how many people have jewelry in their drawer that they will never wear. We love to help them redesign the piece so it is worn again.
Are diamonds a good investment?
Yossi: Diamonds have been one of the best investments in the last 100 years. Diamonds in the last 20 years have increased in value close to 150 to 200%. When you buy the diamonds at the source, such as Malka Diamonds & Jewelry, it's a great investment.