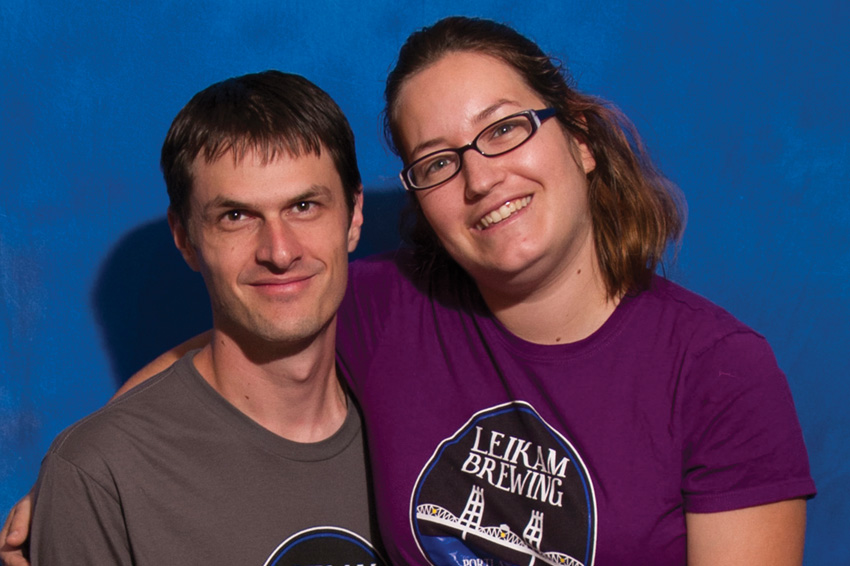 According to the trade website Oregon Craft Beer, Portland has the most breweries of any city in the world. But until the recent opening of Leikam Brewing, none of our city's craft breweries had been certified kosher.
A collaboration between husband-and-wife team Theo and Sonia Marie Leikam, Leikam Brewing aims to provide the Portland market with 300 gallons of kosher beer per month. The nanobrewery, which is located in the backyard of the Leikams' Southeast Portland home, focuses on classic Northwest styles such as India pale ale, red, porter and stout.
"We take a very hands-on approach to brewing our small-batch beers and (take) pride in creating an artisan product," says Sonia Marie. "We're a small brewery, which allows us to make many different beers, some regularly, while others are quick creative outbursts. Our beers are good anytime!"
Leikam Brewing obtained its certification from Oregon Kosher in January. When asked what makes their beer kosher, the Leikams answer, "The main beer ingredients (water, yeast, barley, hops) are inherently kosher. There are other ingredients that can be used in beer production that would not be considered kosher." In addition to omitting traif ingredients from their product, the couple follows the laws of kashrut in the brewery. During Passover, Sonia Marie (who is Jewish) plans to sell her part of the brewery to Theo (who is not), so as not to own chametz.
Leikam Brewing is also unique in that it offers a convenient subscription-based distribution option to its customers. Members can subscribe to their Community Supported Brewery (CSB), which models itself after the successful Community Supported Agriculture (CSA) program.
Theo, a veteran home brewer, graduated from Portland State University's Business of Craft Brewing certificate program this past spring. The increasingly popular program offers courses such as Craft Beverage Distribution and Strategic Craft Beverage Marketing.
"The program was a good place to get information about the industry and bounce ideas off people on the inside," says Theo. "It has great resources, and I would recommend it to people looking to get a start in the industry. One of the best parts about the program was being able to get feedback on my plan; my initial idea for the brewery is not the same plan I have now."
Although the Leikams do not have a formal culinary background, they have a great love for making their own food from scratch. "Granola, cheese, yogurt, bread and beer are all things we try to produce in-house as much as possible," they say in tandem. The couple has performed many culinary experiments with beer, hops and even spent grain.
"I put beer in latkes; I learned this from Martha Stewart," explains Sonia Marie. Other experiments include hops pesto and bruschetta, beer-basted Thanksgiving turkey and beer bread.
Always with an eye toward sustainability, the Leikams are searching out partnerships with local bakeries that might accept spent grain. Their hops are sourced locally.
"We have chosen to commit ourselves to reducing our carbon footprint and are excited to have found Crosby Hop Farm, a fifth-generation family farm," says Sonia Marie. "It is one of only a handful of Salmon-Safe Certified hop farms in the United States."
The Leikams, who have been involved in the local Jewish community since their arrival in Portland 15 years ago, are members of Congregation Shir Tikvah. An interfaith couple, the Leikams have three boys, ages 6, 3 and 1. The family is committed to maintaining a Jewish home and Jewish values.
Future plans of the Leikams include statewide distribution and the opening of a tasting room. They are also considering operating a delivery service to different quadrants of the city. Customers can order growler subscriptions, learn about sampling events, find out who is carrying Leikam Brewing on tap and follow the brewery for updates at leikambrewing.com and on social media.