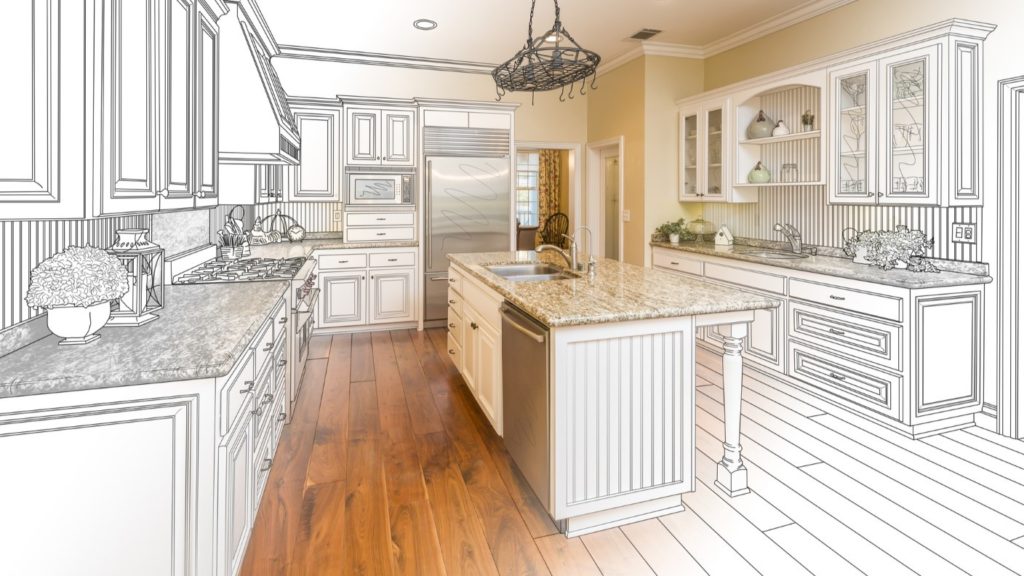 By Jules Hopkins

Your kitchen is your sanctuary — a place where steaks are seared, the mail is opened and sorted, midnight snacks are eaten, and grandma's chocolate chip cookies are baked. To better the flow of your kitchen, you might be considering some remodeling. Luckily — you might not have to spend as you anticipate, as some great DIY hacks will significantly cut the costs of renovation down.
If you're planning to update your kitchen, the last thing you want to happen is for it to cost you an arm, leg, and a kidney. Many people today are redefining the way kitchen remodeling is developed by implementing do-it-yourself methods. Read on to discover some great kitchen remodeling tips for aspiring DIYers.
Install Your Kitchen Cabinets Yourself
Cabinetry is one of the big projects marked on your remodeling to-do list — and it's probably one of the most expensive as well. In a perfect DIY world, you already have all the tools and materials to build your cabinets or at least get a great deal on them. Even if those factors are not entirely possible — one thing you can make sure of to save money on your cabinets is by installing them yourself!
Installing your kitchen cabinets will be hard work, but it will be well worth the sweat and dedication as you will be saving big money. The first thing to keep in mind though is that cabinets are pretty heavy so having someone to help you hold them will be a priority. It also means that you need to make sure your cabinet bases are bolted in the studs of your wall — so you will need to invest in a quality stud finder.
All things considered, many factors come into play while considering installing your cabinets including proper tools and research. But if you are up for the job and adhere to the proper knowledge, you will end up very proud of getting it done yourself!
Remove The Countertop Yourself
Demolishing your kitchen can save you quite a lot of money if done properly and starting with your countertops is a great place to start. Many people worry that they might cause damage to their kitchen if they were to take on this task themselves, but the truth is if all the precautions and prepping are properly implemented — there is no reason your project won't be a success.
Removing hardware and the backsplash will be one of the steps on removing your countertops — along with cutting your countertop in manageable sizes for removal. Wearing proper safety gear including safety glasses and gloves in removal is very important as well. You may need to remove your sink, disconnect supply lines and loosen any remaining adhesive.
Removing your countertop yourself requires proper research and some upper arm strength. If you're not a typical handyman and this is one of your first DIY projects — consider getting some help, especially if you have heavier material installed like granite or quartz.
Trade in or Sell Old Appliances for Cash
Now that you're getting all new appliances for your kitchen, it's time to throw out all your old ones, right? Wrong — one man's trash is another man's treasure. Many people on Craigslist or Facebook Market Place are searching for used appliances as theirs may have broken down or need parts. Taking a few minutes out of your day to make a listing with a detailed description can make you hundreds of dollars which can be used towards your new appliances.
Furthermore, if you are also looking to purchase updated appliances and not necessarily new products, you also may consider finding used products online. You can even find discounted appliances at your local home improvement store that might have been returned.
Paint Your Kitchen Walls and Ceiling
If you want to freshen up the look of your kitchen and cheaply, you may consider a fresh coat of paint on your walls and ceiling. If you want to go for an airy and open ambiance — go for a white, off white or another light color. If you want to create a warm and cozy feel in your kitchen, go for a more neutral color or deeper color.
Painting your kitchen walls is not hard to do — it just requires a lot of prep and effort. If you apply the right techniques and use quality products, your paint job will turn out just as good as the professionals. If you've never painted a wall before, don't worry — all you need to do is invest in the right products. You'll need products like a paint roller, painters' tape and plastic to cover your counters and appliances. For the trim, you will need to use a quality paintbrush, go with a Wooster or a Purdy which you can purchase at your local home improvement store.
Your kitchen remodeling doesn't have to break the bank it can be fun to see how much money you can save by doing a lot of your projects. If you're a DIYer at heart, you'll love finding new ways to get your hands dirty and put some effort into learning these skills yourself. Currently, we have thousands of tutorials and information at our fingertips, ready to be accessed in a matter of seconds. Taking the time to research, take notes, and invest in proper materials can save you a lot of money and make you feel much better about remodeling your kitchen.
If you're serious about saving money and learning these skills, the best thing you can do is take the time to read or watch relevant videos. Furthermore, you may think by purchasing some of the cheaper products, you'll save more money but, investing in quality tools and products will ensure quality work.
The most important thing to remember is to take your time, have fun, and listen to advise. As long as you're being safe, have an eagerness to learn, and take it one step at a time—your kitchen remodel should turn out to be a success!
Jules Hopkins is a writer and an editor from Bergen County in New Jersey. She earned a bachelor's degree in Business Administration from Montclair State University in 2014. She enjoys writing about architecture, home decor, home remodeling and do-it-yourself projects. In her spare time, she likes to read fiction and relax with her two dogs, Lucy and Ricky.