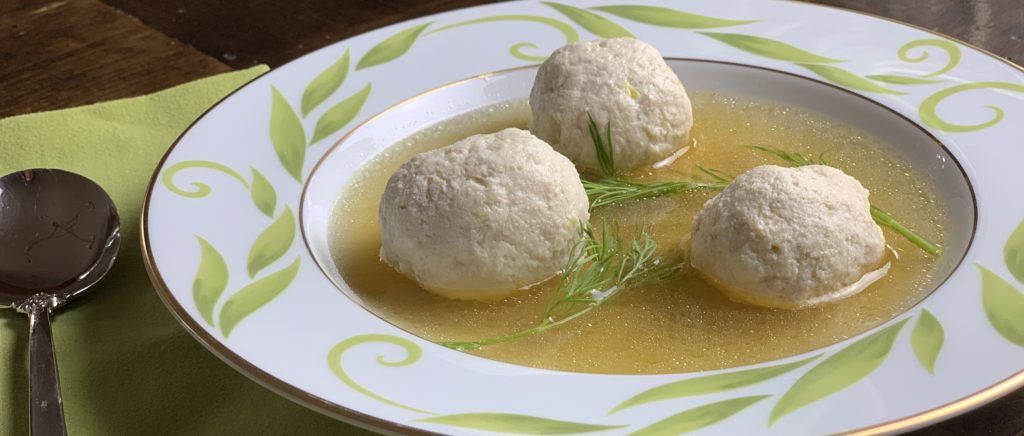 What happens when a French-trained pastry chef and the author of four best-selling cookbooks meets the ketogenic (keto) diet, the no-carbs-allowed diet that's sweeping the nation?
Now mix in Passover, (beginning this year Friday, April 19), replete with its ancient culinary traditions, and the result is a mouthwatering fusion of the old, the new and the healthy.
For the uninitiated, the term keto comes from the fuel the body burns when blood sugar (glucose) is not available. Ketosis happens when you deprive your body of the carbs that break down into blood sugar, so the body turns to fat as its fuel. When your body enters a state of ketosis, keto devotees say they drop not only extra pounds but also have extra energy and increased focus.
Keto, with its complete avoidance of carbs of any kind, could have been a daunting Passover challenge. However, for a pro like Paula Shoyer, author of Healthy Jewish Kitchen (Sterling Epicure), it's a natural. She thrives on the opportunity to modernize traditional holiday dishes in healthy new ways.
"Way too often people feel they have to choose between blowing their diet and emerging from the holidays feeling bloated or foregoing the traditional foods that are so important to pass on to the next generation," says Paula, whose cooking classes, demonstrations and more than 33 television appearances have made her something of a household name. Additionally, Paula's recipes for other holidays have been featured by Jewish Life magazines in recent months.
With Passover just around the corner, Paula offers a bold fusion diet that includes the holiday basics in keto form. Begin with savory chicken and matzah ball soup, followed by mouthwatering traditional brisket and a delicious dessert; a decadent chocolate cake topped with ganache. This year enjoy tradition and good health.
KETO-FRIENDLY TRADITIONAL BRISKET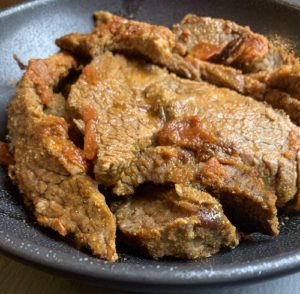 Serves 8 to 10
4½-5 pounds second cut brisket
2 tablespoons coconut oil, divided
1 tablespoon coconut (or almond) flour, or more as needed if you have 2 pieces of meat
4 teaspoons paprika
4 teaspoons garlic powder
1 tablespoon onion powder
½ teaspoon salt
½ teaspoon black pepper
1½ cups water
4 large tomatoes, quartered, seeds removed and cut into 2-inch pieces
1 tablespoon chopped Italian parsley to garnish, if desired
Preheat oven to 350°F. Heat coconut oil in a large frying pan over medium high heat. Sprinkle coconut flour on both sides of the meat, shaking off excess, and brown in the pan until you see crispy parts on the meat, about 3 to 4 minutes per side. Remove meat to a roasting pan. If you have two pieces of meat, add another one to two teaspoons coconut oil to the pan before you brown the second piece.
Place the paprika, garlic powder, onion powder, salt and pepper into a small bowl and mix well.
Turn heat to medium -low, add another ½ teaspoon of oil. Add the tomatoes and cook for three minutes, stirring often. Add a heaping tablespoon of the spice mix and 1½ cups water, turn heat up to medium high and cook for another 3 minutes, stirring occasionally.
Meanwhile, rub the remaining spice mixture all over the meat. Pour the tomato mixture over the meat. Cover with heavy duty foil. Bake for 1 hour.
Remove pan from oven, place meat on a cutting board and slice against the grain into 1/3-inch slices.  Return the slices to the pan and tuck into the liquid. Cover and bake for another hour, or until the meat is fork tender. Sprinkle parsley on top and serve.
KETO MATZAH BALL SOUP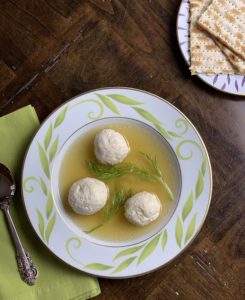 It is somewhat awkward to call these matzah balls, when they have no matzah in them, but they look just like matzah balls, are surprisingly tasty and good for you, too.
Serves 7-8
Matzah Balls
1 pound ground chicken
¼ cup chicken stock
2 tablespoons ground almonds
1 tablespoon coconut flour (or almond flour)
2 cloves garlic, crushed
1 large egg
1 tablespoon coconut oil
¼ teaspoon salt
teaspoon white pepper
8 cups water
2 teaspoons kosher salt
Soup
1 whole chicken cut into quarters
1 large onion, quartered
2 carrots, peeled and cut in half
3 stalks celery, cut crosswise in half
2 cloves garlic
1 parsnip, peeled and cut in half
1 fennel bulb, quartered
½ cup sliced shitake mushrooms
2 bay leaves
2 teaspoons kosher salt
1 tablespoon black peppercorns
½ large bunch parsley
½ large bunch dill
8 cups water
To make the matzah balls
In a medium bowl mix together the chicken, stock, ground almonds, coconut flour, garlic, egg, oil, salt and pepper. I like to use my hands. Cover with plastic wrap, and chill for 2 hours or up to 1 day.
Have a bowl of cold water nearby; wet your hands, scoop up some batter shape into 1½-inch balls. Place onto a plate and place in the fridge until the water is boiling. Bring the water to boil over high heat and add the kosher salt. Add the matzah balls, reduce heat to simmer and cook for 8 minutes, Serve with soup.
To make the soup
Place the chicken pieces in a large pot. Add the onions, carrots, celery, garlic, parsnip, fennel, mushrooms, bay leaves and salt. Add the water and bring to a boil. Use a large spoon to skim the scum off the top of the soup. Add the peppercorns and salt. Cover the pot, reduce the heat to low, and let the soup simmer, checking after 5 minutes and skimming off any additional scum. Add the parsley and dill, cover and simmer for 2 hours. Let cool. Strain through a large sieve. Taste the soup and add more salt or pepper if necessary.
*can substitute almond flour for coconut flour
KETO CHOCOLATE AVOCADO CAKE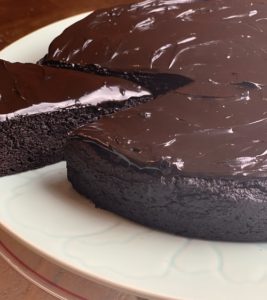 Makes one 8-inch round cake
Cake
1½ cups almond flour
¾ cup dark cocoa, plus 1 tablespoon for greasing pan
¼ cup coconut flour
½ cup xylitol
1 teaspoon baking powder
1 teaspoon baking soda
¼ teaspoon salt
½ cup coconut cream, from canned coconut milk
½ cup almond milk
3 large eggs
1 tablespoon coconut oil, plus 1 teaspoon for greasing pan
1 teaspoon vanilla
1 large ripe avocado
Ganache
5 tablespoons boiling water
½ cup dark cocoa
¼ cup xylitol
½ cup coconut cream
1 teaspoon vanilla
Preheat oven to 350°F.
Grease an 8-inch round pan with 1 teaspoon coconut oil. Add 1 tablespoon cocoa and shake all around to dust the bottom and sides. Tap out excess. Set aside.
In a mixing bowl, whisk together the almond flour, cocoa, coconut flour, xylitol, baking powder, baking soda and salt.
Place the coconut cream, almond milk, eggs, coconut oil, vanilla and avocado into a food processor or blender and blend for two full minutes, scraping down the sides a few times, so that the mixture is completely smooth.
Add the wet ingredients to the dry ingredients and whisk together. Use a silicone spatula to scrape the batter into the prepared pan and smooth the top.
Bake for 30 to 35 minutes, or until a toothpick inserted comes out clean. Let cool for 10 minutes and the remove to a wire rack.
To prepare the ganache topping, place the cocoa and xylitol into a small bowl. Add the boiling water and whisk well. Add the coconut cream and vanilla and mix well. Spread over the top of the cake.