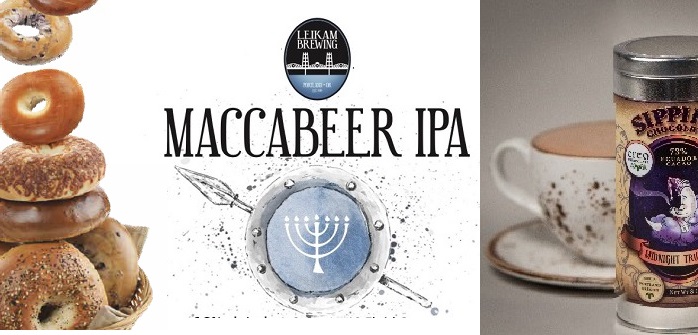 Looking for the perfect Hanukkah gift for a Portland foodie? Not only are many of these items locally produced, a few are even kosher. Here is something for everyone on your list.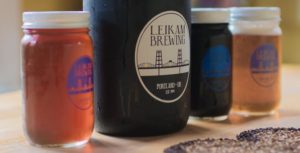 Ale Aficionado
One of the few examples of Hanukkah-themed beer will be available starting Nov. 20. Leikam Brewing, Portland's kosher microbrewery, will release its 2018 Maccabeer, which will be sold at John's Marketplace (3535 SW Multnomah Blvd.) and Belmont Station (4500 SE Stark St.). You can also purchase it by appointment at the microbrewery. A portion of the proceeds will support the House That Beer Built, a partnership between Habitat for Humanity Portland/Metro East and local craft breweries. Learn more at leikambrewing.com.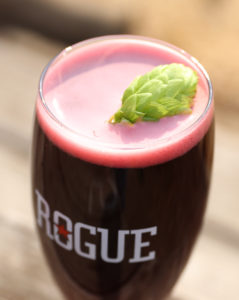 If you're invited to a Hanukkah dinner and want to gift your host with seasonal, locally produced ale, consider these delicious options from Rogue. Some beers contain lactose, but these two are dairy-free and available starting Nov. 1. Yellow Snow is a crisp, refreshing pilsner brewed with Oregon spruce tips; it has the sweet flavors of citrus and resin. Counter Currant, Rogue's newest beer, incorporates black currants from the brewery's farm in Independence. The deep purple, fruity ale is a great accompaniment to spiced holiday dishes. They are available for purchase at buy.rogue.com and stores throughout Portland.
Caffeine Connoisseur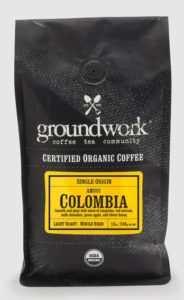 For a certified kosher cup (or pound) of joe, you need look no further than Groundwork Coffee Co. (4703 SE Hawthorne Blvd. and 2355 NW Vaughn). The company, which was founded in California, now operates a roastery and café in Portland. Partner/Chief Coffee Guy Jeff Chean has several suggestions for a Hanukkah gift. "I think a coffee subscription package,  the First Fruits Project: Peru (a new roast from a Peruvian coffee farmer who has transitioned to organic certified) or the annual holiday roast that will be released the first week of December would make great gifts!" Of the company's kosher designation, Chean says, "While there was a practical side to our initial decision to go kosher, all three of Groundwork's owners are Jewish, and it just felt like the right thing to do. Just as we did in L.A., we decided to go local, and we chose Oregon Kosher."
A Groundworks gift comes with a side of tzedakah, as the company is heavily involved in helping coffee growers in disadvantaged regions. Groundwork facilitates literacy programs, distributes microloans and supports organic growing initiatives. The AMUCC Organic Single Origin Roast ($16.95) is produced by women organic farmers in the multi-ethnic region of Cauca, Colombia. More info at groundworkcoffee.com.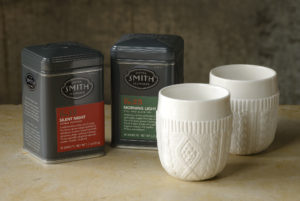 If your giftee leans toward tea, local Smith Teamakers offers a lovely Holiday Tin Trio gift set. Three herbal, black and green teas are packed in reusable tins. The Morning Light variety is a full-leaf black tea flavored with rosemary, black currant and cassia. Smith Teamakers also sells teapots, loose tea strainers and latte kits, which come in chocolate peppermint, chocolate chai and crème caramel flavors. Available at smithtea.com/collections/all-gifts and at the 110 SE Washington St. and 1626 NW Thurman St. shops.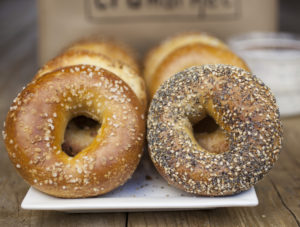 Carbo-loader
There's no better way to start the day than with a kosher bagel from Portland's own Bowery Bagels (310 NW Broadway and 1825 SW Broadway). Satisfy the carbo-loader in your life with a gift certificate (valid only at one of the stores), which can be purchased online at bowerybagels.com/products/gift-certificates. Your giftee can choose bagel flavors such as sea salt, cinnamon raisin spice, parvesan and jalapeno salt. (Don't forget the schmear!)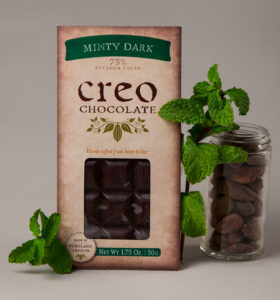 Chocoholic
The chocoholic in your life will be delighted with a Make-A-Bar Tour at Creo Chocolate (122 NE Broadway, creochocolate.com), a bean-to-bar chocolate factory and tasting room. At the end of the tour, participants get to design a chocolate bar to take home. (There's also a Chocolate 101 class, which at the time of this writing was sold out until 2019.) Another gift idea is a selection of Creo's seven dairyless chocolate bars, which come in varieties including minty dark, nibs and sea salt, and raspberry dark. Creo also offers a minty dark sipping chocolate (also dairyless), which received the "Best Hot Cocoa and Drinking Chocolate" award by the Third International Chocolate Salon.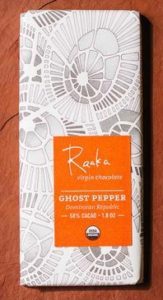 Chocolate lovers will also appreciate a gift card to The Meadow (3731 N. Mississippi Ave. and 805 NW 23rd Ave., themeadow.com), Portland's emporium of chocolate, salt and bitters. The Meadow carries a variety of certified kosher dairy and parve chocolates such as Askinosie Chocolate, Amedei, Bonnat, Taza, Antidote, Raaka, Cacao Prieto, Solstice and Madecasse. Shop guide Hayden Fawcett says, "We try our best to be accommodating and welcoming to folks of all backgrounds and dietary needs. Everyone can find something just right for them at The Meadow!"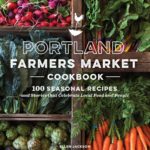 Home Cook
The Portland Farmers Market Cookbook is a great gift for the home cook who wants to take advantage of Oregon's wonderful produce. The book includes shopping and cooking tips as well as 100 seasonal recipes from local chefs and farmers. Recipes are separated by season. Some of our winter favorites are the kabocha squash drop biscuits, celery root "schnitzel," Northwest halibut bouillabaisse and chocolate-pear pudding. Available at Powell's City of Books and portlandfarmersmarket.org/shop/book/portland-farmers-market-cookbook.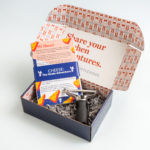 Junior Foodie
Portland-based Little Sous has just launched a new monthly "Kitchen Academy" service, which nurtures aspiring chefs aged 5-12. Each themed box includes cooking lessons, recipes, stickers and a fun, educational poster. The "Taste the Rainbow" box shows kids how to make fruity Unicorn Dust, rainbow popsicles with homemade food coloring and even rainbow sprinkles. Single boxes can be bought for $31.99. Visit mylittlesous.com for more information.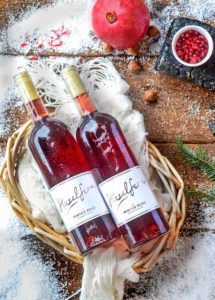 Wine Enthusiast
Just in time for winter comes Hazelfern Cellars' 2017 Winter Rosé. It's delicious with roasted meats, hearty root vegetables and squash. Located in Newberg, Hazelfern Cellars has been named one of Thrillist's "Willamette Valley Wineries You Absolutely Should Know." If the winery sells out of its popular rosé, you could always buy a gift subscription to the "Friends & Family" club, which includes two shipments of six bottles each per year. Check out hazelfern.com/wine for more information.
Kerry Politzer is the NW Nosh columnist for Oregon Jewish Life.