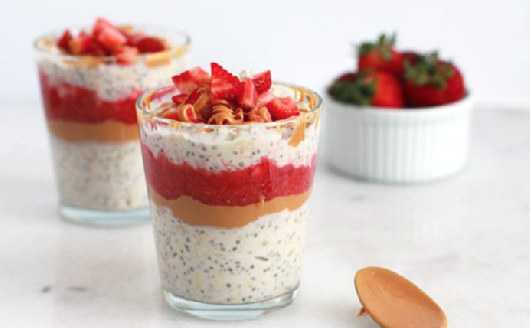 With the ongoing pandemic, not to mention cold and flu season, it's more important than ever to take care of our health. We all know that getting enough sleep, lowering anxiety, exercising and getting outside is all good for our immune system, but what we eat can also boost our immune system and increase our chances of staying well.
Immunity boosting foods have a positive effect on our gut microbiome and can be the first line of defense against illness and disease. Try the following recipes for a happy gut!
Peanut Butter and Jelly Overnight Oats
(Pictured above)
Recipe courtesy FitLiving Eats
Protein-rich peanut butter, fiber-packed oats and chia seeds that are loaded with healthy fats make for a perfectly balanced breakfast that will keep you full for hours. Also, the oat base is made extra creamy with plain kefir – a probiotic-rich yogurt that is tangy and thick. You can buy either whole milk or dairy-free kefir made from almond milk or cashew milk depending on your preference.
Ingredients
2 bananas
2 cups old-fashioned oats
1/4 cup chia seeds
2 cups plain kefir
2 cups unsweetened almond milk (or milk of choice)
1/4 cup maple syrup, optional
2 cups strawberries, chopped
1/4 cup peanut butter
Instructions
To make the oat base, mash the bananas in a large mixing bowl. Add the oats, chia seeds kefir, almond milk and maple syrup (if using). Whisk to combine.
Make the strawberry puree by adding the strawberries into a blender and blend until smooth.
To assemble, divide the oat base evenly among four 16-ounce mason jars. Top each with one tablespoon of peanut butter. Equally distribute the strawberry puree to finish the overnight oats.
Screw on the lid and store in the refrigerator for up to four days.
Crispy and Chewy Sesame Shiitake
Recipe courtesy
It Doesn't Take Like Chicken
It may sound surprising, but the chewy texture of shiitake mushrooms means that, when cooked and seasoned in the right way, they can make a good substitute for meat. This recipe uses them as a stand-in for sesame chicken. Pair it with a serving of rice and you have yourself a complete meal.
Shiitake mushrooms boast polysaccharides, terpenoids, sterols, and lipids, some of which have immune-boosting, cholesterol-lowering and anticancer effects.
For the shiitake:
2 cups dried shiitakes (12-16 mushrooms)
Boiling water (to soak the mushrooms)
1/4 cup cornstarch
2 tablespoons light oil (such as canola or peanut), plus more if needed
For the sesame sauce:
1/4 cup soy sauce
2 tablespoons brown sugar
2 tablespoons rice vinegar
2 cloves garlic, minced
1 inch piece of ginger, minced
2 teaspoons sriracha or other hot sauce (optional)
1 teaspoon sesame oil
1 teaspoon cornstarch
For garnish:
2 green onions, thinly sliced
2 teaspoons sesame seeds
Instructions
Cover the mushrooms in boiling water, and put something on top to keep them submerged. Soak for around 40 minutes until tender. Drain the mushrooms. If you wish you can save the liquid to use as a mushroom broth. Now squeeze out the excess water from the mushrooms. Don't mush them to death, but just lightly squeeze them and shake off the water so they are on the drier side. Slice them into nice thick slices, about ½ inch. Toss them in the cornstarch so they are evenly coated and shake off the excess.
Heat oil in a skillet over medium-high heat. Make sure the oil is nice and hot before adding in the mushrooms so that they fry, and not just soak up the oil. Fry the mushrooms until they are lightly golden on all sides, and no white cornstarch remains.
In the meantime make the sauce by adding all of the ingredients to a small saucepan. Cook the sauce for about 2 minutes until it begins to thicken. Add in the fried shiitakes and toss to coat. Serve immediately over rice or in any way that you desire, and garnish with green onions and sesame seeds.
One-Pot Chicken Pesto Pasta with Asparagus
Recipe courtesy Eating Well
This healthy chicken pesto pasta recipe is easy to make thanks to convenience ingredients like rotisserie chicken and store-bought pesto. The addition of fresh asparagus brightens up the look and flavors of this easy one-pot dinner. Fresh basil, if you have it on hand, is a nice finishing touch.
Asparagus works as a prebiotic. It contains high levels of the indigestible fiber inulin, which feeds healthy bacteria like bifidobacteria and lactobacilli. Asparagus also has high levels of B vitamins and inflammation-fighting antioxidants.
Ingredients
8 ounces whole-wheat penne
1 pound fresh asparagus, trimmed and cut into 2-inch pieces
3 cups shredded cooked chicken breast
1 (7 ounce) container refrigerated basil pesto
1 teaspoon salt
¼ teaspoon ground pepper
1 ounce Parmesan cheese, grated (about 1/4 cup)
Small fresh basil leaves for garnish
Instructions
Cook pasta in a large pot according to package directions. Add asparagus to the pot during the final 2 minutes of cooking time. Drain, reserving 1/2 cup cooking water.
Return the pasta mixture to the pot; stir in chicken, pesto, salt and pepper. Stir in the reserved cooking water, 1 tablespoon at a time, to reach desired consistency. Transfer the mixture to a serving dish; sprinkle with Parmesan and garnish with basil, if desired. Serve immediately.
Miso Glazed Salmon
Recipe courtesy A Couple Cooks
The savory glaze is the perfect accent for this broiled fish and makes an easy dinner. Brush it on before and after broiling, and it's absolutely stunning.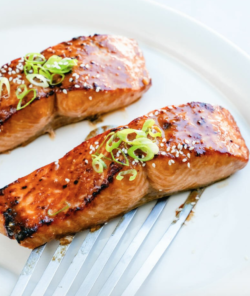 Aspergillus oryzae is the main probiotic strain found in miso. Research shows that the probiotics in this condiment may help reduce symptoms linked to digestive problems including inflammatory bowel disease. Also, salmon is an excellent source of omega-3 fatty acids, which can help reduce inflammation in your body.
Ingredients
1 to 1 1/2 pounds high quality skin-on salmon fillets, wild caught if possible
Freshly ground black pepper
2 tablespoons light or yellow miso
2 tablespoons soy sauce (or tamari or coconut aminos)
1 tablespoon rice vinegar
1 tablespoon sugar (or maple syrup)
1/4 teaspoon Sriracha hot sauce
1/4 teaspoon kosher salt
Optional garnish: Sliced green onions, sesame seeds
Instructions
Let salmon rest at room temperature for 20 minutes.
Meanwhile, make the miso glaze: Whisk the miso, soy sauce, rice vinegar, sugar, Sriracha and kosher salt together in a small bowl until smooth (the miso may have a few lumps depending on its texture, which is okay).
Preheat the broiler to high. Place a large sheet of aluminum foil on a baking sheet and brush it with olive oil. Pat each piece of salmon dry and place it on the foil skin side down. Brush salmon liberally with the glaze (1 to 2 tablespoons).
Broil about 4 to 5 minutes for very thin salmon or 7 to 10 minutes for 1-inch thick salmon, until just tender and pink at the center (the internal temperature should be between 125 to 130F in the center). Brush with more of the glaze and serve.