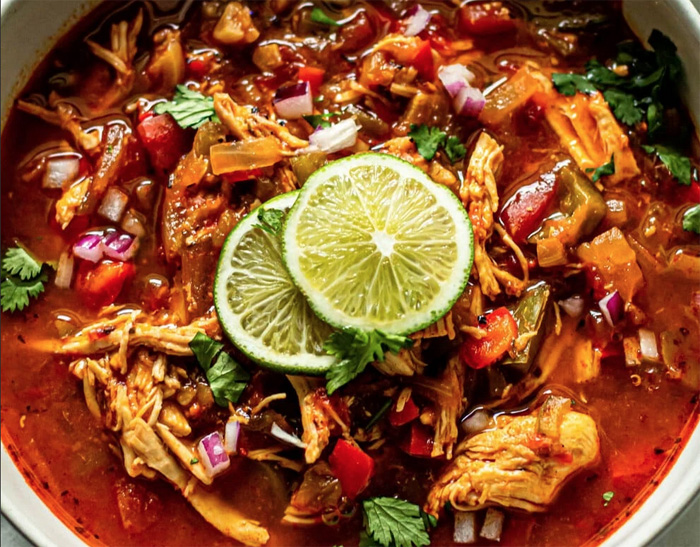 Between the holidays and COVID-19, there may be more reasons to push the restart button on healthy eating for 2021. Since we still can't physically travel, these recipes will give your tastebuds a culinary journey without the guilt!
CHICKEN TACO SOUP
This healthy chicken taco soup gives you all the flavor of a taco in a quick and easy soup!
Ingredients:
½ tablespoon avocado or coconut oil
1 small yellow onion, diced
1 small red bell pepper, diced
1 small green bell pepper, diced
5 cloves garlic, minced
1 pound boneless, skinless chicken breasts
1 1/2 teaspoon salt (plus more to taste)
1 teaspoon dried oregano
1 teaspoon chipotle powder
1 teaspoon paprika
2 teaspoons cumin
¼ teaspoon black pepper
1 – 15 oz can fire-roasted diced tomatoes
2 – 4.5 oz cans green chilies
¼ cup fresh lime juice
32 ounces chicken broth
Cilantro, for serving
Diced red onion, for serving
Lime wedges, for serving
Instructions:
Heat a large pot over medium-high heat. Once hot, add in the avocado or coconut oil. Next, add the peppers, onion, and garlic to the pot. Saute for 3-4 minutes until the onions start to become translucent.
Add the chicken breast, canned tomatoes, canned green chilies, spices, lime juice, and chicken broth to the pot. Stir until well combined. Bring the soup to a rolling boil and then reduce the heat to a simmer. Allow the soup to simmer for 30 minutes or until the chicken is tender and easy to shred.
Transfer the chicken breast from the soup to a small bowl. Use two forks to shred the meat. Add the chicken back to the soup and stir until well combined. Serve the soup with fresh cilantro, diced red onion, and fresh lime wedges. Enjoy!
Recipe courtesy of All The Healthy Things.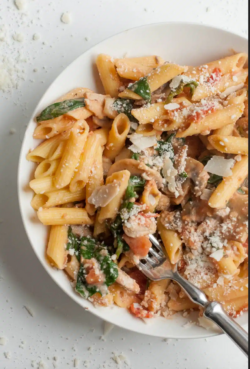 PENNE ROSA
This copycat recipe for Noodle & Company's Penne Rosa is a healthy, quick, and super tasty dinner to feed to your family.
Ingredients:
1 tablespoon olive oil
4 cloves garlic, minced
1 pinch crushed red pepper flakes
8 ounces button mushrooms, sliced
2 medium tomatoes (about 1/2 lb.) chopped
Salt and pepper, to taste
4 cups fresh spinach
1/2 cup marinara sauce
12 ounces whole-wheat penne, cooked
1/3 cup plain Greek yogurt
1/4 cup grated parmesan cheese
Instructions:
In a large skillet with a lid, heat olive oil over medium-low heat. Add in garlic and red pepper flakes, cook for 2 minutes or until garlic begins to soften.
Add in mushrooms, tomatoes, salt and pepper. Cook for 5 minutes, or until mushrooms begin to release their water.
Add in spinach and cover skillet. Let spinach wilt for 2 minutes. Remove lid, and stir in the pasta sauce. Remove the skillet from the heat, and let rest for 5 minutes.
Stir in the Greek yogurt, and then add the penne. Stir until sauce is mixed well and all pasta and veggies are coated. Heat until just warmed through. Divide into pasta bowls and serve topped with parmesan cheese.
Note: You might be tempted to skip the resting step before adding the Greek yogurt—don't! At high temperatures, Greek yogurt breaks down and curdles. Give the dish a few minutes off the heat before stirring in the yogurt to avoid chunky sauce.
Recipe courtesy Cassie Johnston for Wholefully
SESAME CHICKEN
This sesame chicken is one of those meals that you can whip up in just about 20 minutes, in on pan, easy clean up. The chicken is cut into small bite-size pieces so it cooks fast and the yummy sesame sauce comes together in under a minute.
Ingredients:
1 pound boneless skinless chicken breasts (cut into 1/2 inch strips or cubes)
2 tablespoons cornstarch
1 pinch each salt & pepper
1 tablespoon olive oil or sesame
Cooked white rice for serving
Small bunch spring onions scallions, chopped
For the sauce:
3 tablespoons soy sauce
2 tablespoons honey
1 teaspoon sriracha add more for more heat
1 teaspoon fresh ginger grated
1 clove garlic minced
2 tablespoons sesame seeds
1 tablespoon sesame oil
Instructions:
In a medium bowl, combine the soy sauce, honey, sriracha, ginger, garlic, sesame seeds and sesame oil. Set aside.
In a large bowl combine the chicken, cornstarch, and a pinch of salt and pepper. Heat a large pan over high heat for at least 2 minutes. Add oil and chicken to pan. Stir-fry chicken for 5-6 minutes or until it's golden brown. Add the sauce and allow the sauce to simmer for 3-4 minutes or until the sauce is thick and sticky.
Remove chicken from pan, sprinkle with chopped spring onions and more sesame seeds if desired. Serve with hot white rice or noodles.
Recipe courtesy Layla for Gimme Delicious