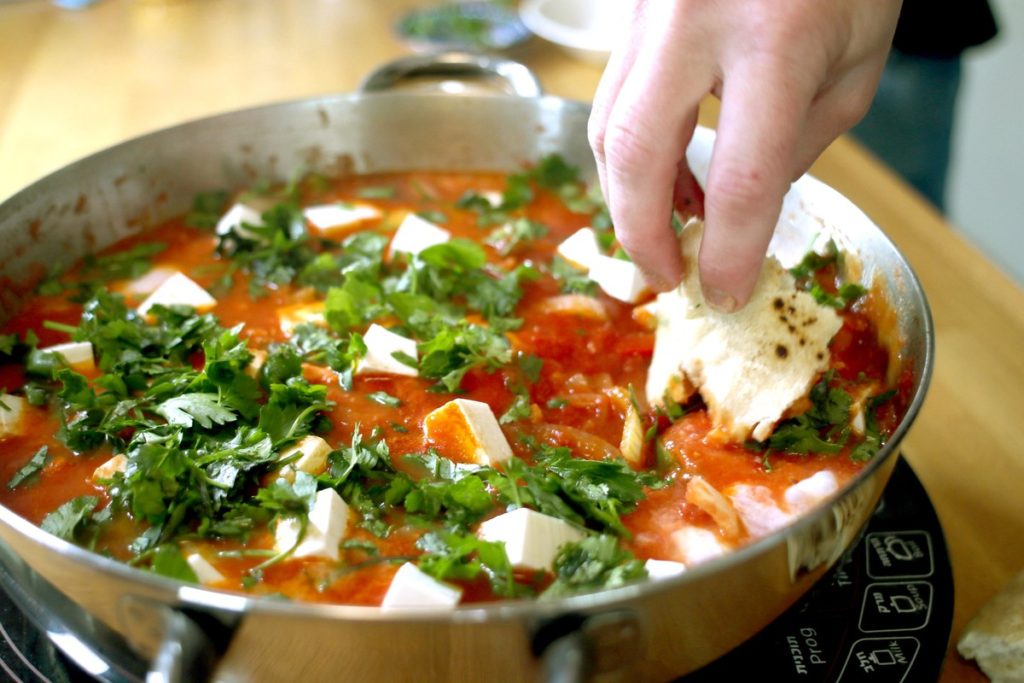 Impress everyone with a brilliant home-made shakshuka.
It's not hard to make one of Israel's favorite breakfast foods in your own kitchen. Follow along as ISRAEL21c's Jessica Halfin shows you how as part of their Tayim recipe series.
CLASSIC SHAKSHUKA
Ingredients
1/4 cup olive oil
1/2 red bell pepper, thinly sliced
1/2 green bell pepper, thinly sliced
1 large onion, thinly sliced
1 hot pepper, diced
3 cans of crushed tomatoes (14 ½ ounce size)
3/4 teaspoon salt
1/8 teaspoon black pepper
1/4 teaspoon Moroccan paprika
1/4 teaspoon cumin
1/4 teaspoon granulated garlic
8-9 medium-size eggs
5 ounces feta cheese (or mozzarella)
Fresh parsley and cilantro, roughly chopped, for garnish
Pita bread
Directions
1. Roughly chop parsley and cilantro for topping. Slice feta cheese if using.
2. Fry onion, and peppers in olive oil. Add salt.
3. Add tomatoes and season to make a sauce.
4. Turn down heat, add eggs, then cover and simmer for 17 minutes.
4. Top with feta cheese, then cover and let them melt from the residual heat.
5. Top with herbs and serve with fresh pita.
Executive Producer: Jonathan Baruch
Producer/Director: Haim Silberstein
Chef: Jessica Halfin
Camera: Ari Amit