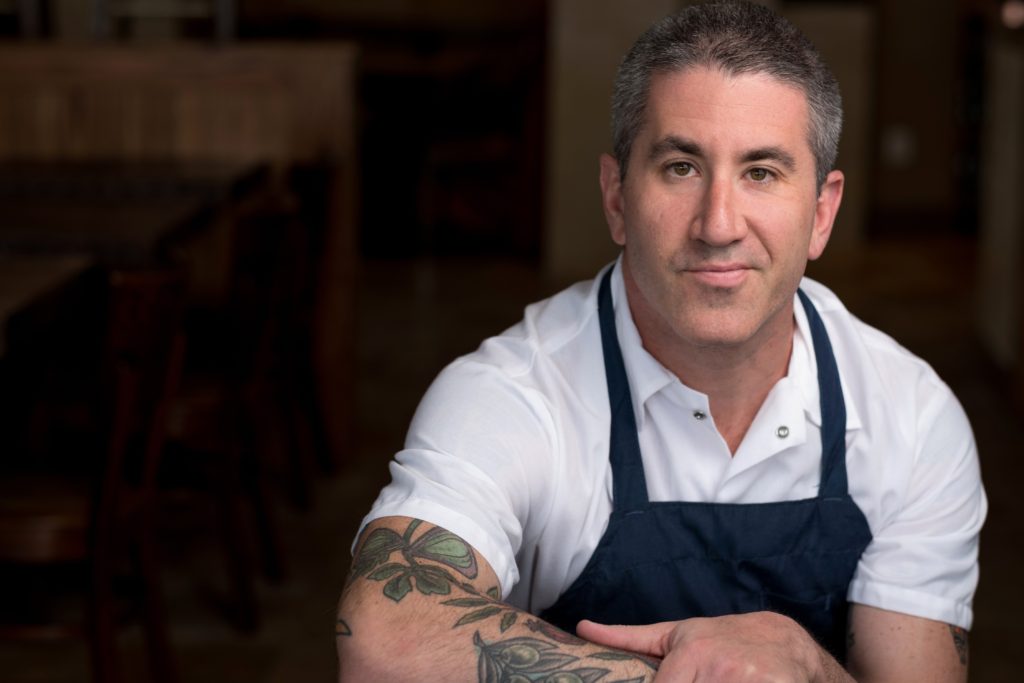 EDITOR'S NOTE: On May 6,  the James Beard Foundation named Michael Solomonov's Zahav restaurant this year's outstanding restaurant. This is Michael's sixth James Beard Award, which are often called the most prestigious awards in American hospitality. 
Renowned Israeli chef and entrepreneur Michael Solomonov was a super-picky eater as a kid, but was lucky to have been raised by great cooks. Born in Israel, he is now based in Philadelphia, where he presides over a culinary empire that includes a donut shop, hummus joint, falafel bar, and Zahav, a modern Israeli restaurant. He also operates The Rooster, a Jewish deli that donates 100% of its profits to Philadelphia's Broad Street Hospitality Collaborative.
In addition, the five-time James Beard award-winner has a new cookbook, Israeli Soul and a Netflix Special, "In Search of Israeli Cuisine." The chef credits business partner Steven Cook and his hardworking team for his ability to juggle so many enterprises at once. "(They) continue to inspire me and crush it every day."
About the cookbook, Michael says, "We wanted to take the team that put Zahav together to Israel to eat, breathe, and experience the country through a culinary lens, and let that become the framework for Israeli Soul." The photo-rich book, which has received a starred review from Publishers Weekly, includes recipes for roast meats, chopped salads, and classic Israeli specialties such as hummus and falafel. (See recipe below).
Michael's previous cookbook, Zahav: A World of Israeli Cooking was named "Cookbook of the Year" at the 2016 James Beard Awards, and he won "Outstanding Chef" at the 2011 awards.
When asked about the increasing popularity of Israeli food, Michael remarks, "Israeli cuisine is like the original 'farm-to-table,' and people are becoming increasingly interested in where their food comes from. That means that vegetable-heavy Israeli cooking is more relevant now than ever before. The food in Israel is accessible, it's as fresh as it gets, and the flavors are diverse. All things that we're looking to have more of here!"
Michael says that his cooking has changed through the years; it is now more focused and restrained. "When you're young and ambitious, you tend to overdo things, so many flavors and garnishes and techniques on every plate. When we opened Zahav, we were so literal with our dishes. Now, we try to really focus, which allows us to be more creative and inventive."
He recounts the story of how "In Search of Israeli Cuisine" came about. "Roger Sherman and his lovely wife, Dorothy Kalins, who produced both of our cookbooks, came to the restaurant a few years back to have dinner. I remember coming over to their table for their entrée, and later when I dropped off their desserts, they asked me if I wanted to be a part of this documentary they were working on. I said yes immediately, of course, without discussing it with my business partner!"
The 2016 Netflix special follows Michael as he meets with Israeli cooks, vintners and writers to understand the country's cuisine and its cultural complexities. The feature-length documentary puts a face on the 100 some odd cultures that make up Israel today. (See sidebar for related food tour.)
"Though I spend my life exploring Israel and the food in Israel, we spent nearly a month trying new things," says Michael about filming the special. "Talk about discovery.  There wasn't a single dull moment – it was truly incredible."
In all of Michael's various endeavors that common thread of weaves together Israeli culture and food.
"I'm trying to show the best parts of Israel – the parts that I love, the cultures that I love, and really focus on commonality," said Michael in a recent Wine Spectator article about Passover food and wine.
Michael plans to stay in Philadelphia because he feels that there is something really special about being able to walk to every one of his restaurants. He hopes to see our readers soon in the City of Brotherly Love. More information about Michael and his various enterprises can be found at cooknsolo.com.
5-Minute Hummus with Quick Tahini Sauce
Makes about 4 cups
1 garlic clove
1 (16-ounce) jar tahini
Juice of 1 lemon
1 teaspoon ground cumin
1 tablespoon kosher salt
1 to 1½ cups ice water
2 (15.5-ounce) cans chickpeas, drained and rinsed
Nick off a piece of the garlic (about a quarter of the clove) and drop it into the bowl of a
food processor. Squeeze the lemon juice into the bowl. Pour the tehina on top, making
sure to scrape it all out of the container, and add the cumin and salt.
Process until the mixture looks peanut buttery, about 1 minute, then stream in the ice
water a little at a time with the motor running. Process until the mixture is smooth and
creamy and lightens to the color of dry sand. Now you have Quick Tehina Sauce!
Add the chickpeas to the sauce and process for about 3 minutes, scraping the sides of
the bowl as you go, until the chickpeas are completely processed and the hummus is
smooth and uniform in color.
NOTE: 5-Minute Hummus Recipe makes enough for 4 servings of toppings. All topping recipes
make enough for 4 servings of hummus.
5-MINUTE HUMMUS is excerpted from ISRAELI SOUL by Michael Solomonov and Steven Cook. Reproduced by permission of Rux Martin Books/Houghton Mifflin Harcourt. All rights reserved.
IN SEARCH OF ISRAELI CUISINE FOOD TOUR
WHEN: Nov. 7-15, 2019 (custom trips also available)
WHAT: Visit many of the restaurants, street food vendors, markets, wineries, cheese makers, farms and ancient ruins that were part of "In Search of Israeli Cuisine." The award-winning Netflix special follows chef/guide Michael Solomonov into hot restaurants and home kitchens, wineries and cheese makers, as he eats street food and visits markets across Israel. He discusses traditions, ingredients, the origins and the future of Israeli cuisine.
CONTACT: Via Sabra at info@viasabra.com or israelicuisinefilm.com/the-tour