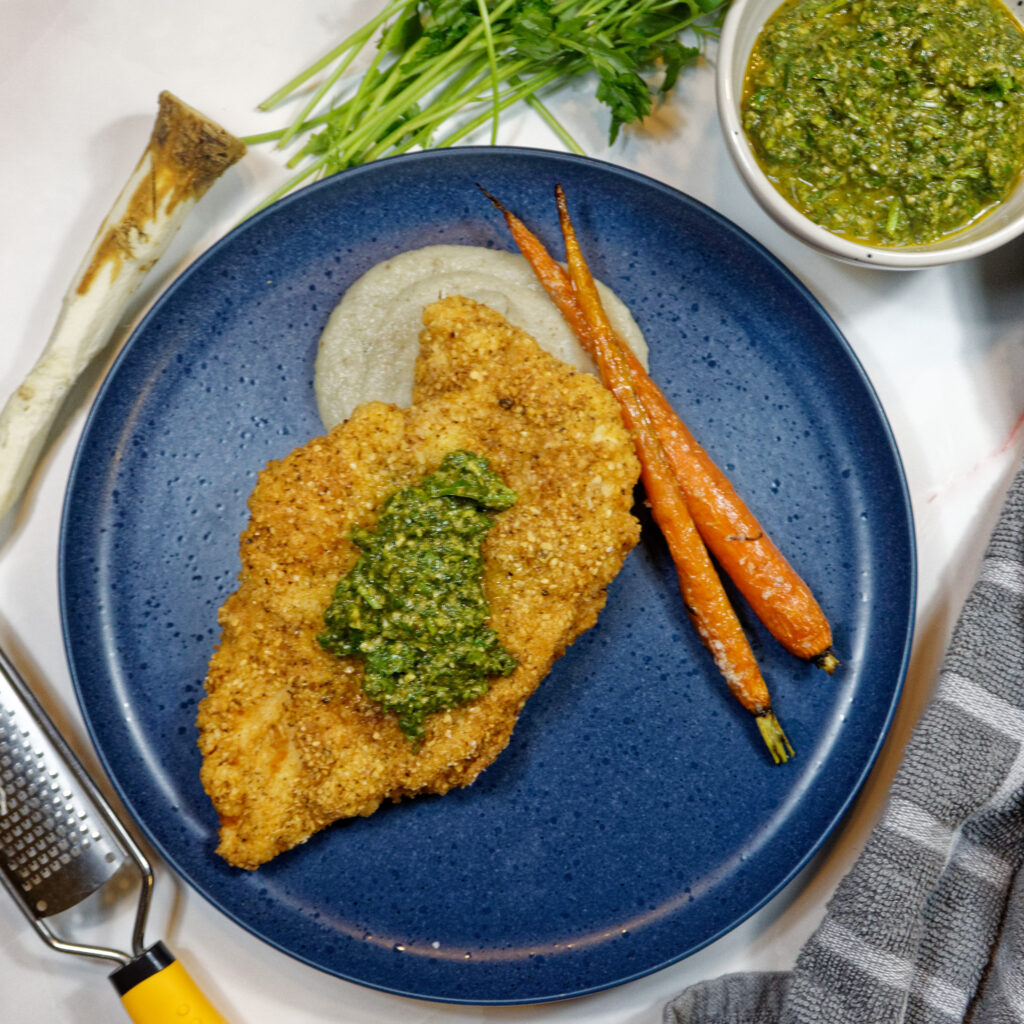 Matzo & Za'atar Chicken Schnitzel with Sunchoke Puree and Horseradish Chermoula
Giving the traditional flavors of Passover a modernized twist that any home cook can make!
With Passover quickly approaching, I was tasked by Arizona Jewish Life magazine to develop and share a dish that could be made by the home cook during the Passover holiday. I wanted to come up with something that would look fancy shmancy and impress your guests during the holiday, but also something that was very representative of the available ingredients that surround the Passover tradition. Roasted chicken or brisket is common, and almost every Jewish household has their staple recipe for both, and if you ask any Bubbie or Zaide, they'd tell you not to meddle with their classics.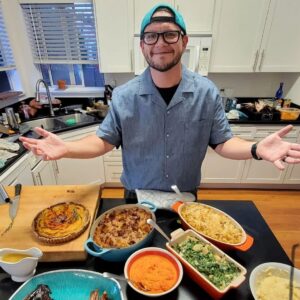 So, I looked at the seder plate and wanted to incorporate what most people knew about the foods of the holiday, even those not familiar with Jewish traditions. I'm not making a dish for Jewish people, I'm making a dish for everyone that wants a taste of Passover. A must is the matzo, followed by horseradish and other bitter herbs. I also wanted to keep with the kosher laws of not mixing meat and dairy. This isn't a dish you need to serve at your seder, but it is a dish you should definitely make during the days that follow. The issue with Passover dishes are that they can sometimes become boring or monotonous. I wanted to provide a modern take on an easy-to-make dish, with a Passover spin. So here's a dish with a little bit of a wow factor, with only a little elbow grease to produce. Enjoy!
EQUIPMENT
Food Processor
mallet
plastic wrap
deep frying pan
INGREDIENTS
Horseradish Chermoula
1.5 cups chopped cilantro
1 cup flat leaf parsley
4 cloves garlic
2 tsp cumin
1 tsp paprika
1/2 tsp coriander
1/4 tsp cayenne
1/2 lemon, juiced
1/2 tsp salt
1/2 tsp freshly ground black pepper
5 tbsp extra virgin olive oil
2 tbsp horseradish root, freshly grated you can substitute 2 tbsp of prepared horseradish from a jar, but I promise you the freshly grated one makes a difference if you can find it
Sunchoke Puree (Parve)
1 pound sunchokes scrubbed, peeled and cut into 1-inch chunks
1/4 cup soy milk or any other non-dairy milk, to keep the recipe from being meat and dairy.
salt to taste
black pepper to taste
Matzo and Za'atar Chicken Schnitzel
4 chicken breasts
1 cup potato starch
1.5 cup matzo meal
3 large eggs
3 tbsp za'atar
1 tsp paprika
1 tsp coriander
1 tsp salt plus more to coat chicken
1 tsp black pepper plus more to coat chicken
vegetable oil for frying
INSTRUCTIONS
Horseradish Chermoula
Combine all the ingredients listed above EXCEPT the horseradish, in a food processor, and process until somewhat smooth, but don't overprocess. Transfer mixture to a bowl and mix in by spoon the freshly grated horseradish.
Sunchoke Puree
Add sunchoke pieces to a large pot of water, bring to a boil, and allow them to sit in the boiling water for 20 minutes. Drain and transfer to a food processor. Blitz until somewhat smooth and then add the milk, slowly, making sure to not make the puree too thin. Add salt and pepper to taste.
Matzo and Za'atar Chicken Schnitzel
Laydown a 2-foot long strip of plastic wrap on your kitchen countertop. Place chicken breasts on the plastic, leaving a 2-inch space between each breast. Cover the breasts with another strip of plastic wrap, so the meat is sandwiched between two layers of plastic wrap.
Use a mallet to pound the breasts until they are a little less than ¼ inch thick but be careful not to rip the chicken. Season breasts with salt and pepper.
Setup three wide, shallow bowls and a large plate on your countertop. In your first bowl, place the potato starch. In your second bowl, beat the eggs. In your third bowl, stir together the matzo meal, za'taar, paprika, coriander and1 tsp salt and pepper until well mixed. Leave an empty plate nearby where you will place your coated chicken breasts.
Pour oil into a skillet until it's deep enough for frying (about 1 inch). Heat the oil slowly over medium until it reaches 375 degrees. While oil is heating, dip each breast one by one into your breading bowls, coating them on both sides with each ingredient. Starting with potato starch, then the egg and then the seasoned matzo meal.
When the oil is hot, fry the coated breasts 2 at a time until they are golden brown on both sides, about 3-4 minutes per side.
After frying, set the schnitzels on a wire rack or a paper towel to drain off excess oil. Sprinkle the schnitzels with additional salt to taste.
To assemble as seen in the picture, place a large dollop of sunchoke puree towards the center/edge of the plate, and on top of that place a schnitzel. Top the schnitzel with the horseradish chermoula and add some of your favorite roasted veggies (I opted for sweet carrots).