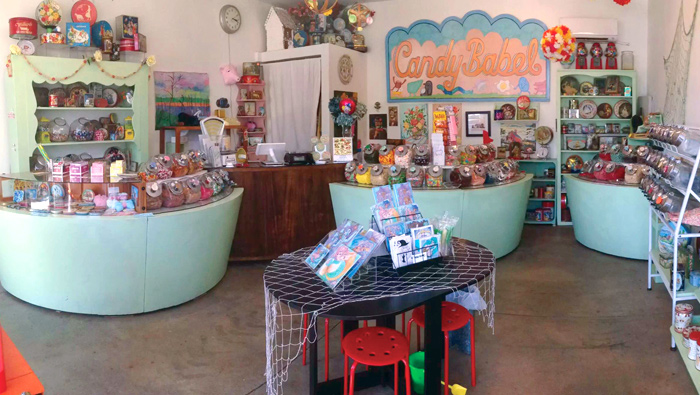 In a Tablet Magazine article, author Katharine Weber asserts, "No other immigrant group is as central to the candy trade as Jews." Soon after arriving in the United States in the early 1900s, European-Jewish peddlers learned to make candy. Candy was easy for newcomers to produce since it "did not require significant investment in equipment, materials or labor, and could be made on a stove top with a few inexpensive ingredients," writes Weber.
Now, 100 years later, Candy Babel's owner, Amani Greer, is continuing the tradition of her ancestors. "I think there is a lot of history, which helped me with my business," says Amani. "To know that even people facing a language barrier (could open a candy store) was empowering to me. Portland has a really good Jewish community; I have a lot of Jewish customers. Candy is an all-inclusive food."
Amani says most of the candy she sells is kosher parve, kosher dairy or certified by Star-K.
Amani sells high-quality European candy as well as products from small artisanal American candy makers.
"Most of it is Dutch. I do a lot of candy from Spain, a lot from Great Britain – they don't do GMOs and artificial colorings and flavors in the candy," she says. "It's odd to me that there's an American candy called Toxic Waste. I always see it, it comes in a bucket that's green, and it's one of those moments you are like, is this a joke? Is this what we're teaching the kids to eat? There are some subpar products in this country aimed towards children, because they are easily advertised to."
Amani fashions her shop after premium Danish candy stores.
The shop owner is especially proud of her selection of black licorice as well as her housemade cotton candy. "Today we had apple pie cotton candy; we also do chai and coconut. There's a full list of over 250 flavors on my website, candybabel.com. I even do spicy flavors like spicy cucumber or habanero. It really is special, and made with evaporated cane juice, good for kids with allergies. No nuts or dairy … I wanted to make a food that all the kids could have."
Amani eventually plans to break the world record for the largest cotton candy cone. "I am thinking like 18 feet so that no one will want to beat my record!"
In the meantime, she plans to continue building a community with her candy. She explains, "Candy stores are little community centers. I have a lot of customers in their 70s and 80s; it's nice for them to come in and catch up and have somebody care. Those are the walking billboards telling other people to come into my shop. The social aspect is what keeps me doing it."
Amani also contributes to the lives of Portland's youngest residents with her many donations to school fundraising auctions. "This year we have given over 100 candy baskets. In the five years we have been in business, we have helped raise close to $50,000."
Candy Babel is a truly sweet business.