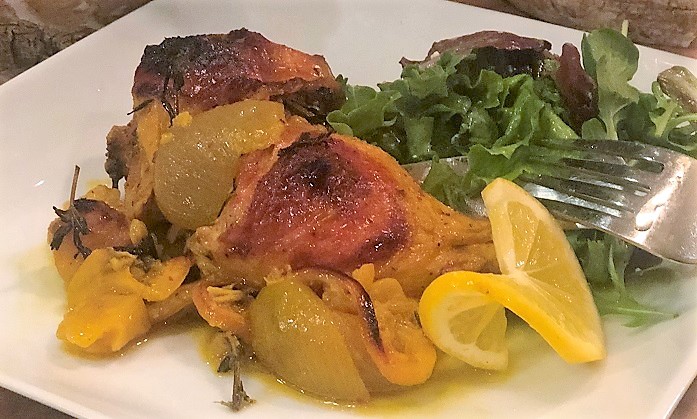 I began this day as I often do. I saw my son off to school then met up with my friend for our twice weekly morning walk with my dog. I returned home and made a second cup of coffee, then went out to feed and water my four chickens. Today, to my surprise, I discovered two perfect eggs waiting for me in the nest. I smiled as I realized that along with the crocus flowers that are beginning to poke out of the ground, these are sure signs of the beginning of spring.
Spring means the renewal of trees and flowers. The sun rises just a bit earlier and hangs out just a bit longer. We begin to feel a rejuvenation of spirit from the long dark days of winter, and rebirth begins to happen all around us. Springtime is also when we observe the holiday of Passover (March 30-April 7). The Passover seder calls us to retell the story of the Exodus of the Jews from Egypt. We remove chametz (leavened bread) from our homes and eat matzah instead of bread. The removal of chametz commemorates the fact that the Jews left Egypt in a hurry and did not have time to let their bread rise. It is also a symbolic way of removing the "puffiness" (arrogance, pride) from our souls.
The beauty of the renewal of spring is that though the telltale signs may look the same as the year before, we also have the opportunity to plant new seeds and enjoy an entirely new beginning. Just like the seasons, change is always inevitable. I always look forward to spring to celebrate all of the new life happening around me, and sometimes I see something I appreciate even more than I did the year before. It may be something large or just a small shift that turns life in an entirely new direction. For now, I'm just feeling grateful the chickens decided to start laying again!
This exciting new main dish for your Passover seder is an adaptation of a recipe I found in my new cookbook, Jerusalem, by Yotam Ottolenghi and Sami Tamimi. Jerusalem artichokes and Meyer lemons, both sure signs of spring, come together with floral saffron, fresh thyme and tarragon to create this simple dish that is marinated overnight then roasted in one pan. It would be perfect served with a green salad and maybe a potato kugel on the side.
Roasted Chicken Thighs with Jerusalem artichokes and Meyer Lemon
1 pound Jerusalem artichokes (sunchokes), peeled and cut into 1-inch chunks
3 tablespoons freshly squeezed Meyer lemon juice
12 skin-on, bone-in chicken thighs
12 shallots, peeled and cut in half lengthwise
12 cloves of garlic, sliced thin
1½ whole Meyer lemons, sliced thin (save the remaining half for finishing the dish)
1 teaspoon saffron threads
¼ cup olive oil
1 teaspoon Aleppo pepper
8-10 sprigs of fresh thyme
1 bunch tarragon, leaves removed and finely chopped, divided
2 teaspoons salt
½ teaspoon freshly ground black pepper
Place the Jerusalem artichokes in a small pan with enough water to cover. Bring to a boil and cook for about 10-15 minutes until tender, but not soft. Drain and leave to cool. Place them and all other ingredients EXCEPT the last half of the lemon and half of the fresh tarragon in a large bowl and use your hands to mix everything together well. Cover and leave to marinate in the fridge overnight or for at least 2 hours.
Preheat the oven to 475 degrees. Arrange chicken pieces skin side up in a large roasting pan and spread the rest of the ingredients around the chicken. Roast for 30 minutes. Cover the pan with aluminum foil and continue to cook for another 30 minutes. At this point the chicken is done. Just before serving, turn on broiler. Uncover chicken and place under broiler for just a few minutes to brown the chicken. Watch carefully so as not to burn it. Remove from oven and garnish with remaining lemon juice and fresh tarragon. Stir sauce and taste. Add more salt if needed. Serve at once.