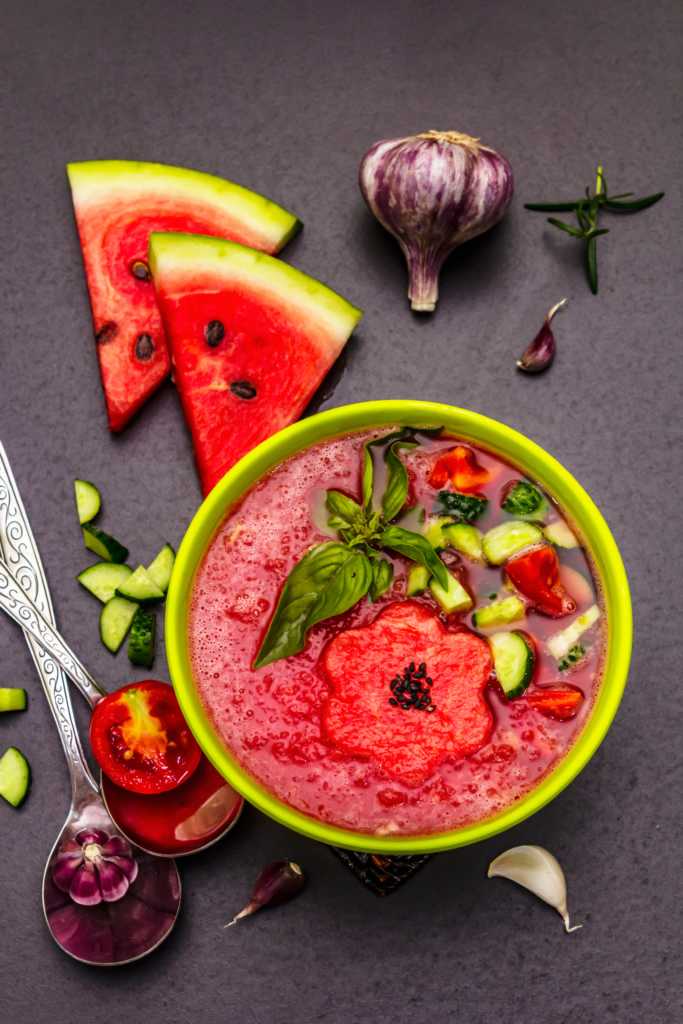 CHILLIN'
It's hot and who wants to cook?
So here's a solution, cold soups. They are not cooked, which means its raw ingredients — fruits, vegetables and herbs — are preserved. They are high in antioxidants; they lower our blood pressure and make us feel energetic.
So grab a spoon and get chillin'.
WATERMELON GUZPACHO SOUP
By Barbara Rolek
INGREDIENTS
4 to 6 Servings
4 cups diced seedless watermelon, divided
1 tablespoon lime zest
2 tablespoons fresh lime juice
1 teaspoon salt, more to taste
1 to 2 cloves garlic, minced
1 cup diced ripe tomato
1 cup diced seedless cucumber, peeled if desired
1/2 cup diced orange or yellow bell pepper
3 tablespoons minced red onion
1 tablespoon balsamic vinegar, or red wine vinegar
1/4 cup extra-virgin olive oil
1 tablespoon finely chopped jalapeño
pepper, optional
Freshly ground black pepper, to taste
2 tablespoons minced cilantro, dill, or
parsley, whole sprigs for garnish, if desired
Pinch sugar
Lime wedges, optional
DIRECTIONS
Gather the ingredients.
Purée 3 cups of the watermelon. Transfer to a large bowl, add the lime zest and juice, salt, garlic, tomato, cucumber, bell pepper, onion, vinegar, oil, jalapeno, if using, ground pepper, herbs, and sugar.
Add the remaining 1 cup diced watermelon. Fold together.
Chill until serving time. For a pretty presentation, fill clear glasses with the gazpacho and garnish with a slice of lime and a fresh herb sprig, if desired.
Courtesy thespruceeats.com