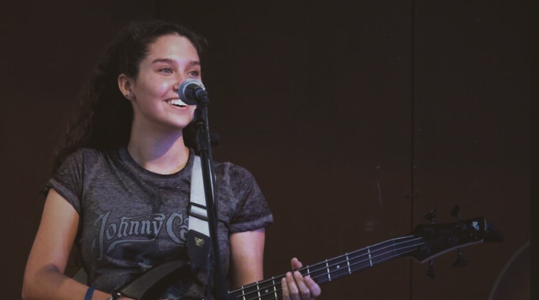 UPDATE JAN. 10: The public cast nearly 17,000 votes for the Top 12 Jewish Star Talent Search finalists! Amazingly, there was a tie in the 14-18 age bracket – so there are SEVEN Jewish Star Grand Prize winners! 14-18 Bracket winners: Ellie Fern (Scottsdale, AZ), Andrew Goldstein (McKinney, TX), Noah Levine (Austin, TX), Marc Luban (Chicago, IL); 19-26 Bracket winners: Lucy Greenbaum (St. Louis, MO), Kenneth Lyonswright (Chicago, IL), Ian Simpson (Holden, MA).
Voting is under way for the Jewish Star North American Talent Search Contest for singers  ages 14-26.
According to their website, the "Jewish Rock Radio's Jewish Star North American talent search is a new competition designed to identify emerging talent in the Jewish community who have a passion and desire to impact the Jewish world. A panel of international celebrity music artists will judge the applications to select the winners based on their vocal, instrumental, overall performance skills, and passion for impacting the Jewish world. The public will also have the opportunity via social media to contribute to the judging stage."
One of the 12 finalists in the contest presented by Jewish Rock Radio is Ellie Fern, a rising star on many levels.  Since early childhood, music has been Ellie's passion. She plays the piano, guitar, and the ukulele. In addition to singing, Ellie writes her own music, "That's how I express myself," she says.
A junior at Chaparral high school in Scottsdale, Ellie was contacted by a friend about the competition and encouraged her to submit an audition video.
Celebrity judges include  Josh Nelson, Nefesh Mountain, Julie Silver, Rick Recht, Beth Schafer and Sheldon Low.
One of the rules of the competition is that the song must include an "identifiable Jewish theme, value or holiday."
Ellie's explains that her song, "Miss Anxiety," "reflects the Jewish values of perseverance and community."
The Fern family, Ellie's parents, Howard and Reesa and brother, Austin, are members of Congregation Or Tzion in Scottsdale, AZ. Ellie attends Hebrew High every week and spends her summers at Camp Ramah, which she describes as her "favorite place ever!"
When Ellie is not writing music or performing, school activities keep her busy. She is a member of the National Honor Society, the vice president of the choir, and participates in the Best Buddies club which pairs students with peers with intellectual and developmental disabilities.
A busy schedule doesn't stop Ellie from giving back to the community as she also volunteers at homeless shelters, St.Mary's food bank, Students Supporting Brain Tumor Research and dog rescues.
As for the future, Ellie wants to "'make a difference in the world with music."
Voting for the competition ends Dec. 17.  The six grand prize winners receive a prize package designed to help launch their musical careers. Among other things, winners will get: private mentorship from an internationally recognized Jewish celebrity recording artist; a professional studio recording session; and a full scholarship to attend the 2019 Songleader Bootcamp National Conference.
In addition to the Jewish celebrity judges, the public can also cast their vote by clicking here.
Watch Ellie perform Miss Anxiety here.
You can also follow Ellie on Instagram or Facebook @elliefernmusic.