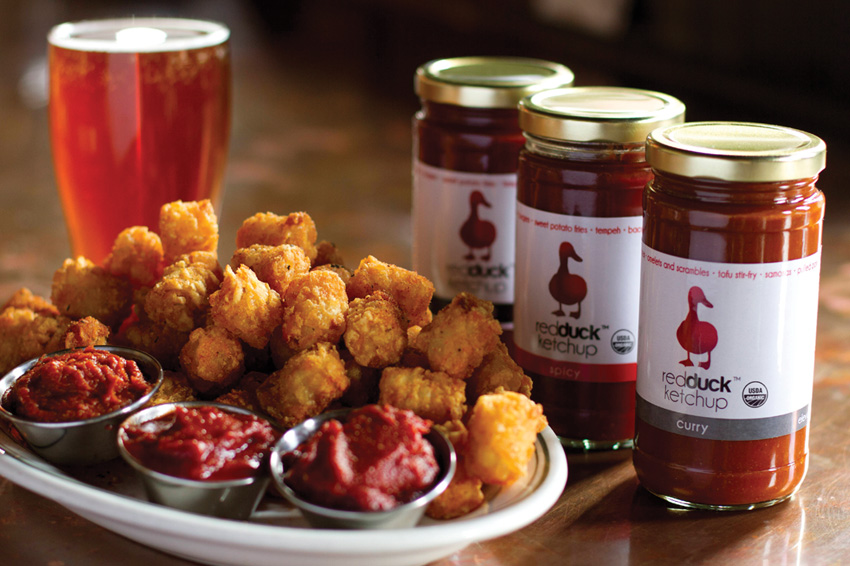 Red Duck Foods cofounder Jessica Zutz Hilbert wasn't always obsessed with ketchup. But one day, while a graduate student at the University of Oregon, she had a revelation at a campus bar. She was sharing Tater Tots with now-business partners Karen Bonner and Shannon Oliver, when she suddenly realized: "The ketchup being served to us was boring! We'd had curried ketchup in Belgium and Germany, and cherry coke ketchup in Hong Kong … totally random flavors. We always found ourselves mixing ketchup with whatever else we could find – hot sauce, mayonnaise."
The trio wondered if they might have a business opportunity idea for their New Venture Planning class project. Says Hilbert, "For the final presentation, we decided to make some ketchup, and everyone really liked it. From there, Red Duck Foods has grown." The company now produces a line of classic, curry and spicy ketchups, as well as a cocktail sauce, and was designated a 2014 Food Finalist in the Martha Stewart American Made awards.
Hilbert gained valuable culinary experience as a member of the Hillstone Restaurant Group and its management training program. "I basically did everything in the restaurant as part of this program – washing dishes, waiting tables, being on the line preparing all the food that goes out. I'd had some exposure to making ketchup; we made our own ketchup in the restaurant." She was also inspired by her Jewish grandmother. "She was the best cook. I'm pretty sure that everyone who has a Jewish grandmother says that, but it is an objective fact for me. I have so many fabulous memories of outrageous brisket and chicken that is impossible to replicate, Passover dinner … her brisket has inspired a recipe I have since made many times – with my own ketchup."
Red Duck Foods products are organic. "Part of what we do is dictated by what we can get our hands on. Finding organic products is not always the easiest thing," explains Hilbert. Local sourcing is also important to the business. "We get our jars from a company in Portland; our labels and our spices are custom blended by a company here in Portland."
Hilbert is enthusiastic about Portland's food culture. "Portland is the coolest place in the world for food," she says. "We're very lucky to have started a food company in Oregon; the Willamette Valley is so unique in terms of food production. Portland has a really unique set of people who are super-interested in trying new things and supporting what is local."
Red Duck Foods has been very involved in local food events, participating in the Oregon Truffle Festival and Feast Portland. At the latter event, Hilbert presided over a 400-degree oven and produced her own tater tots to showcase Red Duck Foods ketchup.
Hilbert is a recent transplant to Portland, having moved here from Eugene with her entrepreneur husband and 18-month-old daughter in July 2014. They are enjoying sending their child to the Portland Jewish Academy.
Red Duck Foods products can be purchased online at redduckfoods.com and at stores such as Pastaworks and New Seasons Market.