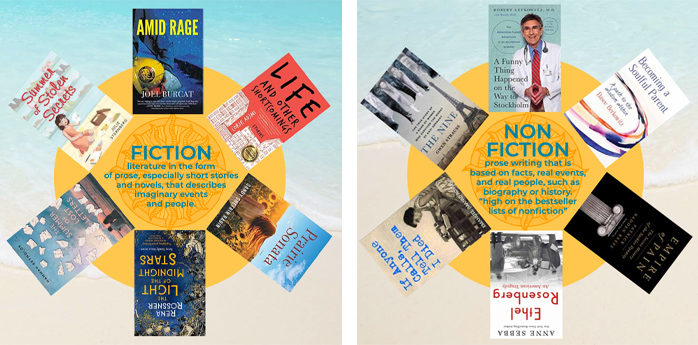 I don't know if it's the slower pace or the thought of curling up outside with a book by the pool (or beach!) that sounds so delightful, but there is something about summer and reading that goes together. Also, aren't we all a little sick of binge-watching TV by now?
Following are some books that I have come across and wanted to share with you. Enjoy!
FICTION
Amid Rage by Joel Burcat, (Headline Books; February 2021)
Up-and-coming environmental lawyer Mike Jacobs finds himself caught in the middle of a potentially lethal legal situation when a small Pennsylvania community is harassed by Ernie Rinati, the owner of Rhino Mining Co. who will stop at nothing to see that his new mine becomes operational. Sid Feldman, an influential big-city lawyer, the enigmatic Miranda Clymer, and Mike's best friend Nicky Kane also join in the legal fray.
Life and Other Shortcomings by Corie Adjmi (She Writes Press; Aug. 2020)
A collection of linked short stories that takes the reader from New Orleans to New York City to Madrid, and from 1970 to the present day. The women in these twelve stories make a number of different choices: some work, others don't; some stay married, some get divorced; others never marry at all. Through each character's intimate journey, specific truths are revealed about what it means to be a woman – in a relationship with another person, in a particular culture and era – and how these conditions ultimately affect her relationship with herself.
Prairie Sonata by Sandy Shefrin Rabin (Friesen Press; Nov. 2020)
Mira Adler grows up in post–World War II Canada in a close-knit Manitoba community founded by secular Jews from Eastern Europe. The heart of the story is her relationship with her Yiddish teacher, Chaver B, a recent immigrant from Prague who is mysterious and intriguing and who Mira believes harbors a painful secret. Chaver B becomes deeply entwined in Mira's life, and their relationship evolves, especially after he offers to teach her to play the violin. What she learns about his history both outrages and saddens her, yet she cannot stop herself from uncovering the truth about his life.
The Light of the Midnight Stars by Rena Rossner, (Hachette Book Group; April 2021)
Enter a world of Jewish fairy tales, Romanian fables, and Hungarian legend in this entrancing historical fantasy novel. Deep in the Hungarian woods, the sacred magic of King Solomon lives on in three sisters, each blessed with a unique magical ability. As a dark fog makes its way to their village, the sisters learn secrets and make choices that will change their family forever.
The Summer of Lost Letters by Hannah Reynolds, (Penguin Group; June 2021)
Shortly after the death of her grandmother, 17-year-old Abby Schoenberg discovers a trove of love letters from a mystery man named Edward. With her friends spread out and no concrete summer plans, the intriguing letters have her packing her bags for Nantucket to learn more about Edward and a grandmother who, it turns out, is much different than the woman she knew.
Summer of Stolen Secrets by Julie Sternberg, (Viking; May 2021)
This heartwarming, and at times heartbreaking, coming of age inspired by the author's own childhood is about a New York City girl spending the summer with her relatives in Baton Rouge, LA. She reconnects with her safta, her strict Jewish grandmother who cut off contact after her father married a Christian woman, and her own Jewish identity when she discovers secrets her family has long kept about safta's escape from Nazi Germany.
NONFICTION
A Funny Thing Happened on the Way to Stockholm: The Adrenaline-Fueled Adventures of an Accidental Scientist by Robert Lefkowitz, MD, with Randy Hall (Pegasus Books; February 2021)
The rollicking memoir from the cardiologist turned legendary scientist and winner of the Nobel Prize that revels in the joy of science and discovery. Filled to the brim with anecdotes and energy, and gives us a glimpse into the life of one of today's leading scientists.
Becoming a Soulful Parent: A Path to the Wisdom Within by Dasee Berkowitz (Kasva Press LCC; March 2021)
Combining insights from thousands of years of traditional Jewish wisdom with her own utterly relatable first-person storytelling, the author helps you embrace every moment with your family while leaning into the challenges of parenting with renewed perspective and enthusiasm.
Empire of Pain: The Secret History of the Sackler Dynasty by Patrick Radden Keefe (Doubleday Books; April 2021)
A grand, devastating portrait of three generations of the Sackler family, famed for their philanthropy, whose fortune was built by Valium and whose reputation was destroyed by OxyContin.
Ethel Rosenberg: An American Tragedy by Anne Sebba (St. Martin's Press, June 2021)
A moving biography of Ethel Rosenberg, the wife and mother whose execution for espionage-related crimes defined the Cold War and horrified the world. Seventy years after her trial, this is the first time Ethel's story has been told with the full use of the dramatic and tragic prison letters she exchanged with her husband, her lawyer and her psychotherapist over a three-year period, two of them in solitary confinement.
If Anyone Calls, Tell Them I Died by Emanuel Rosen (Amsterdam Publishers; March 2021)
This true story demonstrates the devastating consequences of Nazi persecution, even for survivors who fled Europe before WWII and did not experience the horrors of the Holocaust. It is also a stark reminder of the heavy psychological toll of uprooting, still experienced by refugees and exiles today.
THE NINE: The True Story of a Band of Women Who Survived the Worst of Nazi Germany by Gwen Strauss (St. Martin's Press, May 2021)
The dramatic tale of the author's great aunt Hélène Podliasky, who led a band of nine female resistance fighters as they escaped a German forced labor camp and made a ten-day journey across the front lines of WWII from Germany back to Paris. Drawing on incredible research, this powerful, heart-stopping narrative is a moving tribute to the power of humanity and friendship in the darkest of times