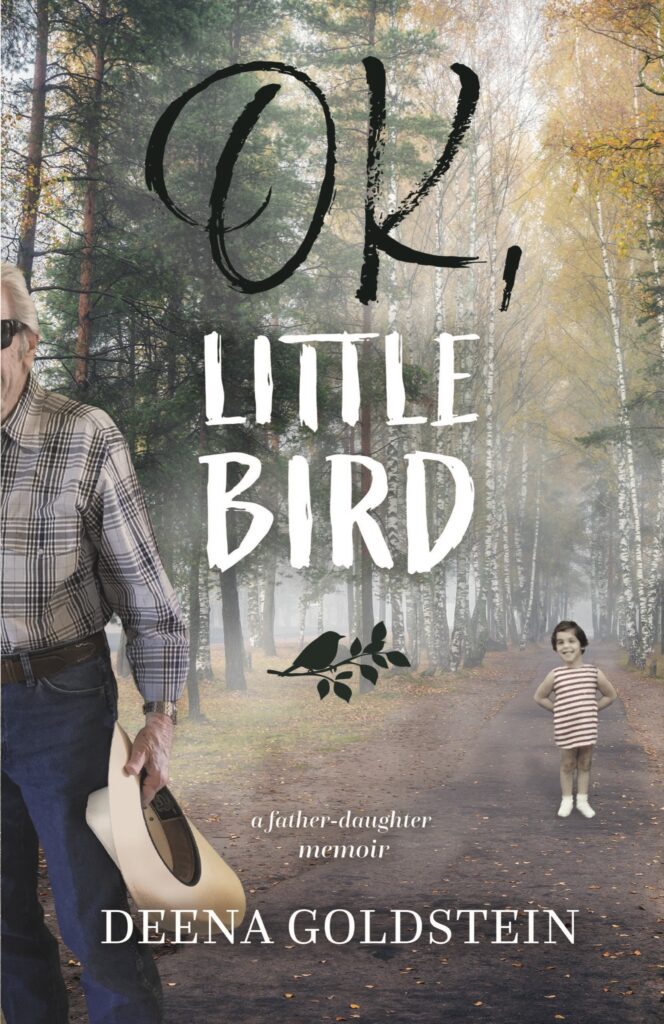 The Evolution and Inspiration of OK, Little Bird by Deena Goldstein
 On the first page of OK, Little Bird, readers are immediately catapulted into laughter at a seemingly inappropriate moment. And, therein, becomes the tempo and pacing of the book. Ok, Little Bird flips the expected on end and leaves readers both laughing and tearful.
To have a deeper understanding of the humor and writing style in OK, Little Bird, it's important to take a glimpse at my background. I'm a former stand-up comedian and multimedia artist (www.deenasart.com). Whether on canvas, stage and now print, my inspirations come from life, love, family, and experiences. Often, I'm not making a conscious choice in my desire to create, make people laugh or share a story – it just becomes something I must do.
The writing and publishing of OK, Little Bird has been the most profound, surreal, and rewarding experience of my life. From conception to print, OK, Little Bird was a year and half journey.
At some point in all our lives, we'll undoubtedly find ourselves confronted with an overwhelming and often devastating circumstance. For me, it was the knowledge and eventuality, that I would lose my father. As with anything else in life, what we do with challenges we're handed foreshadows the outcome of how we heal and move forward. For me, it was my father's gift of humor that put wind in my sails to exit the harbor of the deepest grief and loss I've ever known.
For OK, Little Bird to resonate and be relatable, I became a hunter and gatherer of memories from my childhood and adult life. Synthesizing the essence of our quirky family dynamics, and often addressing painful moments, that I previously had not handled.
 Through wry banter, anecdotes, cantankerous family dinners, unfiltered commentaries, voicemails and letters, readers will take a bouncy ride as they experience the unconditional love and bond between Little Bird and her father. In short, a simply unforgettable father-daughter relationship.
I've always seen the world through the lens of joy, love and humor, and growing up, was extremely close with my family members – in particular, my father. He was a bigger-than-life character. Unfiltered, funny, irreverent, and stern. As the youngest of three, (without spoilers), I wriggled my way into my father's heart. We spent time together, we did life together, we laughed together, and, when his health took a severe and terminal decline, we stood together in that fight as well. In the greatest irony of all, I became "Little Bird" weeks before my father passed, and it was at that very moment I knew I had a story to tell. We were most certainly, not the typical father-daughter tale. Most importantly, I felt readers would be inspired by our incredible, loving connection, while simultaneously reflecting on a special connection to someone in their lives.
Suddenly hospice and group homes were part of our dialogue and daily lives. Most importantly, learning how to stay connected while steeped in mutual impending pain and loss. How did we do this? Humor. My father, through it all, never lost his sense of humor, and in that strength, I too, used his gift of humor to heal through his loss. Humor is pervasive throughout the book (even when you least expect it!)
OK, Little Bird navigates deep waters of close relationships, unconditional love and how we handle grief when we're in its' midst.
Each of us experiences loss differently and each of us has a way of coping. OK, Little Bird puts into words what many experience, but are unable to emote or communicate. It lets readers know that even when things are "not OK", there is light at the end of the proverbial tunnel.
Readers are left feeling uplifted, inspired – for even in darkness, joy can be found.
OK, Little Bird delicately balances laughter, joy and heartache – and I hope you will pick up a copy and enjoy.
As there is much content for discussion, Book Club Kits are available, which include a moderator packet of questions and touchpoints. For information or to obtain a Book Club kit, email deegold710@gmail.com.
OK, Little Bird is now available for preorder on Amazon at oklittlebird.com – and soon, will be available worldwide at a variety of online and offline retailers.