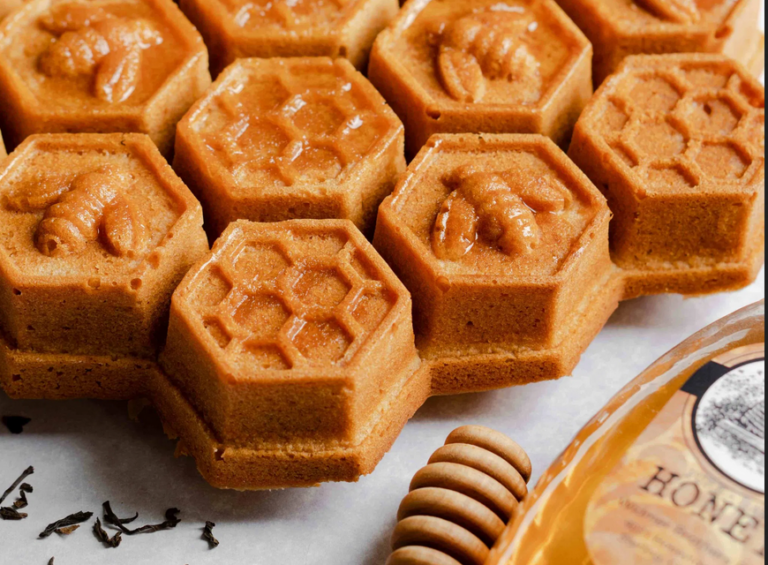 The grand finale of any holiday meal is the dessert.
These recipes incorporate traditional flavors with a twist.
Keep in mind, if you're looking for a dairy-free recipe to follow Jewish dietary laws, swap butter with shortening, canola oil, or vegan butter and choose a plant-based milk to replace cow's milk.
Honey Cake Infused with Black Tea
Black tea and honey are always a pair that goes well together and this cake just proves this fact even more. The flavor of the tea is a delicate addition to this honey cake and is a must-have!
Recipe and photo courtesy Season of Baking.
Ingredients:
3/4 cup butter softened
1 1/2 cup honey
2 tablespoons light brown sugar
1 teaspoon vanilla
2 eggs
1 1/2 teaspoon baking powder
1/2 teaspoon salt
1 tablespoon cornstarch
2 1/2 cups flour
1 1/2 cups milk
2-3 bags black tea
Simple Syrup:
1 cup water
1/2 cup honey
1/2 cup sugar
1-2 bags black tea
Directions:
Preheat oven to 350 degrees and coat your bee cake pan with butter to ensure an easy release.
Place your softened butter in a stand mixer and blend until the butter is smooth.
Add light brown sugar and honey to the bowl. Mix together until fully incorporated.
Mix in the vanilla and egg.
Place flour, salt, baking powder, and cornstarch in a small bowl. Whisk together to bring all of the ingredients together.
Pour milk into a small saucepan. Start to heat the milk over medium heat, whisking frequently to make sure milk does not burn. Once hot, place tea bags in the milk and allow to brew for about 3-5 minutes depending on how strong you'd like your tea. Set aside and allow it to cool.
Place half of the dry ingredients and 1/2 cup of the cooled milk into the batter. Mix together until smooth. Repeat with the remaining dries and another 1/2 cup of cooled milk, mixing until everything just comes together.
Pour the batter into the bee cake pan and bake for 48-50 minutes or until completely cooked through.
While the cake is cooking, place the cup of water in a medium saucepan and bring to a boil. Add tea bags and allow to brew for 3-5 minutes depending on how strong you'd like your tea!
Add the honey and sugar to the saucepan and whisk together. Continue to cook until slightly reduced. Remove syrup from the stove and allow it to cool.
This cake is best served warm! Once the cake is removed from the oven, brush the syrup over the cake with however much you want! Enjoy!
Caramel Apple Cake with Cream Cheese Frosting
With its not-too-sweet cream cheese frosting that adds the correct amount of tang and creaminess, this cake is a perfect dessert alternative to honey cake. Swap in some whole wheat flour to add nuttiness and use Granny Smith apples – because they are super starchy and firm and they won't add too much moisture to the batter. This cake can be made a day in advance.
Recipe courtesy: My Name is Yeh
Makes one loaf
Ingredients:
2 1/4 cup all-purpose flour
3/4 cup whole wheat flour
2 teaspoons baking soda
1 teaspoon kosher salt
1 teaspoon ground cinnamon
1/2 teaspoon ground nutmeg
A pinch of ground cardamom
1 cup brown sugar
1 cup sugar
3/4 cup flavorless oil, like canola or vegetable
2 large eggs
1 teaspoon vanilla extract
3 large granny smith apples, chopped into 1/4"-1/2" pieces (4 cups chopped)
Cream cheese frosting:
8 ounces cream cheese, softened
1 cup powdered sugar
1/4 cup heavy cream
A pinch of kosher salt
Caramel:
15 store-bought caramels, unwrapped
3 tablespoons whole milk
a big pinch of salt
Flaky salt
Directions:
Preheat the oven to 350ºf. Grease and line a loaf pan (8 1/2" X 4") with parchment paper, allowing 1" wings to come up on two of the sides.
In a medium bowl, whisk together the flours, baking soda, salt, cinnamon, nutmeg and cardamom.
In a large bowl, whisk together the sugars and oil until combined. Add the eggs, one at a time, whisking well after each, and then add the vanilla.
Stir the dry ingredients into the wet ingredients and then fold in the apples. It will be very thick!
Pour the mixture into the loaf pan and bake until a toothpick inserted into the center comes out clean, begin checking for doneness after an hour, but it could take up to 1 hour 20 minutes. Let cool in the pan and then transfer to a serving plate. (You can totally bake this a day in advance and let it cool overnight, uncovered.)
To make the frosting, use an electric mixer to beat together the cream cheese and powdered sugar until smooth. Beat in the heavy cream and salt until combined. Spread it over the cake.
To make caramel, melt ingredients together over low heat in a saucepan while stirring (or in a microwave), and let cool slightly.
Just before serving, drizzle with caramel and sprinkle with flaky salt. Enjoy!
Pomegranate-Orange Tart With Pistachio Shortbread Crust
Pomegranate juice delivers deep flavor, while the seeds on top double as a fruity bite and burst of color.
Recipe by Ann Taylor Pittman /Cooking Light
Ingredients:
1/4 cup minced dry-roasted, unsalted pistachios
4.5 ounces all-purpose flour (about 1 cup)
1/4 cup powdered sugar
1/4 teaspoon salt
5 tablespoons chilled butter, cut into small piece
2 tablespoons canola oil
Baking spray with flour
1/2 cup fresh or frozen, thawed blueberries
2 cups pomegranate juice
1/3 cup granulated sugar
3 tablespoons cornstarch
2 large egg yolks
1 teaspoon grated orange rind
3 large egg whites
1/2 teaspoon vanilla extract
1/4 teaspoon cream of tartar
1/8 teaspoon salt
3/4 cup granulated sugar
1/3 cup water
Pomegranate arils for garnish (optional)
Directions:
Preheat oven to 350 degrees.
Place pistachios in a food processor; process until almost ground.
Weigh or lightly spoon flour into a dry measuring cup; level with a knife.
Add flour, powdered sugar, and 1/4 teaspoon salt to processor; pulse to combine. Add butter; drizzle with oil. Pulse until mixture resembles coarse meal. (It will be dry and slightly sandy.)
Press mixture into bottom and up sides of a 9-inch removable-bottom tart pan coated with baking spray. Bake at 350° for 25 to 30 minutes or until golden. Cool completely.
Place blueberries in a medium saucepan; mash with a potato masher. Add juice, 1/3 cup sugar, and cornstarch, stirring with a whisk. Bring to a low boil over medium-high heat, stirring frequently. Reduce heat; simmer 1 minute or until thickened, stirring constantly.
Place egg yolks in a medium bowl; add 1/2 cup hot juice mixture to yolks, stirring with a whisk.
Pour egg mixture into pan; bring to a boil over medium-low heat. Cook 1 minute or until bubbly and thick, stirring constantly. Remove from heat.
Strain through a sieve into a bowl; stir in rind. Place bowl in a larger ice-filled bowl for 20 minutes or until cooled, stirring occasionally. Pour mixture into crust. Cover and chill 3 hours or until set.
Place egg whites in a large bowl. Add vanilla, cream of tartar, and 1/8 teaspoon salt; beat with a mixer at high speed until soft peaks form.
Combine 3/4 cup sugar and 1/3 cup water in a saucepan; bring to a boil. Cook, without stirring, until a candy thermometer registers 250°. Gradually pour hot sugar syrup in a thin stream over egg whites, beating at medium-low speed, then at high speed until stiff peaks form. Spread meringue over tart. Garnish with pomegranate arils, if desired.