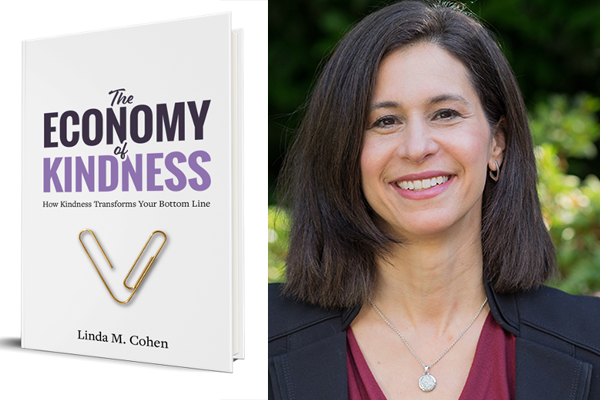 Photo: Author Linda Cohen and the cover of her latest book.
It's been proven that kindness in the workplace has a stunning ROI. Kindness decreases stress, reduces employee burnout, and builds increasing levels of happiness and satisfaction in the workplace.
Imagine a company culture where employees feel valued, recognized, and empowered enough to go the extra mile for customers and colleagues; where the leadership can be authentic, transparent, and connected to their team. The Economy of Kindness: How Kindness Transforms Your Bottom Line provides real-life examples of companies that have employed kindness as their secret weapon to build and maintain their organizations.
"The choice of kindness is ours. As we offer it, we should also expect it, even demand it from our companies, our media, and each other. We can reach across the table, the aisle or the cubicle to begin to see each person as a valuable human being with their own gifts and challenges. These people may not look like you or even have the same beliefs as you and yet they still deserve and desire kindness. Be willing to offer a listening ear, patient understanding, and the opportunity to find our commonalities rather than our differences."
Author Linda Cohen documents the impact and results of companies utilizing and instilling a company culture of kindness to excel in adversity.
Linda, also known as the Kindness Catalyst, has been a nationally recognized kindness expert and professional speaker for over a decade. She works with a wide variety of businesses and associations on the ROI of Kindness. Her first book, 1,000 Mitzvahs: How Small Acts of Kindness Can Heal, Inspire and Change Your Life was published in 2011 by Seal Press. Her new book, The Economy of Kindness: How Kindness Transforms Your Bottom Line was written for leaders and managers.
She is a member of the National Speakers Association and served as the Oregon Chapter president in 2019. In 2017, she was chosen as NSA Oregon Chapter Member of the Year. She received her BA from American Jewish University and an MA from Brandeis University. Originally from New England, she now resides in Oregon with her husband. They have two spirited young adult children and two Cavalier King Charles Spaniels.