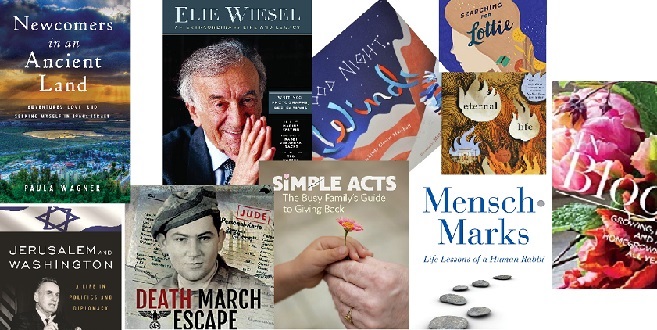 Compiled by Deborah Moon
Over the past six months, a wide assortment of Jewish-themed books have arrived at my doorstep to be stacked into a precarious pile on my desk.
With summer leisure in the wind, it's time to share some of these titles with you for your reading pleasure.
KIDS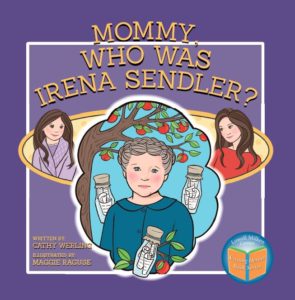 Mommy, Who Was Irena Sendler? by Cathy Werling, (Lowell Milken Center for Unsung Heroes, Oct. 2018), paperback, 40 pages, ages 7-12, $9.95
Irena Sendler, a young social worker in Poland, was determined to help save Jewish children from the concentration camps. Irena smuggled them out of the Warsaw Ghetto and hid them with non-Jewish families. She buried their Jewish names and information about where they were sent in glass jars under an apple tree, hoping to reunite the families once the war ended. Irena Sendler's story was unknown for 60 years, until three high school students in Kansas discovered it during a history project.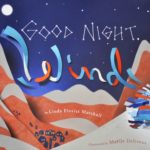 Good Night, Wind: A Yiddish Folktale, by Linda Elovitz Marshall, illustrated by Maelle Soliveus (Holiday House, Feb. 26, 2019), hardcover, 32 pages, ages 4-8, $17.99
When the exhausted winter wind throws a snowy tantrum, it finds comfort in the friendship of two young children in this lyrical retelling of a Yiddish folktale illustrated with stunning collage.
Pippa's Passover Plate, by Vivian Kirkfield, illustrated by Jill Weber (Holiday House, Feb. 2019), hardcover, 40 pages, ages 4-8, $17.99
Pippa the Mouse has been working hard all day – cleaning her house, setting the table, cooking the meal. But when she can't find her special Seder plate, Pippa ventures out to ask her neighbors if they can help. Bravely, she asks the snake, owl and cat for help. When she finds it, she invites all the other animals home to join her celebration.
YOUTH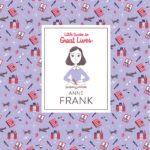 Little Guides to Great Lives: Anne Frank, by Isabel Thomas, illustrated by Paola Escobar (Laurence King Publishing April 2019), hardcover, 64 pages, ages 7-11, $11.99
From artists to aviators and scientists to revolutionaries, Little Guides to Great Lives introduces children to the most inspirational figures from history in a fun, accessible way. Meet one of history's most inspiring figures in this beautifully-illustrated guide to the amazing life of Anne Frank, an ordinary girl living in extraordinary times. Forced to go into hiding to escape the Nazis' persecution of Jews in World War II, Anne kept a diary that would become one of the most famous books in the world.
Searching for Lottie, by Susan L. Ross (Holiday House, March 2019), hardcover, 175 pages, ages 8-12, $17.99
Charlie, a budding violinist, decides to research the life of her great aunt and namesake for her middle school ancestry project. Everyone in Charlie's family believes Great Aunt Charlotte (called Lottie), a violin prodigy, died at the hands of the Nazis, but the more Charlie uncovers about her long-lost relative, the more muddied Great Aunt Lottie's story becomes. Could it be that Lottie somehow survived the war by hiding in Hungary? Could she even still be alive today?
This intriguing, intergenerational mystery explores the ongoing effects of the Holocaust on families today.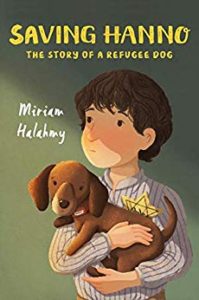 Saving Hanno: The Story of a Refugee Dog, by Miriam Halahmy (Holiday House, May 2019), hardcover, 113 pages, ages 8-12, $17.99
When 9-year-old Rudi leaves the dangers of Nazi Germany on a Kindertransport to England, he has to leave his wonderful dachshund Hanno behind. After his family smuggles Hanno to London, the dog faces another threat. Facing impending  invasion by the Germans, many British people decide their pets will suffer and drain limited resources, so thousands of pets are euthanized. To save Hanno, Rudi joins a group of scrappy London children who hide their pets in a vacant lot.
Just as London's children are about to be evacuated to the countryside, the group finds a wealthy animal lover willing to care for the menagerie on her country estate.
FAMILY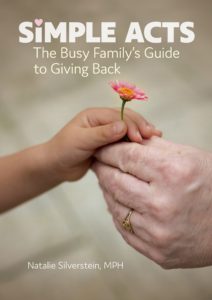 Simple Acts: The Busy Family's Guide to Giving Back, by Natalie Silverstein (Gryphon House; April 2019), paperback, 144 pages, $19.95
Natalie Silverstein believes it's never too early to start kids on the path of tikkun olam. Here she offers parents hundreds of practical ideas on how to do just that – from visiting the elderly to cleaning up a playground on Earth Day to writing notes to active duty military.
Simple Acts brings busy parents practical, easy-to-do ideas, to involve the whole family in volunteering and helping others in the community.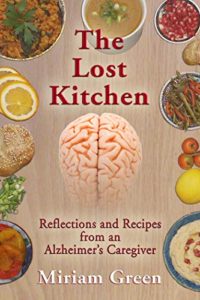 The Lost Kitchen: Reflections and Recipes from an Alzheimer's Caregiver, by Miriam Green (Black Opal Books, May 2019), paperback, 216 pages, $13.49
The Lost Kitchen is an honest and heartfelt look at the hidden gifts of living with a parent with Alzheimer's. Miriam Green weaves poetry, recipes and anecdotes into a nourishing whole as she details her family's struggle to maintain balance – and laughter – in the face of her mother's diagnosis and deterioration. Miriam dedicates the book "To my mom, Naomi Cohen, who, even in her advanced stage of Alzheimer's, remains my most stalwart teacher of love and compassion.
Many of the recipes sound decadently delicious. I can't wait to try Deep Dark Chocolate Cake, which Miriam says works even if you schittareyn (pour it all in together (Yiddish)).
FICTION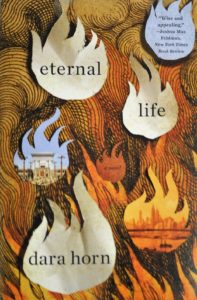 Eternal Life, by Dara Horn (W.W. Norton & Co., Jan. 2019), paperback, 244 pages, $15.95
Rachel's current troubles – a middle-aged son mining digital currency in her basement, a scientist granddaughter trying to peek into her genes – are only the latest in a litany spanning dozens of countries, scores of marriages, hundreds of children and 2,000 years, going back to Roman-occupied Jerusalem. Only one person shares her immortality: an illicit lover who pursues her through the ages. But when her children develop technologies that could change her fate, Rachel must find a way out. From ancient religion to the scientific frontier, Dara Horn pits our efforts to make life last against the deeper challenge of making life worth living.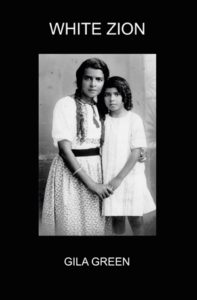 White Zion, by Gila Green (Cervena Barva Press, May 2019), paperback, 158 pages, $18
This novel-in-stories takes readers into the worlds of 19th century Yemen, pre-State Israel, modern Israel and modern Canada. You will hear the voices of a young boy marveling at Israel's first air force on his own roof, the cry of a newly married woman helpless to defend herself against her new husband's desires, the anger of the heroine's uncle as he reveals startling secrets about his marriage and the fall-out after generations of war.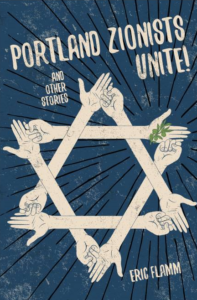 Portland Zionists Unite! and Other Stories, by Eric Flamm, (Inkwater Press, Feb. 2019), 230 pages, paperback, $18.95, Kindle $4.99
These interlocking short stories set in Israel, Portland and Thailand explore the complex reality of modern Israel, its recent history and what it represents to its citizens and foreign-born Jews. The different narrators – three Israel Defense Force soldiers, a hawkish retiree, a synagogue executive director and a young video game fan – speaks to the contrasts between Israel's founding mythology and current political realities.
The Year of the Return, by Nathaniel Popkin (Open Books, Aug. 2019), paperback, 201 pages, $16.95
Paul Silk and Charlene Johnson are journalists whose love for each other and commitment to social justice were formed in the peace movements of the 1960s. But the fading idealism of that era, urban deterioration of the '70s, and rising racism and hostility to interracial marriage force them to leave Philadelphia. But when Charlene dies of cancer, Paul returns. He wades back into the lives of the two families and seeks to connect with Charlene's younger brother Monte, one a prodigy and now a troubled veteran from the Vietnam War. Their explosive reunion bares personal revelations and family secrets.
NONFICTION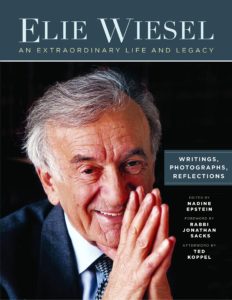 ELIE WIESEL: An Extraordinary Life and Legacy – Writings, Reflections, Photographs, edited by Nadine Epstein, (Moment Books, April 2019), trade paperback, $35
In this striking volume, editor-in-chief and CEO of Moment Magazine Nadine Epstein shares her memories of Wiesel and brings together 36 reflections from friends, colleagues and others who knew him — including his son Elisha Wiesel, Michael Berenbaum, Wolf Blitzer, Father Patrick Desbois, Ben Kingsley, Ronald S. Lauder, Bernard-Henri Levy, Kati Marton, Itzhak Perlman, Natan Sharansky, Kathleen Kennedy Townsend, Oprah Winfrey and Ruth Wisse. The foreword is by world famous British Rabbi Jonathan Sacks and the Afterword is by acclaimed broadcaster Ted Koppel and it includes more than 100 photographs.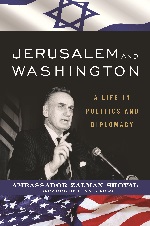 Jerusalem and Washington: A Life in Politics and Diplomacy, by Zalman Shoval (Rowman & Littlefield, Nov. 2108), hardcover, 368 pages, $38
Diplomat and raconteur Zalman Shoval leads readers behind closed doors into the rooms where prime ministers and presidents made history-altering decisions about the first Gulf War, the fate of Jonathan Pollard, the role of the PLO, and Israel's responses to international criticism and hostilities. First elected to the Knesset inheriting David Ben-Gurion's seat, Zalman Shoval served with many of the State of Israel's founding fathers. Shoval deftly navigated the complicated relationships among Israel's various ministers and political parties. But no relationship was more fraught with uncertainty than Jerusalem and Washington's in the 1990s, when Israel's financial dependence on the U.S. ignited tensions that threatened Shoval's diplomatic expulsion.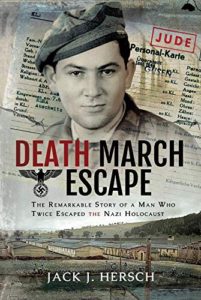 DEATH MARCH ESCAPE: The Remarkable Story of a Man Who Twice Escaped the Nazi Holocaust, by Jack Hersch (Frontline Books, Jan. 19, 2019), hardcover, 276 pages, $34.95
Jack Hersch grew up hearing the stories of how his father, Dave Hersch, twice escaped the brutal death marches forced on concentration camp prisoners by the Nazis at the end of World War II. A few years after his father died in 2001, a cousin in Israel informed Jack that a mysterious photo of his father had surfaced – on the website for Mauthausen Concentration Camp. Unlike many of the brutal depictions of concentration camp survivors recorded by Allied troops, this picture was a headshot of Dave as a smiling teenager modeling contemporary clothes. Where did this photo come from, and how did Mauthausen's museum acquire it?
The answer to this mystery required Jack to confront the unflinching truth about the nightmarish concentration camp – so very different from the colorful escape stories his father related every Passover. To learn how that photo was tied to Dave's courageous struggle for survival, Jack would walk in his father's footsteps, face the horrific reality of the Mauthausen and Gusen concentration camps where Dave was held, and stand on the roads where his father made his incalculably daring bids for freedom.
HATE: The Rising Tide of Anti-Semitism in France (and What it Means for Us), by Marc Weitzmann (Houghton Mifflin Harcourt, March 2019), hardcover, 323 pages, $26
What is the connection between a rise in the number of random attacks against Jews on the streets of France and strategically planned terrorist acts targeting the French population at large? Before the attacks on Charlie Hebdo, the Bataclan night club, and others made international headlines; Marc Weitzmann had noticed a surge of seemingly random acts of violence against the Jews of France. Hate is a chilling and important account that shows how the rebirth of French Anti-Semitism relates to the new global terror wave, revealing France to be a veritable localized laboratory for a global phenomenon.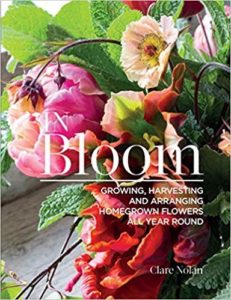 In Bloom: Growing, Harvesting, and Arranging Homegrown Flowers All Year Round, by
Clare Nolan (CompanionHouse Books May  2019) paperback , 288 pages, $26.99
In this beautifully designed book, brimming with inspirational photographs, Clare Nolan reveals her secrets for growing a bountiful harvest as well as styling spectacular displays that will fill your home with color and the gorgeous scent of the garden year-round.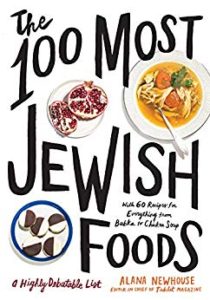 The 100 Most Jewish Foods: A Highly Debatable List, by Alan Newhouse, (Artisan, March 2019), hardcover, 305 pages, $24.95
This list of the 100 most Jewish foods is not about the most popular Jewish foods, or the tastiest or even the most enduring. It's a list of the most significant foods culturally and historically to the Jewish people – explored deeply with essays, recipes, stories and context. Some of the dishes are no longer cooked at home, and some are not even dishes in the traditional sense (store-bought cereal and Stella D'oro cookies, for example). The entire list is up for debate, which is what makes this book so much fun.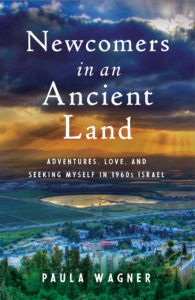 Newcomers in an Ancient Land: Adventures, Love and Seeking Myself in 1960s Israel (She Writes Press, July 30, 2019), Paperback, 256 pages, $16.95
Paula is a seasoned traveler by the time she graduates high school. She began life in England, crisscrossed the United States as a young child and survived a year in a London boarding school, immersed in her mother's heritage. When she leaves home at age 18 to go to Israel to explore her father's Jewish roots and learn Hebrew on a kibbutz ulpan, her quest will change her life forever. Seduced by her love of language, she continues the journey to France for several years before returning, at last, to settle to Israel. As she navigates her odyssey from vision to reality, she will learn much more than two new languages ― and realize that if she is ever to forge her own identity, she must also separate from her twin sister and follow her own path.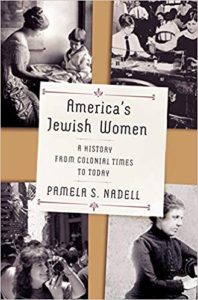 America's Jewish Women: A History from Colonial Times to Today, by Pamela S. Nadell (W.W. Norton & Co. March 2019), hardcover, 336 pages, $28.95
A groundbreaking history of how Jewish women maintained their identity and influenced social activism as they wrote themselves into American history. In a gripping historical narrative, Pamela S. Nadell weaves together the stories of a diverse group of extraordinary people—from the colonial-era matriarch Grace Nathan and her great-granddaughter, poet Emma Lazarus, to labor organizer Bessie Hillman and the great justice Ruth Bader Ginsburg, to scores of other activists, workers, wives, and mothers who helped carve out a Jewish American identity. The twin threads binding these women together, she argues, are a strong sense of self and a resolute commitment to making the world a better place.
Bucharest Diary: Romania's Journey from Darkness to Light, by Alfred H. Moses, (Brookings Institution Press, July  2018), hardcover, 29.95
In the 1970s American attorney Alfred H. Moses was approached on the streets of Bucharest by young Jews seeking help to emigrate to Israel. This became the author's mission until the communist regime fell in 1989. He went on to serve as U.S. ambassador to the country from 1994 to 1997 during the Clinton administration. Bucharest Diary is filled with firsthand stories, including colorful anecdotes, of the diplomacy, both public and private, that helped Romania recover from four decades of communist rule and, eventually, become a member of both NATO and the European Union.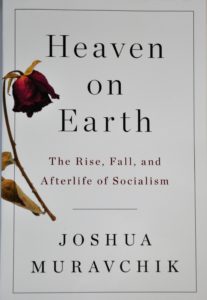 Heaven on Earth: The Rise, Fall, and Afterlife of Socialism by Joshua Muravchik (Encounter Books, April 2019), paperback, 472 pages, $18.99
As a youth, Joshua Muravchik was chairman of the Young People's Socialist League, until he read Marx in college and began to distance himself from the ideology. Here he traces the pursuit of socialism, presenting sketches of the thinkers and leaders who developed the theory, led it to power, and presided over its collapse, as well as those who are trying to revive it today. Heaven on Earth is a story filled with character and event while presenting an epic chronicle of a movement.
SELF-HELP/PSYCHOLOGY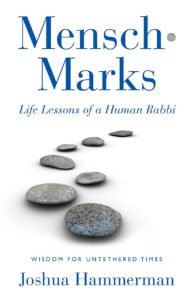 Mensch Marks: Life Lessons of a Human Rabbi by Rabbi Joshua Hammerman (HCI; April 2, 2019) 240 pages; $14.95
The book speaks to character and what it takes to turn humanity around by being human. Rabbi Hammerman draws lessons from how the Hindu god of dance and how the Sabbath anchors the workweek, why A.A. Milne inspired his "The Torah of Pooh," how the diverse cast in a high school production of "Fiddler on the Roof" forced him to challenge his own views on intermarriage, and the temptation of the forbidden Oreo. Being a mensch means seeking justice tempered with compassion, understanding our human connection, serving a higher cause and living with dignity and integrity. In a time when every measure of civility is being overturned, being a mensch may be the only measure of character that truly matters. "If by sharing what I've learned, I can add a modicum of generosity, honesty and human connection in a world overflowing with cruelty, loneliness and deceit, then I'll have done my job," says Rabbi Hammerman.
The Psychoanalyst's Aversion to Proof , by Austin Ratner, (IPBooks, Feb 2019), paperback, 302 pages, $29.95
Freud is one of the most famous Jews who ever lived and his Jewish identity, though secular, was important to him. But Freud also feared that anti-Semitism would harm psychoanalysis, because the first analysts were all Jews and because anti-Semitic stereotypes labeled Jews as immoral. Psychoanalysis, of course, looks directly at antisocial sexual and aggressive urges and the way that people repress them and he feared people would call psychoanalysis an immoral Jewish science. They did. He took evasive action that harmed the field in the long-run by shielding psychoanalysis from criticism. Ratner writes, "Freudians have undercut their appeal by becoming an insular community that's failed to articulate the proven value of psychoanalysis even though there's abundant evidence that it really does work."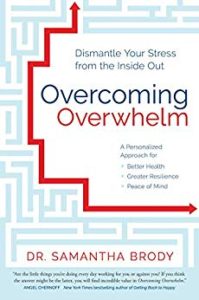 Overcoming Overwhelm: Dismantle Your Stress from the Inside Out, by Dr. Samantha Brody, (Sounds True Jan. 2019), Paperback, 240 pages, $17.95
"You don't need new ways to manage your stress, you need to prevent it from overwhelming you in the first place," says Dr. Brody. Raised in a Jewish family in New York City, Brody says she identifies strongly with the Jewish cultural values of taking care of people (her family. patients, others) and education. The Portland naturopathic physician offers four steps to undo overwhelm: define your "true north" – core values; establish your foundation; take your overwhelm inventory to determine your unique causes of stress; and create and launch your personal plan to rid your life of overwhelm.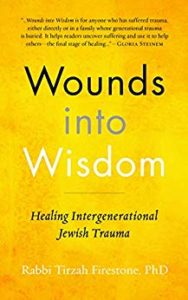 Wounds into Wisdom: Healing Intergenerational Jewish Trauma, by Rabbi Tirzah Firestone, Ph.D., (Adam Kadmon Books, April 2019), hardcover, 240 pages, $26.95
Our past does not simply disappear. The painful history of our ancestors and their rich cultural wisdom intertwine within us to create the patterns of our future. Tirzah Firestone brings to life the profound impact of protracted historical trauma through the compelling narratives of Israeli terror victims, Holocaust survivors and those whose lives were marred by racial persecution and displacement. The tragic story of Firestone's own family lays the groundwork for these revealing testimonies of recovery, forgiveness and moral leadership.
Throughout, Firestone interweaves neuroscientific and psychological findings, as well as relevant and inspiring Jewish teachings. Seven principles emerge from these wise narratives. At the broadest level, these principles are directives for staying morally awake in a world rife with terror.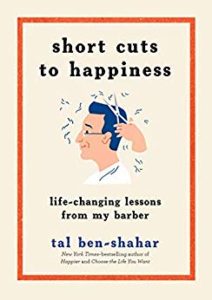 Short Cuts to Happiness: Life-Changing Lessons from My Barber, by Tal Ben-Shahar, (The Experiment, Oct. 2018), hardcover, 176 pages, $18.95
Short Cuts to Happiness details two years of heartfelt conversations that New York Times bestselling author Ben-Shahar shared with his barber Avi. Covering love and friendship, generosity and laughter, the life lessons Tal and Avi exchange can help you improve your overall wellbeing.
Positive psychologist Tal Ben-Shahar has shared his wisdom on finding fulfillment with people around the world. But when the happiness expert needs a sympathetic ear, Tal found Avi, who (along with cutting hair) dispenses wisdom beyond his years:  Moving fast is important, but so is knowing when to wait. The more you provide for your children, the less they gain for themselves. If only people brought the same levels of commitment to their relationships as they do to their work. The best way to gain trust is to give trust.