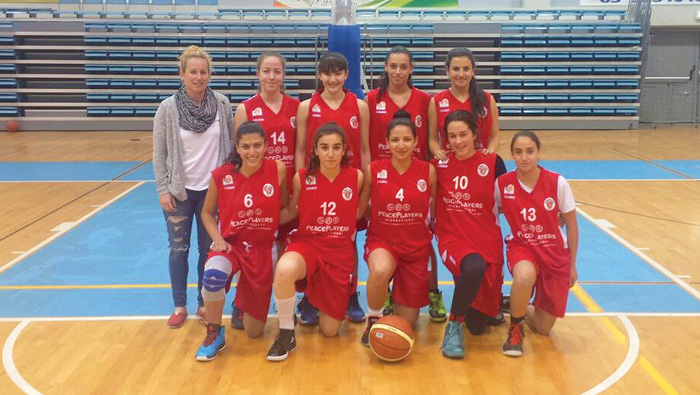 By Teddy Weinberger and Rebecca Ross
Note from Teddy: Israel is a society in which young girls are given the message that sports are for boys. To combat this, a few years ago Israel inaugurated Project Athena: the National Council for the promotion of girls and women in sports. Encouraging more Israeli girls to participate in sports addresses a potentially serious health issue; for one thing, youthful participation in sports (especially those with high impact or resistance) is a key factor in adult bone density. My daughter Rebecca, 26, is a professional basketball player in Israel and is also a much sought-after coach. Rebecca regularly helps Athena by going into schools and getting young girls excited enough about basketball to join local programs. Rebecca has just begun her second year as coach of a rather unique girls' team in Jerusalem. Below is an account of her first year with the team.
In the summer of 1997, when I was 8, my family moved from Miami to Givat Ze'ev, a large West Bank settlement northwest of Jerusalem. Part of my acculturation process involved learning to hate Arabs and to hate Arabic. This past year, as coach of Jerusalem's all-star 9th-10th-grade girls' basketball team, I have learned to love Arabs and to love Arabic.
My six secondary school years in Jerusalem largely coincided with the Second Intifada. That is, the period in my life when I spent the most time on busses (as many as six a day because of my own basketball practice) was also the period when many of those busses were attacked. I woke up every day fearing that a suicide bomber would decide to explode himself on my bus on my way to school. I used to see every Arab on the street as a terrorist; I was suspicious of all Arabs – men, women and even children. When the mother of one of my high school classmates was killed in a suicide bomb attack, I was traumatized. I grew up convinced that Arabs were our enemies and that they were malicious, horrible people who just wanted to kill all the Jews.
Late last August I moved back to Jerusalem to play on the city's professional women's team. My basketball career has always included coaching as well as playing, and so I accepted a position to coach the 9th-10th-grade girls' team that is part of the same club as my professional team. I had heard that the girls' team had Arabs on it, but that fact didn't really register with me until my first practices with the team, when I heard the Arab girls speaking Arabic with each other. I was filled with a visceral revulsion. The sound of Arabic just drove me crazy and brought me back to the trauma of my youth. But from practice to practice and without even noticing it, I found myself thinking a lot about my Arab players – because they are simply great girls. Girls who just want to play ball and have a fair shot at success in life, and yet who were born in a very complicated place that doesn't give them a real chance to succeed.
The integrity of our team was tested on Nov. 18, when early in the morning four people were killed in a terror attack at a synagogue about an eight-minute drive from the gym where we practice. As a religious Jew I was shocked and hurt when I heard about the attack, but when I showed up to practice later that day, everything was normal. By then everyone knew all of the details of what had happened, but I didn't mention the attack – I decided to leave politics off the court. The girls practiced normally; they smiled and enjoyed it as usual. After that practice I understood that even though we live in "war," we can still make a difference through the small things.
Peace is a very big word, but I believe that until we have peace, we need to learn how to live together and get along. When I see my young Arab players getting along so well with my Jewish players, it gives me hope and fills my heart with happiness. Almost every kid loves sports, and sports are an amazing way to bring all the different peoples, cultures and religions together.
I have grown close this year not just to my Arab players but to their families and to the people involved in the Peace Players project (of which my team is a part). One player's mom calls me every other day, and I try to help her out in various ways with her kids and chauffeur them around (the family lives in a tiny two-bedroom apartment, with six girls in one bedroom, four boys in the other and the parents sleeping in the living room). My Arab friends invite me into their villages (Beit Tzafafa, Beit Haninah), and their families host me like I'm a queen, feeding me and inviting me to special family events.
If someone had asked me a decade ago on my bus to school if I could ever imagine myself studying Arabic, I would have looked on that person as if he or she were insane. And yet that is what I am now doing. Brother Yohanan Elihai, the author of my Arab textbook, is an 89-year-old French monk who has lived in Israel since 1956; he writes that "language is the key to the heart." My heart was opened by my Arab players, and so it feels natural for me to want to learn how to communicate with them in Arabic. I guess when you come from love, and basketball is my love, anything is possible.
Play ball. Ela'ab eltaba.