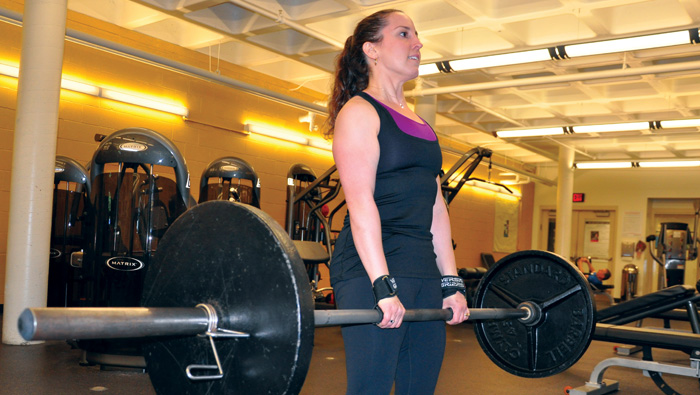 When she wanted to lose weight in her 20s, Jessica Gatke would hop on the treadmill and "starve myself."
As a child, Jessica was a gymnast for eight years and competed in springboard diving in high school. She was used to being lean. But when her daughter Miriam was born three years ago, Jessica found out hopping on the treadmill no longer shed the pounds. "I was spinning my wheels."
Since the family belongs to Havurah Shalom, when she was looking for a gym that offered child care, she visited the Mittleman Jewish Community Center.
"It's as convenient as you can get," says Jessica. Initially Miriam would play at the J's drop-in child care room. Now she has transitioned to the "three day 3's" class at Portland Jewish Academy, also on the Schnitzer Family Campus.
"I never liked classes – that stuff doesn't speak to me," says Jessica. So when the center had a special sale on five sessions with a personal trainer, she signed up. "She had me do circuit training, and the weight was coming off."
Next the J ran a fitness challenge and she signed up and got more personal training sessions.
"One year ago I got to the weight I'm happy with," says Jessica. "I need a goal, I need something to focus on. So I told her (my trainer) I want to focus on getting stronger. So she introduced me to heavy weight lifting."
The trainer had her work up to doing squats with 75 pounds, which seemed heavy at the time, though now it seems like nothing.
"I fell in love with heavy weight lifting," Jessica says.
The trainer Jessica had worked with moved to Montana, but Jessica has continued lifting.
"She gave me a really great foundation with a focus on form," she says. "That fit my lifestyle. I have a life. This is just to make my life happier and healthier."
"It doesn't take a lot of time, it just takes consistency," she says, noting she generally works out three to four days a week.
In addition to lifting, Jessica does some cardio. After her heavy lifting routine, she will do circuit training with lighter weights for cardio. She also enjoys walking with friends every Thursday and joins one friend on the J's racquetball courts occasionally, where she says "we are mostly breathless from laughing." On Sundays she takes Miriam to play in the J's warm water pool.
When her husband, Brandon, decided he wanted to run in the Portland Marathon, Jessica encouraged him to work with one of the J's personal trainers so he wouldn't get injured.
"We really use the facility," says Jessica. "Everyone here is so nice. I get lots of encouragement."
Shortly before her "double chai" (36th) birthday in August, Jessica could dead lift 175 pounds and planned to lift 200 before finishing that eight-week series. She says she likes to change things up every eight weeks because "my body responds better when I mix it up."
She reads a lot about the topic and recommends Strong Curves and New Rules of Lifting for Women for others interested in gaining strength.
She also suggest finding a friend to work out with.
"It's nice having a friend to be your cheerleader," she says. "I think everybody needs somebody to support them. I get support from my husband, and everybody here supports me."
But she says she is especially happy to be providing a positive role model for her daughter. She wants her daughter to seek out a strong body, not a skinny one. So she was very pleased recently when her daughter was helping her and lifted a big grocery bag saying, "Look Mommy, I'm strong."
"I'm putting the right information in my daughter's mind."