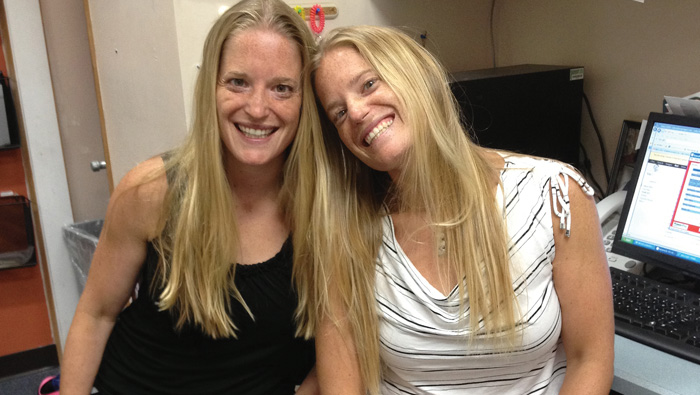 Photo Credit: Judy Aiello
Identical twins Beckie Harris Wear and Cassie Harris never dreamed they would be having their first babies at the same time, but their daughters were born about three months apart.
As fitness enthusiasts and teachers, their stories are inspiring for women as they exemplify how to stay fit before, during and after pregnancy, as well as enjoy the challenges of family members living far away during life events. Beckie lives in West Linn with her husband, Tristan Wear, and daughter Bree, and Cassie lives in Israel with her husband, Noah Segal, and daughter Taya.
Beckie and Cassie grew up in Portland. They attended Portland Jewish Academy and Congregation Beth Israel, where they each became a bat mitzvah. Their fitness resumes reach back just as far.
Beckie and Cassie's mom, Beverly Eder Lindemann, started Lake Oswego Academy of Dance 25 years ago. Beckie was hooked on dance by age 5. She danced throughout high school and was also a cheerleader; she continued her dance education in college. Dance was her passion. "It was a ball growing up so active and having so much access to dance! It was a way of life," says Beckie. After their mother passed away in November 2002, Beckie carried on her mother's legacy by running the studio.
Cassie took a different road. Competitive swimming was her passion, which led to competing in water polo in high school.
Both of the twins went on Birthright Israel trips and were very inspired – Cassie so much so that she eventually moved there and met her husband while working as a special ed teacher. Cassie added running and biking to her swimming routine and began competing as a triathlete. Cassie's competitive streak really paid off and she eventually became an Ironman.
As young adults they continued to dance, swim, run and bike. Fitness was a huge part of their lives. As twin sisters and best friends, it was hard being so far away in two very different cultures, but they continued to share their passions by visiting each other whenever possible and using technology such as WhatsApp, FaceTime, Facebook etc. … talking daily when possible.
As they entered their 30s, both Beckie and Cassie hoped to start families soon. And they both did, having beautiful baby girls just months apart this year. They even managed to visit each other before each gave birth.
They aptly point out how fitness really played a major role in keeping them healthy throughout their pregnancies and helping with recovery afterward.
Cassie says, "Not everyone can be a triathlete or Ironman, but keeping up a healthy regimen at any level is so important."
Both twins continued with running, biking and swimming, while following doctors' orders. Beckie was recently surprised when her running group, Run 4 UR Life!, chipped in for the special running stroller she had hoped for to support her healthy lifestyle.
The twins recently took a trip to Boston with their daughters – bringing along blankets, bottles and readiness for fun! The challenges of traveling with infants seemed daunting, but they managed to overcome the daily feedings, diapering and needs of their girls while enjoying their trip together. It was an experience they will not soon forget.
Technology allows them to share all the trials and tribulations – and especially the joys – of motherhood. They miss each other and hope their daughters will be best friends just like they are. They are also excited to start passing on their passions to their daughters.
Wendy Berton is a certified personal trainer. She also leads the running group RUN 4 UR Life! She works for Lake Oswego Academy of Dance & Portland Parks & Rec. She is a contributing writer for Walkabout and AKWA magazines.