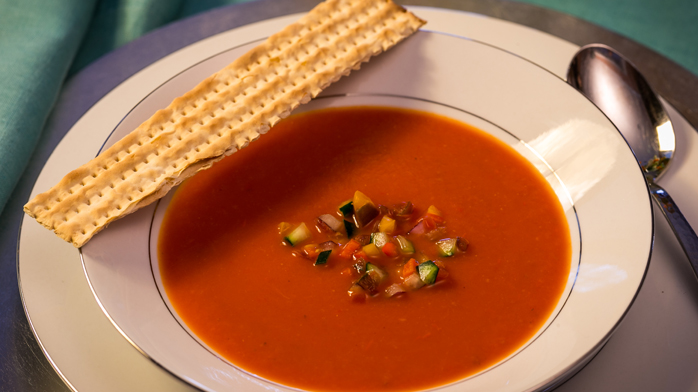 By Paula Shoyer
Soups are not only a great comfort food on a cold winter day, but they can also be a meal-in-a-bowl when you are trying to eat healthier in the new year. These recipes are from Chef Paula Shoyer, "a chef who takes the calories out of comfort foods." To find more of Paula's recipes, visit thekosherbaker.com.
White Corn Soup
Ingredients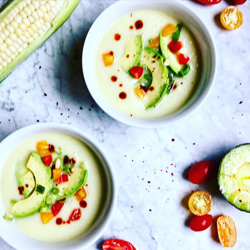 6 ears white corn, husked
2 tablespoons extra virgin olive oil
1 tablespoon butter, if making dairy
1 large onion, chopped
2 leeks, white and light green parts only, sliced
2 stalks celery, chopped roughly
5 cloves garlic, chopped
half 1 jalapeno, seeded
6 cups vegetable stock or water
salt and white pepper to taste
Garnish, all optional:
1/3 of a zucchini, cut into ¼-inch cubes
1/3 red pepper, cut into ¼-inch cubes
half avocado, sliced
handful cherry or grape tomatoes, different colors, cut into small pieces
10 chives, chopped
2 green onions, sliced
4 basil leaves, slivered
cilantro leaves
pinch of Aleppo pepper
paprika mixed into olive oil and drizzled on top
Directions
In a large soup pot, heat oil over medium heat and add the onions, leeks and celery and cook for eight minutes, stirring often. While the aromatics are cooking, cut the corn kernels off the husks over a 9 X 13-inch pan (this helps keep the kernels from flying everywhere in your kitchen), but do not discard the husks. Break the cob in half. Scoop up 2 tablespoons of kernels and set aside to garnish the soup.
When vegetables are soft, add the garlic and jalapeno and cook for another 3 minutes to soften. Add the corn kernels and cobs, water or stock, a little salt and a shake of white pepper. Raise heat to high and bring to a boil. Reduce heat to low, cover and simmer for 30 minutes. Let cool for a few minutes and then lift the husks out of the pot; I use large tongs for this. When the cobs are cool enough to touch, I eat whatever bits of corn are still on them before discarding.
Use an immersion blender or transfer to a food processor or blender and purée for 3 full minutes, or until completely smooth. Taste and add more salt or white pepper as needed. Serve hot or cold with any or all of the garnishes.
Gingered Red Pepper and Tomato Soup
Ingredients
3 tablespoons extra virgin olive oil
3 onions, halved and sliced into half-inch slices
5 cloves garlic, chopped
2-inch piece of fresh ginger, peeled and chopped
7 large red peppers, halved, seeds removed and cut into 2-inch pieces
2 large fresh tomatoes, chopped
35 ounces canned whole peeled tomatoes
4 cups chicken or vegetable stock
bunch of fresh basil leaves (little more than half of a .75-ounce box)
salt and white pepper
1 tablespoon honey
Garnish
2 tablespoons chopped red onion, cut into ¼-inch pieces
2 tablespoons chopped orange pepper, cut into ¼-inch pieces
2 tablespoons chopped yellow cherry tomatoes, cut into ¼-inch pieces
2 tablespoons chopped cucumber, unpeeled, cut into ¼-inch pieces
Directions
Heat oil in a large soup pot. Add the onions and cook on medium-low heat until they are translucent, for about eight minutes. Add garlic and ginger and cook for another three minutes. Add peppers, tomatoes, canned tomatoes and stock and bring to a boil. Add basil, cover and reduce heat to low to simmer soup for 45 minutes. Let cool slightly. Remove as many of the basil leaves as you can fish out and discard.
Using an immersion blender, or in batches in a food processor, purée the soup until completely smooth, for at least three minutes if using the immersion blender. Add salt and white pepper to taste. Add honey and stir. Serve hot or chilled.
To make the garnish, place the red onion, peppers, tomatoes and cucumber into a small bowl and toss. Top each bowl of soup with about two teaspoons garnish.
Paula Shoyer is the author of Healthy Jewish Kitchen (Sterling Epicure 2017), The New Passover Menu (Sterling 2015),  The Holiday Kosher Baker (Sterling Press 2013), and The Kosher Baker: 160 dairy-free desserts from traditional to trendy (Brandeis 2010). Paula's recipes have been featured in newspapers, magazines, websites, blogs and on radio and TV shows all over the United States, Canada, Israel and even Asia.