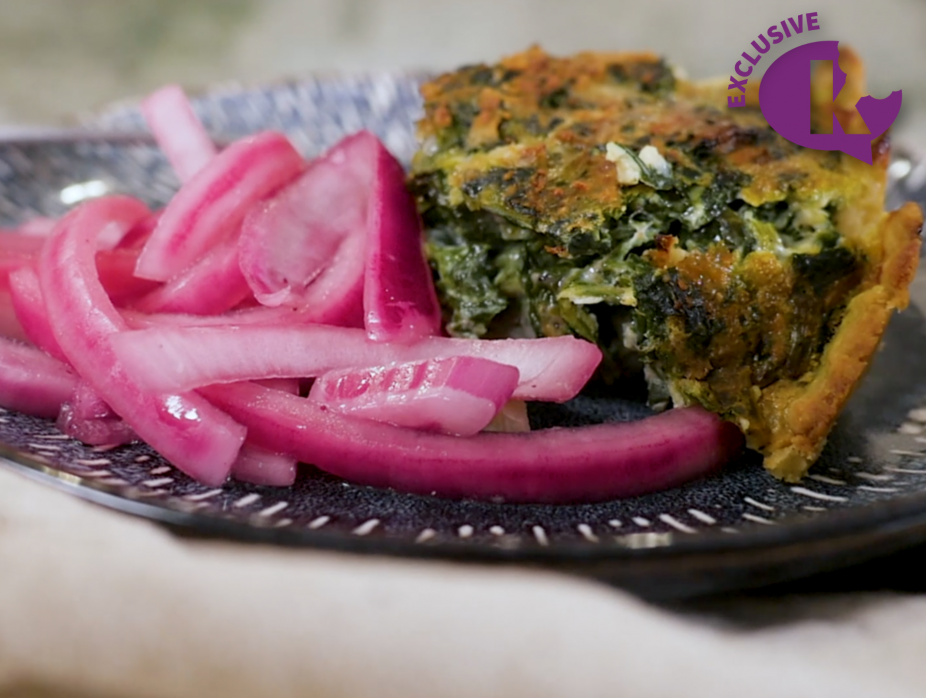 Shavuot is just around the corner and who isn't thinking about what delicious dairy dishes they can make! Share these delicious Shavuot recipes from kosher.com.
See more Shavuot recipes at orjewishlife.com/shavuot-recipes/
Spinach & Artichoke Quiche
by Danielle Renov
Watch Danielle bring this super simple dinner to life here!
Dough
3 cups Glicks White Flour
¾ teaspoon salt
¾ cup cold canola oil
4-6 tablespoons cold water
Filling
½ white onion, finely diced
3 cups frozen spinach, defrosted and squeezed to release as much water as possible
8 Blanchard and Blanchard Frozen Artichokes, defrosted, trimmed and chopped into ⅛-inch slices.
4 eggs, lightly beaten
¾ cup heavy cream
1 cup shredded mozzarella
2 tablespoons Parmesan cheese (optional)
2 teaspoons salt
1 teaspoon black pepper
Prepare the Dough
Preheat oven to 350 degrees Fahrenheit (180 degrees Celsius).
Put everything in a bowl with only four tablespoons of water. Mix (by hand) till dough comes together, only adding more water if necessary. Divide dough in half. Roll out each half between two layers of Gefen Easy Baking Parchment Paper. Place dough into a greased circle pie dish.
Prepare the Filling
Combine all ingredients in a bowl.
Bake
Add filling to pastry.
Top mixture with an additional tablespoon of mozzarella cheese and small sprinkle of Parmesan for beauty. Place in oven and bake for one hour.
Tortellini with Creamy White Wine Mushroom Sauce
by Vera Newman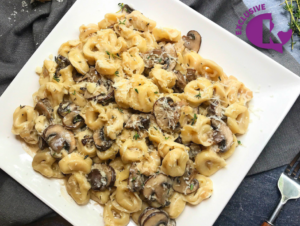 A creamy and totally indulgent double-cheese pasta dish with sumptuous savory mushrooms and white wine sauce.
24 ounces frozen cheese tortellini
2 tablespoons Bartenura Extra-Virgin Olive Oil
1 small onion, chopped small
3 garlic cloves, crushed or 3 cubes Gefen Frozen Garlic
1 pint baby bella mushrooms, sliced
2 teaspoons chopped fresh thyme leaves, plus extra to garnish
⅓ cup Baron Herzog Chenin Blanc or other dry white wine
1⅓ cup heavy whipping cream
3 tablespoons grated Parmesan, plus more for serving
¼ teaspoon salt
pepper, to taste
Cook frozen tortellini according to package directions.
In the meantime, heat olive oil in a saucepan over medium-high heat. Add chopped onion and cook, stirring, for three minutes or until onion has just softened. Add garlic, cook until fragrant, and then add the mushrooms and thyme. Cook for three minutes or until tender. Add wine and simmer for three to five minutes or until reduced by half. Stir in heavy whipping cream. Bring to a simmer. Reduce heat to low. Simmer for four to five minutes or until sauce slightly thickens. Add the Parmesan cheese. Mix to incorporate and melt. Season with salt and pepper, and cook for another minute.
Cheese Kreplach
by Nitra Ladies Auxiliary

Classic Jewish kreplach are squares of dough filled with ground meat or chicken, folded into a triangle, boiled and traditionally served on Purim. These are kreplach with a twist, filled with either a sweet or salty cheese mixture. Dairy and delicious, these will cheese kreplach will melt in your mouth on Shavuot or any day.
Dough
8 egg yolks
¼ pound butter, unwhipped
1 cup water
4 cups flour
Sweet Filling
1½ pounds farmer cheese
¾ cup confectioner's sugar
2 tablespoons vanilla sugar
2 egg yolks
2 tablespoons farina
Salty Filling
1½ pounds farmer cheese
4 eggs
4 ounces unwhipped butter
½ teaspoon salt
pinch of pepper
1½ teaspoons Gefen Cornstarch
Make the Kreplach
Combine ingredients for dough, knead until smooth and soft. Divide into four parts.
Working with one part at a time, roll out to a quarter-inch thickness. Cut into three-inch squares.
Combine ingredients for desired filling.
Place one tablespoonful onto center of each square. Fold dough into triangles. Seal edges with tines of fork.
Drop kreplech into boiling water. Cook for 15–20 minutes. Remove with slotted spoon, drain well. Prior to serving, re-warm in melted butter or in toasted breadcrumbs.