Sharon Fendrich's debut new age/neo-classical album Red Sky Prairie has been submitted by a member of the Recording Academy for consideration for the New Age Grammy 2020.
With deep roots in Portland's Jewish community, Sharon was profiled in Oregon Jewish Life's January 2016 issue 2016. Her children Talia and Max attend religious school at Neveh Shalom, where the family are members. Sharon serves on the steering committee of Chevra Kavod haMet. Her in-laws, Mimi and Bob Epstein, are long time members of Havurah Shalom.
"Since I was a child it has been the music and song in a Jewish service that has given me the strongest sense of connection with my community," says Sharon. "I can always feel the strength, hope and healing that chanting together brings to the sacred space. This power of music is what inspires me to compose and share my music."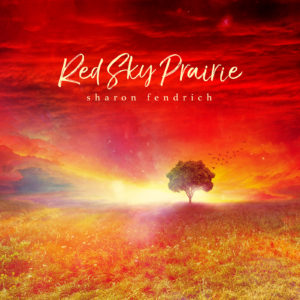 Sharon released her self-produced debut album, Red Sky Prairie, on Aug. 1, 2019. Grounded in classical and inspired by new age, the 11 tracks are full of lush, passionate melodies. The album features Sharon on piano, along with four Dutch soloists: violinist Wilfred Sassen, cellist Joep Willems, flautists Helen Hendriks and Ies Muller, and Russian vocalist Anna Emelyanova. Within the five tracks containing lyrics, Sharon uses five languages including Esperanto.
The inspiration for the album came from a daydream Sharon had about a place where a palpable red-orange sky covered a prairie after the passing of a storm. A profound sensation of acceptance and peace permeated this scene inspired the creation of Red Sky Prairie.
Then Sharon pulled together poignant emotional themes from her own life and put them to music. The 11 tracks are L'dor Vador, A Secret's Song, Within Whispers, Red Sky Prairie, Song of the Dove, Never Alone, Moonswept, Bittersweet Memory, Last Tears, In Memoriam, and That September Day.
Sharon says some of the pieces on were inspired by core Jewish values in her life.
"L'dor Vador is about the cycle of life and tradition of which we are all a part," she says. "Though Song of the Dove is about searching for peace despite arduous obstacles, it's also about recognizing that peace starts within us. Never Alone was written in the Neveh Shalom main sanctuary one night alone at the piano. I felt profoundly moved by the spirit of all of the prayers that had been prayed in that space and imagined our generations all being connected through the same prayers. That September Day is about the unifying sense of togetherness and hope that arises after tragedy strikes a community."
Born and raised in Eugene, Sharon began music studies at age 3. She completed advanced studies in piano, choral music, conducting, orchestration and composition in college at Tufts University. Her current vocal studies include opera and musical theater. When composing, she relies on her fingers and ears to guide her into crafting a complete solo piano work. Then, as she begins to add layers of sound through improvisation, counter-melodies emerge and contribute to a full harmonic palette and tempos full of breathing room.
Sharon traveled to the Netherlands to record and mix Red Sky Prairie at Kerani Music Studio, the home of award winning neo-classical artist Kerani. Mastering was done by engineer Stephen Marsh, known for his work with some of Hollywood's greatest composers.
The album was submitted for consideration for a New Age Grammy by a long-time Recording Academy member Bruce Maddocks. If selected for consideration, it will be presented to the voting members of the academy for voting. There are two votes to narrow the field to the list of the official nominations to be announced Nov. 20. The awards are presented at the end of January.
Sharon is well into the compositions for a follow-up album to Red Sky Prairie. The new album is slated for a February 2021 release.