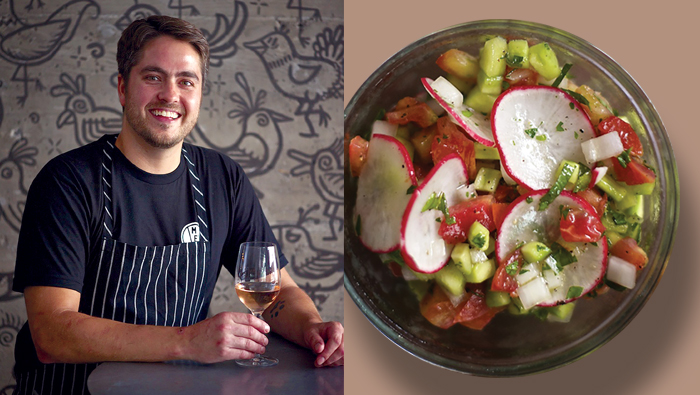 Do you have a hankering for hummus? Do you crave a falafel fix? If so, you'll want to head over to the latest Israeli concept restaurant in Portland, Shalom Y'all, one of the tenants at the brand new Pine Street Market at the corner of Second Avenue and Pine Street.
The team behind the popular Toro Bravo and Mediterranean Exploration Company will be serving an exciting, healthy menu. "We're going to be open from brunch to dinner," says chef John Gorham. "In the mornings, we will have a whole shakshuka menu, while during the evenings we'll focus on the street food of Israel – falafel, hummus. We have a deck oven, so we'll be making fresh pitas, and I'm sure there will be a lot of surprises."
Shalom Y'all gets its inspiration from the family of Gorham's business partner, Ron Avni. After World War II, Avni's Chicagoan father moved to northern Israel to fulfill his lifelong dream of owning a horse ranch. "He was a cowboy type of guy; he made fried chicken and Americana-type stuff. What we're doing is the total opposite; we're bringing Israeli cuisine back here," says Gorham, who has accompanied Avni and executive chef Kasey Mills on culinary research trips to Israel.
The new restaurant will feature some of the Mediterranean Exploration Company's greatest hits. "You will see lamb chops at night – a lot of roasted lamb and Israeli-style composed hummus plates."
Some of the menu will be vegetarian.
An intriguing selection of beverages will also be featured. "Our bar menu is being done by Jamal Hassan, our bar manager over at Mediterranean Exploration Company. For the Y'all part of it, we will have a lot of the brown liquors from the United States, done with Middle Eastern flavors. And then, we're going to have an Israeli and a Lebanese beer on draft as well."
Ultimately, Shalom Y'all will be a celebration.
"The Toro Bravo family has large connections to Israel, and we will continue to celebrate those," says Gorham.
For more information about Pine Street Market (126 SW Second St., Portland), which is set to open April 17, visit pinestreetpdx.com. Other tenants will include Marukin, a Tokyo-based ramen restaurant, and Sol Food + Juice, a new quick-service vegetarian concept from Adam and Jackie Sappington of The Country Cat Dinner House & Bar.