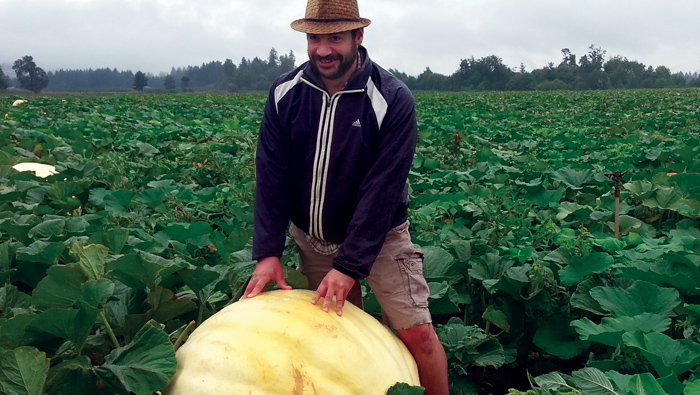 When you walk into the Providore Fine Foods market, the first thing you might see is a glistening, jewel-toned array of fruits and vegetables. They are lovingly arranged by Josh Alsberg, owner of Rubinette Produce Market, and his team. If you seem overwhelmed by the selection, the friendly Josh might approach you and ask, "What are you making for dinner?" He explains, "A lot of times someone will say they're getting, say, a salmon filet from Flying Fish (another vendor at Providore Fine Foods). So I will ask, 'What would you like to do with that, are you thinking of potatoes, or a root vegetable medley or more of a salad?' It's basically meal-planning assistance."
Josh, a longtime produce buyer, has operated the pristine Rubinette Produce Market since February of 2016. He waxes eloquent about his offerings, raving about a "creamy, buttery" Taylor's Gold pear from Kiyokawa Family Orchards and a purple sprouting broccoli from Mustard Seed Farms. Josh is especially excited about a tomato variety called Astiana, which is grown by Anthony and Carol Boutard of Ayers Creek Farm. "It's a very meaty tomato, the most perfect sauce tomato. It has a little bit of sweet, a little bit of smoky; it's very rich. You can roast it, or you can cook it in with other vegetables."
Josh first discovered his love for fruits and vegetables as a child in the Jewish enclave of Skokie, IL. "I noticed that really good fruit makes people smile, makes them happy. My dad used to take my brother and me to this apple orchard just outside Chicago where you could pick your own apples. We hauled the big bushel basket out there, and my dad would lift us up over his shoulders to pick beautiful Golden Delicious apples off the tree. They were special to me, they had a great crunch and the juice just spilled out when you would sink your teeth into them. It made me happy.
"At some places," he continues, "you pick an apple off the shelf and bite into it, and nine times out of 10 it's kind of mealy and doesn't have much flavor. So, I'm trying to replicate that 'right-off-the-tree' feeling." Throughout the year, around 75 % of the produce he buys is certified organic.
Right now, Josh recommends that his customers come in and try some tangerines and oranges. "We're getting the most delicious citrus in right now. As far as a recipe goes, a really simple salad would be to take a head of radicchio, chop it up, shave some fresh fennel into that, cut up a piece of citrus that's your favorite, like a grapefruit or blood orange, and toss that in there with a little bit of light vinaigrette."
Rubinette Produce Market is located inside Providore Fine Foods at 2340 NE Sandy Blvd., 971-888-5350, providorefinefoods.com.