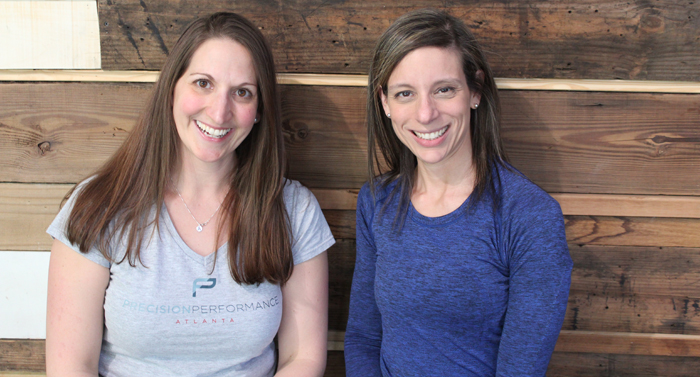 Photo: Dr. Blair Green (right) and Dr. Kate Mihevc-Edwards.
Roughly four million women give birth every year, according to the CDC, yet there is still a significant gap in information and resources for women whose bodies are undergoing massive changes. It's time to empower women and make "uncomfortable" topics about pregnancy mainstream.
"As physical therapists and mothers, we have seen and felt the lack of support women receive during pregnancy and postpartum – specifically around exercise," say Dr. Blair Green and Dr. Kate Mihevc-Edwards, co-authors of the new book Go Ahead, Stop & Pee. "There needs to be better education surrounding exercise for women during pregnancy and postpartum. Our mission is to shine light on what women should expect, how their bodies should feel, and what is normal."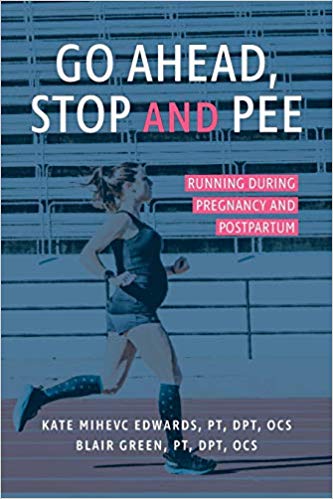 Dr. Green is a Doctor of Physical Therapy with a focus on pre/post-natal health and wellness, the founder/CEO of Catalyst Physical Therapy, and a board-certified orthopedic specialist. We asked her to share some of her views on exercise and pregnancy. Following are her replies.
Please share some of your Jewish connections.
I was born and raised outside of Philadelphia, PA, where my family was a member of Congregation Or Ami in Lafayette Hill, PA. I was briefly involved in BBYO as a teen and attended Jewish camp at Camp Louise in Maryland for two summers. I began to embrace my Jewish identity more when I went to college, and made my own decisions about attending Shabbat and High Holiday services, celebrating with friends and attending events at campus Hillel.
Today, I continue to share my Jewish heritage and values with my children, who are 11 and 13. They attended preschool at the Marcus JCC in Atlanta, and now attend the Alfred and Adele Davis Academy in Atlanta, which is a Jewish Day School. They also attend Jewish camp at Blue Star Camps in Hendersonville, NC, in the summers (they have completed five and six summers respectively). We celebrated our son's bar mitzvah this past year in the Dominican Republic, with our closest family. This was such an intimate, meaningful experience for all of us and my son was able to read Torah in front of his 89-year-old great-grandmother.
I was able to visit Israel in November 2017 as part of a delegation from the Jewish Women's Connection of Atlanta through the Jewish Women's Renaissance Program. This experience helped me even further embrace my Judaism and I remain active with this group, participating in social and educational programs.
What do you think the biggest misconception women have about how pregnancy will affect their body?
There are many myths about how pregnancy can affect the body. I think the greatest misconception is that all women will suffer from pelvic floor weakness after pregnancy and delivery, resulting in leaking of urine, otherwise known as stress urinary incontinence. Too often, I hear women complain that they leak, but also state that it's a normal consequence of having children. This is simply NOT TRUE. While stress incontinence may be common, it is never normal and is often curable through physical therapy and exercise.
As a medical professional, you were certainly better informed than most women, but was there some change that surprised you?
For me, the biggest change was probably more mental. Prior to my first pregnancy, I was able to exercise every day, or even twice a day. I spent most days in the gym or running outside. Once my son was born, and even more so after my daughter, I had time and energy constraints that kept me from maintaining that schedule. I found that if I could exercise four times a week, that was more than sufficient. When I first started to transition to this schedule, it was hard for me to resolve mentally that it would be enough. I thought for certain I would not be able to maintain my weight or level of physical fitness. What I found was that while I exercised less, I was more efficient with what I was doing, and actually became in better shape after kids! It took a long time, though, until my brain was OK with me not going to the gym every day.
What are the top 3 advantages to running while pregnant?
The research shows there are many advantages to both mom and baby by staying active during pregnancy. I think it's important to note here that running during pregnancy is perfectly safe, especially if you ran prior to pregnancy. However, I would not recommend starting a running program while pregnant.
Remaining active during pregnancy, including running, will decrease the risk for preterm birth, caesarean delivery, preeclampsia, and gestational diabetes; decrease birth weight (to a healthy range); it can also decrease musculoskeletal pain and improve ease of delivery.
How did running during pregnancy affect you personally?
This is probably not the best question for me because I did not run through either of my pregnancies! With both pregnancies, I conceived in late spring/early summer. I live in Atlanta where it remains hot well into the fall months. I tried to run both times until I was about 3-4 months pregnant and I just did not feel great. I would get overheated and was experiencing a lot of discomfort in my pelvis. Knowing that pregnancy is a time to maintain fitness and not push myself into pain, I made the decision to stop running. Instead, I attended spin class and did the elliptical trainer for the duration of my pregnancies.  I will say, though, that making the decision to stop running was not easy for me. As I mentioned, I was already running several times a week going into pregnancy. I ultimately did what felt best for me.
Are there other exercises you recommend for non-runners?
YES! From a cardiovascular standpoint, I recommend continuing whatever activities feel good and you enjoy – biking, elliptical, walking, swimming, even water aerobics. Many cities have prenatal exercise programs that are tailored to expectant moms. It is okay to continue to lift weights and strength train, as long as you do not experience pain, severe cramping, or any unexpected bleeding. These are all signs of overexertion. Exercise programs such as Pilates and yoga are also safe to continue during pregnancy, with certain modifications. It is important not to spend too much time lying on your back after 20 weeks of pregnancy, due to a phenomenon known as supine hypotension. In this situation, the weight of the baby can restrict blood flow back to the heart from the abdomen in the mother. It can be avoided by limiting time spent on your back, so that means some exercises may need to be modified to a seated, or standing position. A physical therapist should be able to help you modify your exercise appropriately and tailor a program to fit your needs.
Are there some exercises women on bed rest can do safely? 
There are many reasons why women are placed on bed rest during pregnancy. Typically, exercise is contra-indicated when this occurs, meaning it is not OK to exercise. In some situations, a doctor may recommend physical therapy to help with feeling completely inactive but staying safe for your body and for the baby. If you are on bedrest during pregnancy, do not continue or begin to exercise without the consent of your Ob/Gyn.
Anything else you want to add?
Yes – Thank you so much for addressing this topic. It is near and dear to me but is also relevant and beneficial for so many women. To all the pregnant women out there and even those who have already given birth – be sure to take care of YOU. You will be a better mom to your child/children by taking care of yourself. If you are expecting or just had a baby, please consult with a physical therapist trained in pelvic health.
Go Ahead, Stop & Pee can be found here on Amazon.