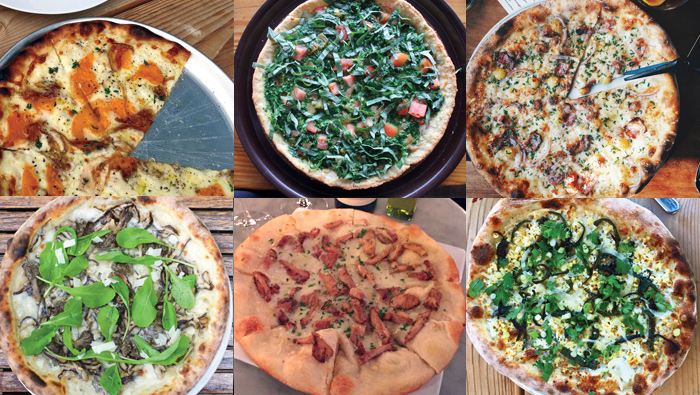 Unlike Chicago or New York, Portland isn't known for its own style of pizza. The upside is that many different kinds of pizza are represented in our town. Here are some of our local favorites.
Apizza Scholls
Every day at 4:45 pm, a long line forms in front of this popular pizzeria so people can get a seat when the doors open at 5. Everyone's waiting patiently for a brick-oven pizza with an airy, ciabatta-like crust. Apizza Scholls is passionate about its product; there are no substitutions on house pizzas, and no more than three ingredients are allowed on a pie. If you can abide by these limitations, you'll be rewarded with what some people call the best pizza in Portland.
4741 SE Hawthorne Blvd.
503-233-1286 | apizzascholls.com
Baby Doll Pizza
Recently profiled in these pages, this pizzeria serves some of the most authentic New York-style slices in Portland. Toppings include sautéed spinach, Kalamata olives, artichoke hearts, Mama Lil's peppers and dates (but never pineapple). Accompany your slice with an ultra-fresh salad or a cup of housemade ice cream. Baby Doll Pizza is open until midnight Tuesdays through Sundays. In true New York fashion, the restaurant delivers.
2835 SE Stark St. | 503-459-4450  babydollpizza.com
Dove Vivi
Customers rave about the toothsome cornmeal crust at this Northeast establishment. Daily specials such as the Yemeni eggplant pizza with mozzarella, feta, eggplant, pine nuts and spicy Yemeni pepper sauce keep people coming back for more. Vegans have two options: corn with cashew cheese and veggies with herbed tofu ricotta.
2727 NE Glisan St. | 503-239-4444 | dovevivipizza.com
East Glisan Pizza Lounge
It seems that Northeast Glisan Street is becoming something of a pizza mecca. Located near 80thAvenue, East Glisan Pizza Lounge provides a great pizza experience for all palates and diets. All sauces except for cream sauce are vegan, and a polenta crust delights the gluten-free. Vegan fennel sauce and cashew cheese are also offered. (And if you are looking for a pineapple pizza, one is featured every Wednesday.)
8001 NE Glisan St. | 971-279-4273  eastglisan.com
Fillmore
The vegetarian owners of this newish pizzeria/coffeehouse offer superior 12-inch pies. White truffle ricotta and classic margherita are two of the options; cheeseless pizzas are also available. A seasonal salad and cup of Coava coffee round out the meal.
7201 NE Glisan St. | 971-236-7411
fillmorepdx.com
Firehouse Restaurant
This longtime local favorite serves up a well-chosen variety of wood-fired pizza. A special pizza bianca is served every day; other options include margherita and cremini mushrooms with tomato, fresh mozzarella and oregano. You may add arugula, anchovies or shaved pecorino to any pizza. If you're still hungry afterward, order some of the fabulous small plates.
711 NE Dekum St. | 503-954-1702  firehousepdx.com
Mama Mia Trattoria
One of Portland's most beloved Italian restaurants adds Pacific flair to its pizza. The Northwest pizza is topped with slices of Hood River Kiyokawa pears, Oregon goat cheese, baby arugula, balsamic and candied walnuts, while the foraged wild mushroom pizza is livened up with house mozzarella, garlic, rosemary and a touch of white truffle oil.
439 SW Second Ave. | 503-295-6464 mamamiatrattoria.com
Nostrana
This immensely popular Italian restaurant just celebrated its 10th anniversary. While Nostrana's "Meatball Mondays" and "Gnocchi Thursdays" are always a draw, many customers come for the naturally leavened, thin-crust pizza. A thick pair of scissors comes with each order. Choose a traditional pie loaded with pillows of fresh mozzarella or go for the fungi: shiitake and maitake mushrooms, mozzarella, garlic, arugula, pecorino and lemon.
1401 SE Morrison St. | 503-234-2427
nostrana.com
Roman Candle Baking Co.
The thick rectangular flatbreads offered at this bakery/pizzeria are Portland's answer to the famous slices at New York's Sullivan Street Bakery. Try the Pomodoro, margherita or Yukon gold potato and end your meal with a first-rate espresso.
3377 SE Division St. | 971-302-6605 |
facebook.com/romancandlebakingco
Via Chicago Pizzeria & Bottle Shop
Hearty Chicago-style pizza is the specialty at this longtime Portland favorite. The deep-dish crust is a savory foundation for a variety of veggies and cheeses. Vegans can opt for tofu ricotta and shredded Daiya, while the dairy-inclined can add goat cheese or Gorgonzola. Every Tuesday, Via Chicago hosts an all-you-can-eat event. If you have room afterward, order the homemade cannoli.
2013 NE Alberta St. | 503-719-6809 | viachicagopizza.com