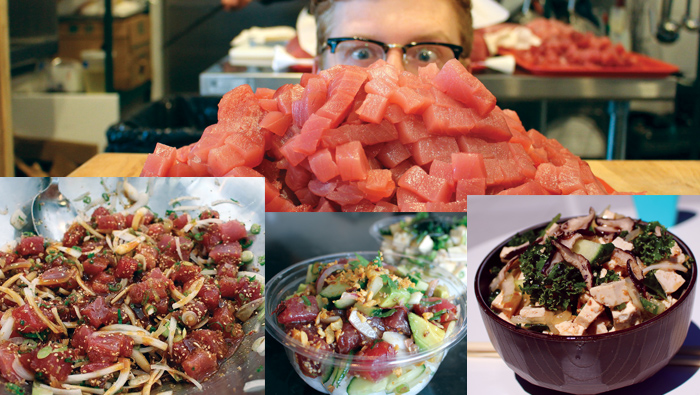 Poke, which might be considered Hawaii's take on ceviche, has long been a staple on Hawaiian restaurant menus in Portland. Noho's Hawaiian Café, Ohana Hawaiian Café and the Woodstock location of Ate-oh-Ate all offer different versions of this delicious dish. But until recently, there were no Portland restaurants solely devoted to poke. Now we have at least two: Quickfish Poke Bar, and this writer's new favorite, Poke Mon.
Traditionally, poke consists of cubes of sashimi-grade tuna mixed with roasted kukui nuts and seaweed, all served over rice. Poke Mon serves several takes of the dish, all topped with sesame seeds, Hawaiian salt and green onions. Poke Mon chef/co-owner Colin Yoshimoto says of his creations: "(It) represents my experiences, what I've learned throughout my culinary years. It's not like classic poke, it's a little different."
When asked why Portland loves poke, Colin enthuses, "It's tasty, quick, healthy. It's nourishing!" He brings in fresh ahi tuna six days a week from Oahu, as well as an albacore known as tombo. At his restaurant, diners can order a bowl of tuna or Pacific Northwestern salmon with four types of sauces: sesame-shoyu, spicy Japanese citrus, red chili aioli or roasted garlic ponzu.
There are various add-ons such as avocado and roasted shiitake mushrooms, as well as toppings including grapefruit and fried garlic.
During Passover or for low-carb dining, forgo the white or brown rice and order a portion of fish over salad greens. Vegetarians may opt for a tofu and kale bowl made with local Ota tofu. Portions are surprisingly generous considering the reasonable price point. There is also a great selection of sake.
Poke Mon's offerings are meat- and dairy-free, except for the macaroni salad side dish, a fried chicken dish that is only served on Fridays and a rotating series of chef's specials. Colin collaborates with various local chefs on monthly bowls; a portion of the proceeds goes toward a charitable organization of the chef's choice. One month, Kachka's Bonnie Morales created a bowl with fish roe.
Portlanders can now enjoy home delivery of Poke Mon's cuisine, as Delivery Dudes and trycaviar.com/portland recently added the restaurant to their rosters.
Poke Mon, 1485 Hawthorne Blvd., 503-894-9743, pokemonpdx.com.
Photos by Ryanne Engeldinger